Canada Life Centre Seating Charts
Canada Life Centre - Hockey Seating Map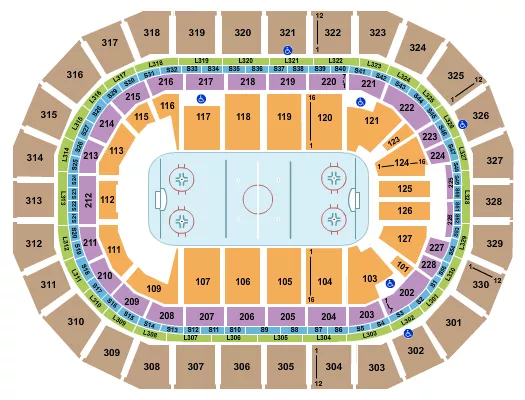 See Canada Life Centre - Hockey events that use this seating chart configuration
Winnipeg Jets
The Winnipeg Jets are a professional ice hockey team based in Winnipeg, MB. The team was originally founded in 1999 as the Atlanta Thrashers and relocated to Winnipeg in 2011. The Jets play their home games at Canada Life Centre, which has a seating capacity of 15,321.
The Jets have a relatively short history, having only been in Winnipeg for just over a decade. However, they have quickly become a competitive team in the NHL, making the playoffs in three out of the last four seasons. Despite not yet winning a Stanley Cup, the Jets have a talented roster led by Mark Scheifele and Kyle Connor and are always in contention for the postseason.
The Jets' biggest rivals are the Nashville Predators, with whom they have had several intense playoff battles. Other notable rivals include the Minnesota Wild and the Calgary Flames.
If you're in the Winnipeg area, attending a Jets game at Canada Life Centre is a must-do experience. The arena has a great atmosphere, and the Jets' high-paced, physical style of play makes for an exciting game every time. With a talented roster and passionate fan base, the Jets are a team on the rise and are sure to provide an entertaining experience for fans. Buy tickets to an upcoming game today!
FAQs about Winnipeg Jets 2023 Game Schedule And Tickets
How and where to buy Winnipeg Jets tickets?
While it may be difficult to find Winnipeg Jets tickets, Event Tickets Center has plenty of Winnipeg Jets tickets available starting from $18. Select your tickets using our interactive seating chart, and follow the steps in checkout. You'll be going to a Winnipeg Jets event in no time!
How much are Winnipeg Jets tickets?
On Event Tickets Center, Winnipeg Jets ticket prices range from $18 up to $5,778 over a number of different Winnipeg Jets events.
When do Winnipeg Jets tickets go on sale?
Typically, Winnipeg Jets will announce the schedule 3-6 months before the first game, and tickets go on sale within a few weeks of the schedule announcement.
Are Winnipeg Jets tickets sold out?
No. While tickets to see Winnipeg Jets may be sold out on other ticketing websites, Event Tickets Center has plenty of tickets available for you to see Winnipeg Jets live.
Are Winnipeg Jets tickets on sale?
Yes, Winnipeg Jets tickets are on sale, and you can buy them right here at Event Tickets Center.
When is the next Winnipeg Jets event?
The next Winnipeg Jets event is on December 2, 2023 at Canada Life Centre in Winnipeg, MB. Event Tickets Center has 756 tickets available for this event.
NHL Teams, Stadiums, and Divisions
Event Dates and Pricing Information
| Venue | Date | Price | Tickets Available |
| --- | --- | --- | --- |
| Canada Life Centre | Dec 2, 2023 | From $61 | 756 |
| Canada Life Centre | Dec 4, 2023 | From $20 | 1,540 |
| Ball Arena | Dec 7, 2023 | From $32 | 2,840 |
| Honda Center | Dec 10, 2023 | From $25 | 2,280 |
| SAP Center | Dec 12, 2023 | From $18 | 2,461 |
| Crypto.com Arena | Dec 13, 2023 | From $41 | 4,304 |
| Canada Life Centre | Dec 16, 2023 | From $54 | 1,804 |
| Canada Life Centre | Dec 18, 2023 | From $65 | 1,589 |
| Canada Life Centre | Dec 20, 2023 | From $39 | 1,980 |
| Canada Life Centre | Dec 22, 2023 | From $66 | 1,471 |