PPG Paints Arena Seating Charts
PPG Paints Arena - Hockey Seating Map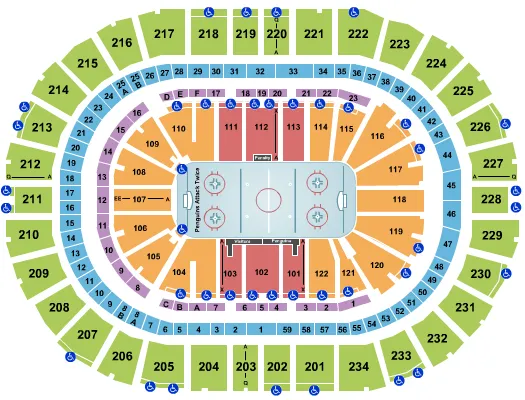 See PPG Paints Arena - Hockey events that use this seating chart configuration
Pittsburgh Penguins
The Pittsburgh Penguins are a professional ice hockey team based in Pittsburgh, PA. The franchise was founded in 1967 as part of the NHL expansion. The Penguins play their home games at PPG Paints Arena, which has a seating capacity of 18,387.
The Penguins have a long and successful history in the NHL, having won five Stanley Cup championships in 1991, 1992, 2009, 2016, and 2017. The team has also won six conference championships and ten division championships. The Penguins have been known for their star players, including Mario Lemieux, Sidney Crosby, and Evgeni Malkin.
The Penguins have several notable rivalries in the NHL, including the Philadelphia Flyers, Washington Capitals, and New York Rangers. The rivalry between the Penguins and Flyers is particularly intense, with the two teams meeting in the playoffs six times, including the 2012 Eastern Conference Quarterfinals, which featured a number of physical and controversial moments.
If you're a hockey fan in the Pittsburgh area, don't miss the chance to see the Penguins play at PPG Paints Arena. From the energy of the crowd to the skill of the players, a Penguins game is an unforgettable experience. Buy tickets to an upcoming game today!
FAQs about Pittsburgh Penguins 2023 Game Schedule And Tickets
How and where to buy Pittsburgh Penguins tickets?
While it may be difficult to find Pittsburgh Penguins tickets, Event Tickets Center has plenty of Pittsburgh Penguins tickets available starting from $46. Select your tickets using our interactive seating chart, and follow the steps in checkout. You'll be going to a Pittsburgh Penguins event in no time!
How much are Pittsburgh Penguins tickets?
On Event Tickets Center, Pittsburgh Penguins ticket prices range from $46 up to $1,661 over a number of different Pittsburgh Penguins events.
When do Pittsburgh Penguins tickets go on sale?
Typically, Pittsburgh Penguins will announce the schedule 3-6 months before the first game, and tickets go on sale within a few weeks of the schedule announcement.
Are Pittsburgh Penguins tickets sold out?
No. While tickets to see Pittsburgh Penguins may be sold out on other ticketing websites, Event Tickets Center has plenty of tickets available for you to see Pittsburgh Penguins live.
Are Pittsburgh Penguins tickets on sale?
Yes, Pittsburgh Penguins tickets are on sale, and you can buy them right here at Event Tickets Center.
When is the next Pittsburgh Penguins event?
The next Pittsburgh Penguins event is on December 12, 2023 at PPG Paints Arena in Pittsburgh, PA. Event Tickets Center has 1,711 tickets available for this event.
NHL Teams, Stadiums, and Divisions
Pittsburgh Penguins Matchups
Event Dates and Pricing Information
| Venue | Date | Price | Tickets Available |
| --- | --- | --- | --- |
| PPG Paints Arena | Dec 12, 2023 | From $46 | 1,711 |
| Centre Bell | Dec 13, 2023 | From $49 | 1,013 |
| Scotiabank Arena | Dec 16, 2023 | From $168 | 408 |
| PPG Paints Arena | Dec 18, 2023 | From $55 | 1,395 |
| PPG Paints Arena | Dec 21, 2023 | From $74 | 1,352 |
| Canadian Tire Centre | Dec 23, 2023 | From $74 | 1,138 |
| UBS Arena | Dec 27, 2023 | From $90 | 1,390 |
| PPG Paints Arena | Dec 30, 2023 | From $111 | 1,699 |
| PPG Paints Arena | Dec 31, 2023 | From $72 | 1,590 |
| PPG Paints Arena | Jan 2, 2024 | From $61 | 1,609 |