Gershwin Theatre Tickets and Seating Charts - New York, NY
Gershwin Theatre Seating Charts
Gershwin Theatre - Endstage 3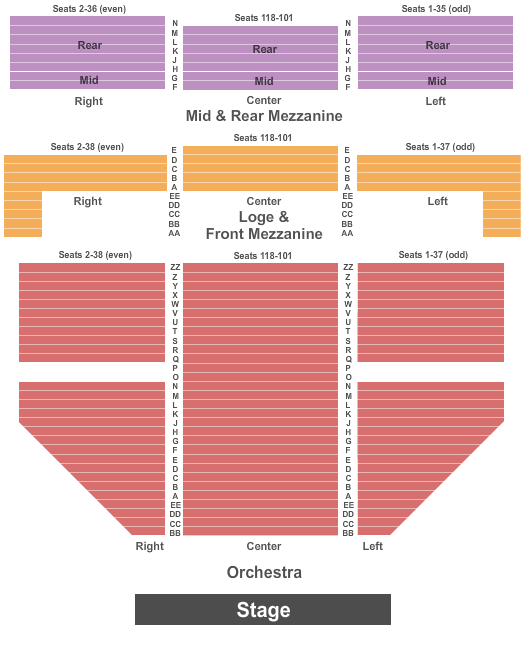 See Gershwin Theatre - Endstage 3 events that use this seating chart configuration
Learn more about Gershwin Theatre
One of the most popular theaters on Broadway, the historic Gershwin Theatre was designed to provide the ultimate experience for musical fans. The theater was named in honor of brothers George and Ira Gershwin, who together wrote dozens of famous scores for Hollywood and Broadway including Funny Face and Porgy and Bess. It's the largest theater on Broadway with nearly 2,000 seats, but the venue's great acoustics and sightlines mean that every audience member is treated to a memorable view.

The historic theater has played host to hundreds of musicals, concerts, ballets and plays since opening in 1972. Classic shows like Singin' in the Rain, Peter Pan, Annie and My Fair Lady are just a few that have graced its stage. As for performers, Frank Sinatra, Barry Manilow, Bing Crosby and Ella Fitzgerald are among the stars who have headlined at the theater over the years. Since 2003, it's been home to the blockbuster musical Wicked, one of the most successful stage musicals of all time.

Musical theater fans should take time before or after the show to check out the Theater Hall of Fame in the rotunda featuring the names and photographs of some of Broadway's brightest stars. In the main lobby, visitors can enjoy an exhibition of props, costumes, opening-night gifts, stage notes and other items from the personal collections of Broadway legends. There is no formal dress code at the theater. Children under 5 years of age are not permitted at performances. There are four bars located throughout the venue, which begin serving patrons one hour prior to showtime.

The Gershwin is easily accessible by public transportation from various points in Manhattan. The 50 Street Subway Station is just steps away. There are many parking garages and lots close by, and booking a parking spot is highly recommended. Situated in the heart of one of New York's most vibrant areas, the theater is a quick walk away from countless hotels, restaurants, and popular attractions like Rockefeller Center and Times Square.

Facts about Gershwin Theatre
Capacity:
1,933
Past Names/Nicknames:
The Uris
Date/Year Built/Opened:
Nov. 28, 1972