Miami Dolphins 2022 Schedule And Tickets
The Miami Dolphins compete in the AFC East Division of the National Football League. They were founded in 1966, and played in the American Football League until 1970. At that time they moved to the NFL, and they have been there ever since. Over time, the Dolphins have built up a national fan base that takes great pride in their team year in and year out.
The Dolphins play their home games at
Hard Rock Stadium
, and have called the venue home since 1987. As one of the nicer stadiums in the league, the Dolphins never have a hard time drawing a sell-out crowd at Hard Rock Stadium. And to go along with the appreciation that the fans show for the venue, the Dolphins players love it just as much.
Many great players have suited up for the Dolphins in the past, and this is sure to hold true for years to come. Some of the best Dolphins players of all time include Dan Marino, Bob Griese, and Larry Csonka among many others.
The Dolphins select quarterback Tua Tagovailoa with the fifth pick of the 2020 NFL Draft and Dolphins fans should be excited for the young rookie to take the field when his time comes. With his pinpoint accuracy and ability to evade the pocket, the Dolphins are moving in the right direction with the talent of their young players.
All in all, the Miami Dolphins are established as one of the best teams to ever play in the National Football League. With so much to offer, including a competitive team, a great stadium, and beautiful weather, Dolphins tickets are always in high demand. See the complete 2022 Miami Dolphins schedule to buy tickets.
Hard Rock Stadium - Football Dolphins Row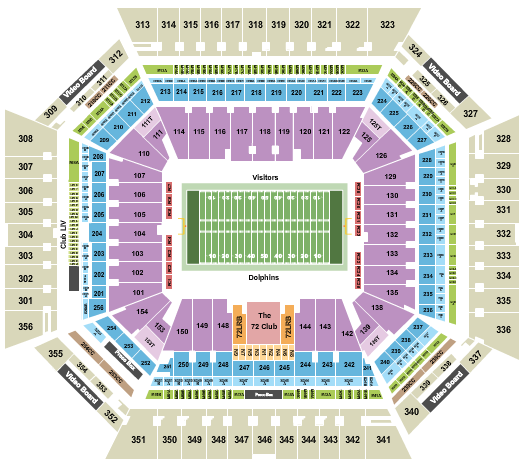 See Hard Rock Stadium - Football Dolphins Row events that use this seating chart configuration