Gerald R. Ford Amphitheater Seating Charts
Gerald R. Ford Amphitheater - End Stage Seating Map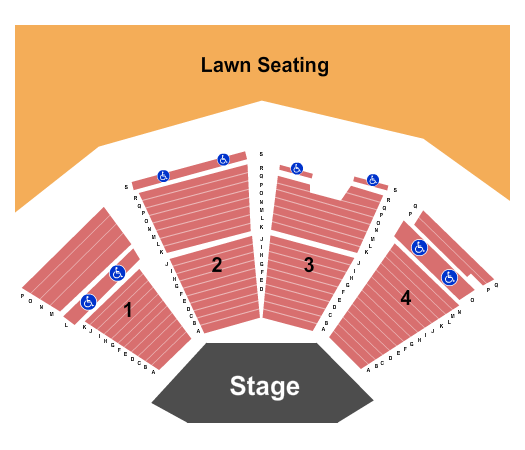 See Gerald R. Ford Amphitheater - End Stage events that use this seating chart configuration
Learn more about Gerald R. Ford Amphitheater
The Gerald R. Ford Amphitheater is the premier event venue of Vail, Colorado. Operated by the Vail Valley Foundation, this stunning amphitheater provides an unforgettable experience for all types of events, from concerts to plays and more. With its majestic mountain views, incredible acoustics and spacious seating arrangements for more than 1 200 people, it's no wonder this is one of Colorado's top destination venues. Opened in 1987 the amphitheater features a multi-seat auditorium, allowing guests to enjoy the beauty of Colorado's nature while listening to their favorite bands or speakers in an awe-inspiring setting. This award-winning venue offers a variety of events, ranging from theatrical performances and live music concerts to family movie nights and corporate conferences. Every year, thousands of guests come from all over the world to appreciate its unique mix of alpine flora and cultural entertainment. The Gerald R. Ford Amphitheater has become well known for its picturesque location and top-notch amenities; setting it apart as one of the most cherished event venues in the state of Colorado. Located in beautiful Eagle County, Vail is a popular year-round destination. In the summer months, it is known for its breathtaking mountain views, lush greenery and miles of biking trails. You can also enjoy a variety of activities such whitewater rafting, rock climbing, fishing and kayaking on the local rivers. During the winter season you can ski or snowboard down some of the most challenging slopes in North America. The town also boasts several top rated resorts offering fantastic amenities like spas and world class dining options as well as an international airport. For the ideal outdoor concert experience in Vail, come to Gerald R. Ford Amphitheater! With lush surroundings, amazing sound, and diverse programming - you're sure to end your night with an unforgettable memory when you visit.
FAQs about Gerald R. Ford Amphitheater
Q: Where is the Gerald R Ford Amphitheater?
A: The Gerald R. Ford Amphitheater is located in the picturesque city of Vail, CO. The intimate 2,565 guest capacity amphitheater providing beautiful views of the Rocky Mountains.
Q: How is parking at Gerald R Ford Amphitheater?
A: Gerald R Ford Amphitheater has limited paid parking on the Frontage Rd and at the Soccer Field Vail Valley Dr. Vail Village and Lionshead Village Parking garages have free parking.
Q: What is the bag policy for Gerald R Ford Amphitheater?
A: Gerald R Ford Amphitheater allows you to bring in small bags. No bags or large backpacks permitted.
Q: What happens if it rains at Gerald R Ford Amphitheater?
A: Vail Valley is know for afternoon pop up showers so come prepared. Umbrellas and ponchos are allowed in.
Q: Can I bring food into Gerald R Ford Amphitheater?
A: Guests are allowed to bring food into Ford Amphitheater but it must be done under the bag policy. Outside alcoholic beverages are not permitted.