American Airlines Center Seating Charts
American Airlines Center - Basketball Seating Map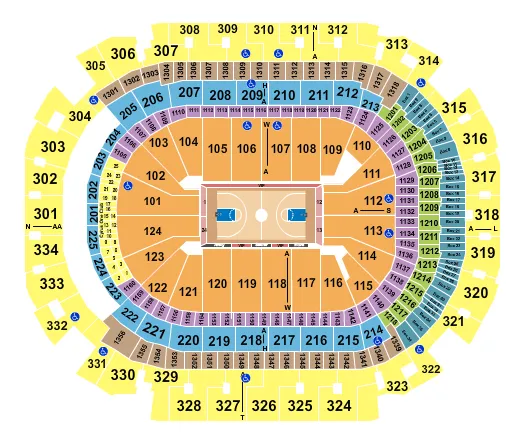 See American Airlines Center - Basketball events that use this seating chart configuration
Dallas Mavericks
The Dallas Mavericks are a professional basketball team based in Dallas, TX. The team plays its home games at the American Airlines Center, which can seat over 20,000 fans. The franchise was founded in 1980 and has been a part of the NBA since then. The team is owned by Mark Cuban, who purchased it in 2000, and has enjoyed a successful run under his ownership. The Mavericks have appeared in the NBA Finals three times, winning the championship in 2011.
The Mavericks have had a rich history in the NBA, with notable players such as Dirk Nowitzki, Steve Nash, and Michael Finley representing the team over the years. They have also had their fair share of rivals, including the San Antonio Spurs, Houston Rockets, and Miami Heat. Their rivalry with the Spurs, in particular, has been intense and long-lasting, with the two teams facing off in numerous playoff series over the years.
In addition to their championship in 2011, the Mavericks have made it to the playoffs numerous times, including a streak of 12 consecutive seasons from 2001 to 2012. They have also won multiple division titles and conference championships, showcasing their consistent success over the years.
If you're a basketball fan or just looking for a fun night out in Dallas, consider buying tickets to a Mavericks game. With a talented roster and passionate fan base, a Mavericks game is sure to be an unforgettable experience. Whether you're rooting for the home team or just enjoying the excitement of the game, there's no better way to experience the thrill of NBA basketball than at a live game. Don't miss out on the chance to see the Mavericks in action - get your tickets today!
FAQs about Dallas Mavericks 2023 Game Schedule And Tickets
How and where to buy Dallas Mavericks tickets?
While it may be difficult to find Dallas Mavericks tickets, Event Tickets Center has plenty of Dallas Mavericks tickets available starting from $5. Select your tickets using our interactive seating chart, and follow the steps in checkout. You'll be going to a Dallas Mavericks event in no time!
How much are Dallas Mavericks tickets?
On Event Tickets Center, Dallas Mavericks ticket prices range from $5 up to $5,778 over a number of different Dallas Mavericks events.
When do Dallas Mavericks tickets go on sale?
Typically, Dallas Mavericks will announce the schedule 3-6 months before the first game, and tickets go on sale within a few weeks of the schedule announcement.
Are Dallas Mavericks tickets sold out?
No. While tickets to see Dallas Mavericks may be sold out on other ticketing websites, Event Tickets Center has plenty of tickets available for you to see Dallas Mavericks live.
Are Dallas Mavericks tickets on sale?
Yes, Dallas Mavericks tickets are on sale, and you can buy them right here at Event Tickets Center.
When is the next Dallas Mavericks event?
The next Dallas Mavericks event is on December 1, 2023 at American Airlines Center in Dallas, TX. Event Tickets Center has 593 tickets available for this event.
NBA Teams, Stadiums, and Divisions
Dallas Mavericks Matchups
Event Dates and Pricing Information
| Venue | Date | Price | Tickets Available |
| --- | --- | --- | --- |
| American Airlines Center | Dec 1, 2023 | From $27 | 593 |
| American Airlines Center | Dec 2, 2023 | From $44 | 764 |
| American Airlines Center | Dec 6, 2023 | From $18 | 1,769 |
| Moda Center at the Rose Quarter | Dec 8, 2023 | From $9 | 1,402 |
| FedExForum | Dec 11, 2023 | From $5 | 2,791 |
| American Airlines Center | Dec 12, 2023 | From $141 | 1,481 |
| American Airlines Center | Dec 14, 2023 | From $38 | 1,461 |
| Moda Center at the Rose Quarter | Dec 16, 2023 | From $30 | 2,589 |
| Ball Arena | Dec 18, 2023 | From $57 | 2,285 |
| American Airlines Center | Dec 20, 2023 | From $65 | 1,811 |