Empower Field At Mile High Seating Charts
Empower Field At Mile High - Football Seating Map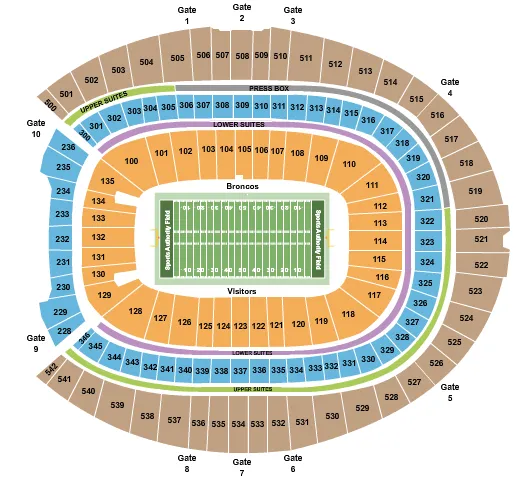 See Empower Field At Mile High - Football events that use this seating chart configuration
Buy NFL Denver Broncos Tickets
The Denver Broncos compete in the AFC West Division of the National Football League. The organization was founded in 1960, and joined the NFL in 1970. Since joining the league they have achieved a high level of success, and are planning on continuing this for many more years to come. This has led to the Broncos building a strong fan base from one side of the country to the next, making Denver Broncos tickets some of the highest in demand.
The Broncos play their home games at
Empower Field At Mile High
. This venue opened in 2001 to great anticipation by both the fans and the organization. Luckily, Empower Field At Mile High has never disappointed, and it has become known as one of the nicer ones in the entire league.
The Broncos have managed to sign some of the greatest football players of all time. Just a small sampling includes John Elway, Floyd Little, and Frank Tripucka among many others. Under second year head coach Vic Fangio, the Broncos will look to second year quarterback Drew Lock to lead the charge in Denver this fall.
Head to one of the Denver Broncos games at Empower Field At Mile High, or view the full Denver Broncos schedule to find out where you can catch them on the road.
Event Dates and Pricing Information
| Venue | Date | Price | Tickets Available |
| --- | --- | --- | --- |
| State Farm Stadium Parking Lots | Aug 11, 2023 | From $22 | 9 |
| State Farm Stadium | Aug 11, 2023 | From $5 | 6,419 |
| Levi's Stadium | Aug 19, 2023 | From $24 | 7,113 |
| Levi's Stadium Parking Lots | Aug 19, 2023 | From $69 | 1 |
| Empower Field At Mile High | Aug 26, 2023 | From $26 | 1,908 |
| Empower Field At Mile High | Sep 9, 2023 | From $2,509 | 4 |
| Empower Field At Mile High | Sep 10, 2023 | From $180 | 1,619 |
| Empower Field At Mile High | Sep 17, 2023 | From $119 | 1,932 |
| Hard Rock Stadium Parking Lots | Sep 24, 2023 | From $164 | 1 |
| Hard Rock Stadium | Sep 24, 2023 | From $93 | 5,199 |