Citizens Bank Opera House Seating Charts
Citizens Bank Opera House - End Stage 3 Seating Map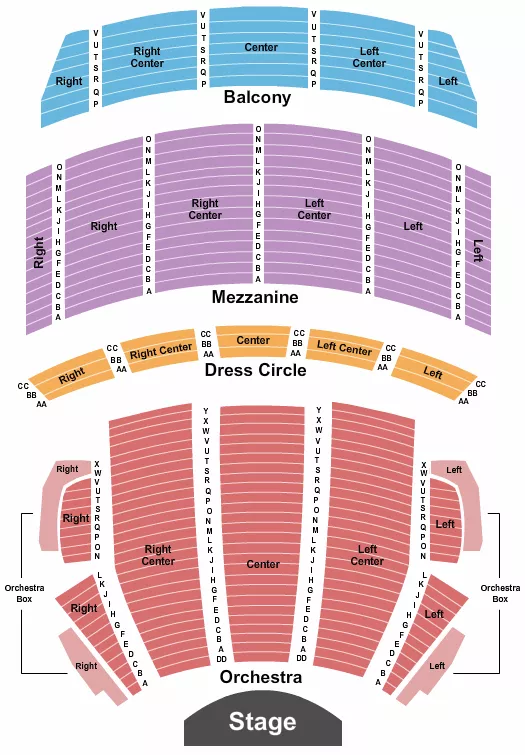 See Citizens Bank Opera House - End Stage 3 events that use this seating chart configuration
Citizens Bank Opera House - Endstage - AAA Seating Map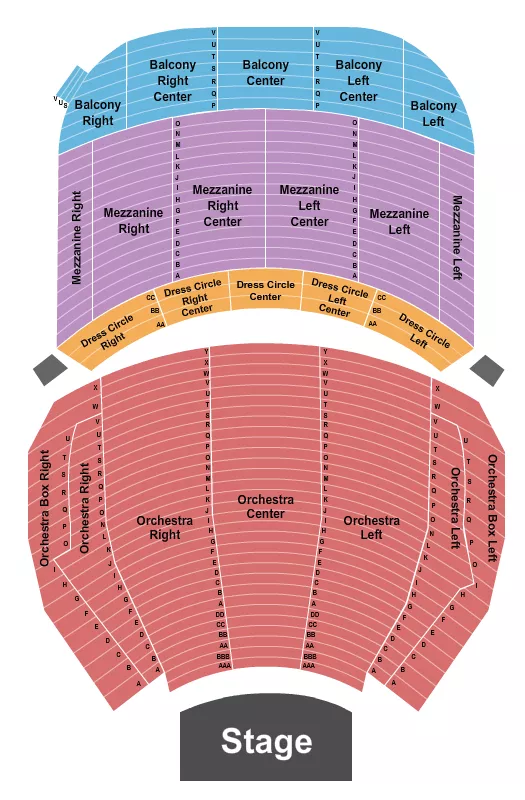 See Citizens Bank Opera House - Endstage - AAA events that use this seating chart configuration
Learn more about Citizens Bank Opera House
Designed in both Italian and French styles,
Boston's
Citizens Bank Opera House debuted in 1928 as the B.F. Keith Memorial Theatre, a top venue on the vaudeville circuit. In the mid-1960s, new owners restored the theater and renamed it Savoy Theatre, and only a few years later a second auditorium was added, creating Savoy 1 and 2. The Opera Company of Boston acquired the building in 1979, making it the Boston Opera House. In 2004, it underwent a $54 million restoration to preserve the historic, extravagant beauty of the venue. Today, the
Massachusetts
theater is home to the Boston Ballet and Broadway Across America, and audiences can still behold the grand lobby's silk-covered walls and marble columns.
Citizens Bank Opera House is accessible via I-90 (Exit 24). Plenty of parking can be found at one of the many nearby parking garages, including Lafayette Parking Garage, Millennium Place Garage at Ritz-Carlton, Boston Common Garage and 75 State Street Garage. Guests can also take the MBTA to the theater. The closest stations are Chinatown (Orange Line), Park Street (Red Line) and Boylston (Green Line).
Arrive early; latecomers may have to wait to be seated at the first appropriate break in the show. The venue encourages showgoers to arrive no less than 15 minutes before showtime. The lobby is open to the public 45 minutes before showtime. Guests can check their coats for $2 per coat. There are many nearby restaurants serving up everything from margaritas and fajitas to wine and pizza where guests can grab a bite to eat before or after the show.
Facts about Citizens Bank Opera House
Capacity:
2,677
Past Names:
B.F. Keith Memorial Theatre Savoy Theatre Boston Opera House
Date/Year Built/Opened:
1928
Event Dates and Pricing Information
| Performer | Date | Price | Tickets Available |
| --- | --- | --- | --- |
| Boston Ballet | Oct 5, 2023 | From $111 | 177 |
| Boston Ballet | Oct 6, 2023 | From $106 | 73 |
| Boston Ballet | Oct 7, 2023 | From $107 | 219 |
| Boston Ballet | Oct 8, 2023 | From $108 | 210 |
| Boston Ballet | Oct 12, 2023 | From $109 | 219 |
| Boston Ballet | Oct 13, 2023 | From $108 | 239 |
| Boston Ballet | Oct 14, 2023 | From $108 | 237 |
| Boston Ballet | Oct 14, 2023 | From $108 | 240 |
| Boston Ballet | Oct 15, 2023 | From $108 | 234 |
| TEDxCambridge | Oct 19, 2023 | From $72 | 482 |