SoFi Stadium Seating Charts
SoFi Stadium - Blink 182 Seating Map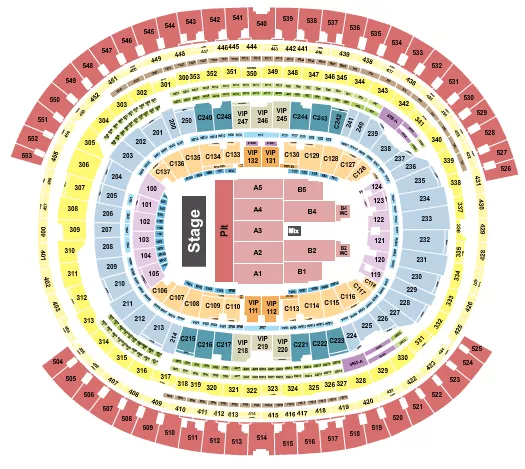 See SoFi Stadium - Blink 182 events that use this seating chart configuration
SoFi Stadium - Football Rows Seating Map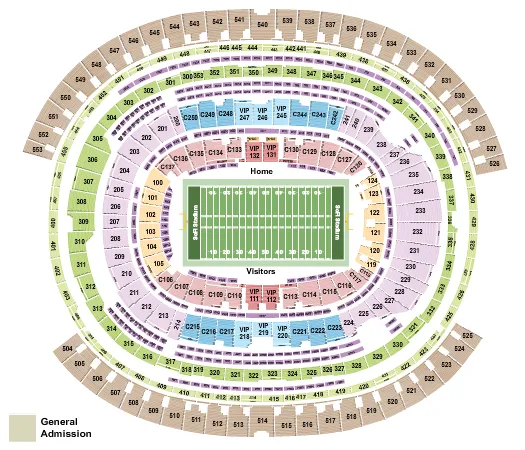 See SoFi Stadium - Football Rows events that use this seating chart configuration
SoFi Stadium - Football Rows - Chargers Seating Map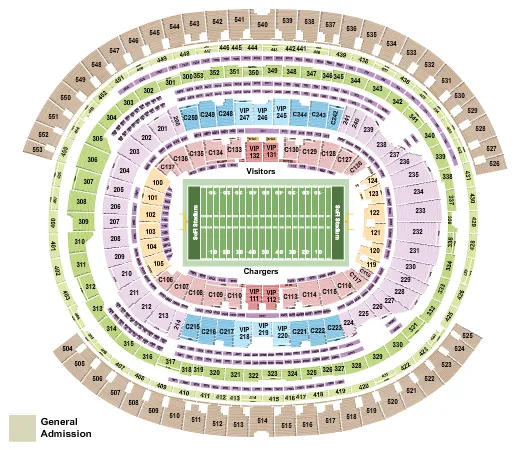 See SoFi Stadium - Football Rows - Chargers events that use this seating chart configuration
SoFi Stadium - Football Rows - Rams Seating Map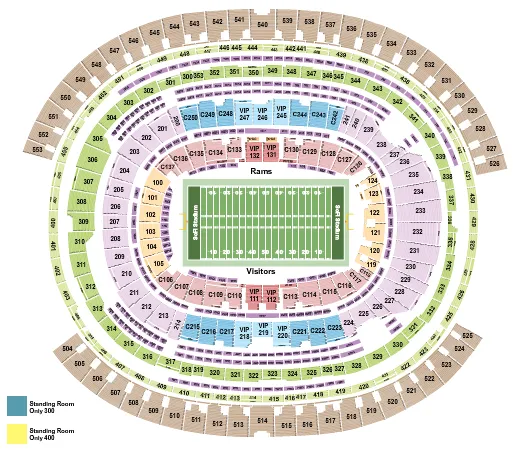 See SoFi Stadium - Football Rows - Rams events that use this seating chart configuration
SoFi Stadium - Green Day 2024 Seating Map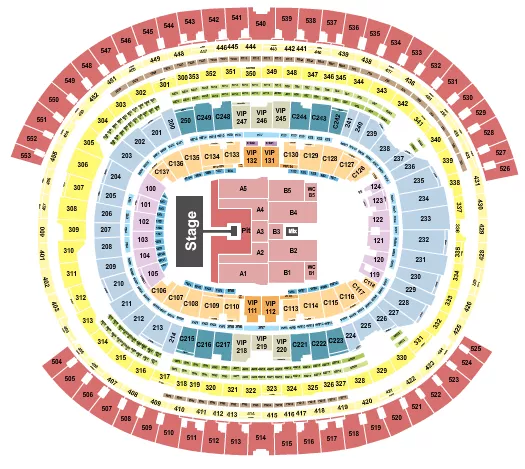 See SoFi Stadium - Green Day 2024 events that use this seating chart configuration
SoFi Stadium - Illenium Seating Map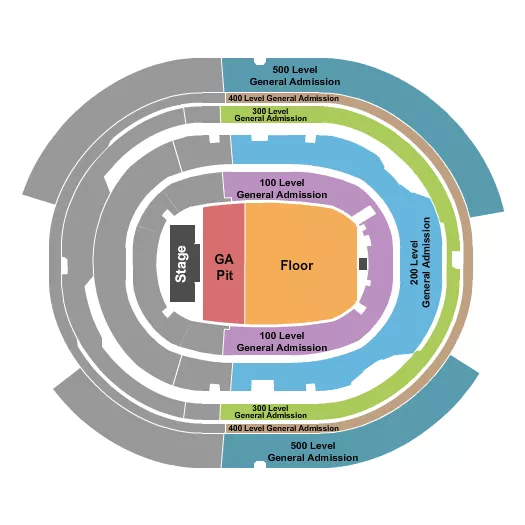 See SoFi Stadium - Illenium events that use this seating chart configuration
SoFi Stadium - Kenny Chesney Seating Map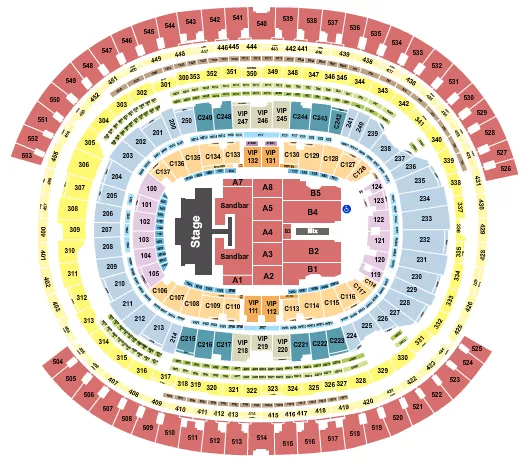 See SoFi Stadium - Kenny Chesney events that use this seating chart configuration
SoFi Stadium - Luke Combs 2023 Seating Map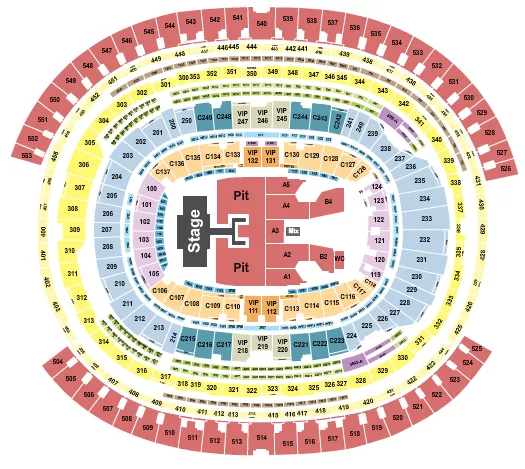 See SoFi Stadium - Luke Combs 2023 events that use this seating chart configuration
SoFi Stadium - Open Floor Seating Map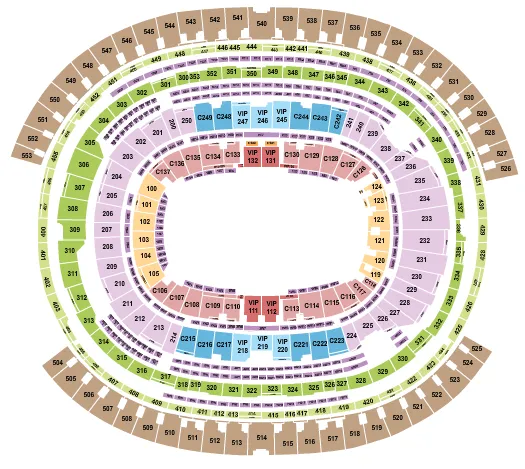 See SoFi Stadium - Open Floor events that use this seating chart configuration
SoFi Stadium - Rolling Stones 2 Seating Map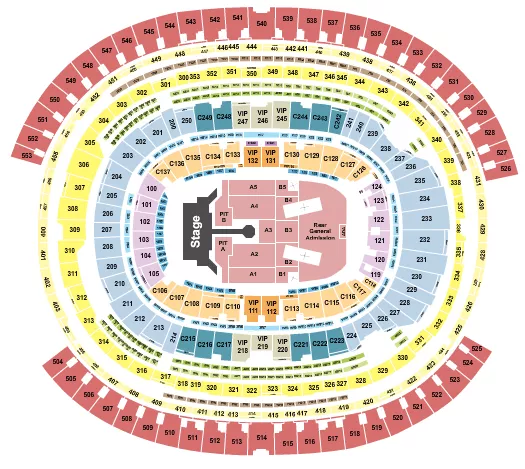 See SoFi Stadium - Rolling Stones 2 events that use this seating chart configuration
Learn more about SoFi Stadium
SoFi Stadium: A New Home for Angeleno Football Fans
SoFi Stadium, the new architectural wonder located in Inglewood, California, has become a hub for major events since its completion in September 2020. Designed with state-of-the-art technology and innovative features, the stadium quickly became an Inglewood staple. This impressive arena is now home to two National Football League (NFL) teams, the Los Angeles Rams and the Los Angeles Chargers, but its versatility reaches far beyond football.
Built at a staggering cost of $5 billion, SoFi Stadium stands as the most expensive NFL stadium ever constructed. It spans 298 acres and offers a seating capacity of 70,240, which can be expanded to 100,000 for special occasions such as the Olympics or the Super Bowl. The impressive stadium boasts a massive 70,000-square-foot, double-sided video board called the "Oculus" that provides crystal-clear high-definition images and an immersive audio experience.
In addition to hosting NFL games, SoFi Stadium has become a popular location for a variety of top sporting events and live entertainment. The stadium has already held major events like the Super Bowl in 2022, and the College Football National Championship Game in 2023. It's also slated to host a few 2026 FIFA World Cup matches and even the opening ceremony of the 2028 Summer Olympics.
Memorable Musical Moments at SoFi Stadium
Here are some of the most memorable musical moments that have taken place at SoFi Stadium:
Los Bukis' L.A. Reunion Concert: The legendary Mexican group Los Bukis reunited after 25 years for a historic stadium tour that kicked off in Los Angeles in 2023. The concert featured classics such as "Tu Cárcel" and "Como Fui a Enamorarme De Ti," as well as a guest appearance by Haim on the song "No Body, No Crime" from Taylor Swift's "Evermore" album.
Taylor Swift's Eras Tour: Pop superstar Taylor Swift brought her blockbuster Eras tour to SoFi Stadium for six sold-out concerts in 2023. The tour celebrated Swift's eight studio albums with a 45-song setlist that spanned over three hours. Each night featured surprise songs and special guests, such as Selena Gomez, Ed Sheeran, and Lizzo. Swift also performed the 10-minute version of "All Too Well" for the first time live, which received an epic standing ovation from the crowd.
BTS' Permission to Dance On Stage: The global sensation BTS made history as the first Korean act to headline SoFi Stadium in 2023. The group delivered a dazzling show with their signature choreography and vocals, performing hits such as "Dynamite," "Butter," and "Permission to Dance." The concert also marked the return of member Suga, who had been on hiatus due to an injury.
What is the history of SoFi Stadium?
The stadium's history dates back to 2016 when construction began on the site of the former Hollywood Park Racetrack. It was designed by HKS, Inc. and financed by Stan Kroenke, owner of the Rams. SoFi Stadium is the most expensive stadium ever built, with a construction cost of $5.5 billion.
Originally scheduled to open in 2019, it was delayed due to heavy rainfall and the COVID-19 pandemic. SoFi Stadium was inaugurated in September 2020, with an inaugural game between the Rams and the Dallas Cowboys (a 20–17 win for the home team).
SoFi Stadium is part of a larger development project called Hollywood Park, which includes a casino, a hotel, retail spaces, and residential units. The stadium will host several major events in the future, including several FIFA World Cup 2026 matches, and the Summer Olympics in 2028.
Here are some additional details about the history of SoFi Stadium:
It was originally named Inglewood Stadium but was renamed in 2019 after SoFi, a financial technology company, purchased the naming rights for $400 million over 20 years.
The stadium was designed to be a "climate-controlled" stadium, with a retractable roof and translucent walls that allow natural light to enter.
It is also home to the YouTube Theater, a 6,000-seat indoor venue that hosts concerts, comedy shows, and other events.
Unique in the pantheon of NFL stadiums, it features a covered roof and unlike a dome, it allows for air-flow.
Los Angeles Rams Retired Jersey Numbers at SoFi Stadium
The Rams have not retired any jersey numbers, but they have honored some of their former players by placing them in their Ring of Honor. Some of the players in the Ring of Honor are:
Eric Dickerson, running back (1983-1987)
Marshall Faulk, running back (1999-2005)
Kurt Warner, quarterback (1999-2003, 2004-2009)
Isaac Bruce, wide receiver (1994-2008)
Torry Holt, wide receiver (1999-2008)
Deacon Jones, defensive end (1961-1971)
Merlin Olsen, defensive tackle (1962-1976)
Jack Youngblood, defensive end (1971-1984)
Orlando Pace, offensive tackle (1997-2007)
Los Angeles Chargers Retired Jersey Numbers at SoFi Stadium
The Chargers have retired four jersey numbers, which are on display at the stadium:
No. 14: Dan Fouts, quarterback (1973-1987)
No. 19: Lance Alworth, wide receiver (1962-1970)
No. 21: LaDainian Tomlinson, running back (2001-2009)
No. 55: Junior Seau, linebacker (1990-2002)
SoFi Stadium's Design and Architecture
SoFi Stadium's architecture incorporates a translucent roof, which allows natural light to enter while protecting guests from the elements. Additionally, the design includes an open-air concept, seamlessly integrating indoor and outdoor spaces.
The construction of Sofi Stadium involved numerous companies and contractors to ensure the successful completion of the project. Some key players include:
Turner Construction: Turner Construction took on the role of general contractor for the project, overseeing all aspects of the construction process and ensuring timely completion. There were also several local and specialized contractors and suppliers involved in the construction.
AECOM Hunt: AECOM Hunt acted as a construction manager, coordinating and managing various aspects of the project and collaborating with Turner Construction.
HKS Architects: HKS Architects were responsible for the design and architecture of SoFi Stadium, incorporating innovative and modern elements that make the venue unique.
Walter P Moore: Walter P Moore provided structural engineering services, ensuring that the stadium's design and construction were optimized for safety and longevity.
SoFi Stadium Amenities and Accommodations
As one of the newest and biggest NFL venues, SoFi Stadium includes some state-of-the-art amenities.
Seating Arrangement
For football games, the seats are divided into four levels:
100 and 200 levels: These levels are along the sidelines and offer club seats and VIP seats with access to exclusive lounges and amenities.
300 level: This level is also along the sidelines and offers terrace club seats with similar benefits.
400 level: This level is the upper deck and offers the most affordable seats with views of the entire field.
For concerts, the seating layout is usually an end-stage setup with the stage located near sections 100, 101, and 102. There may also be floor sections added or removed depending on the performer's preference.
Floor seats: These seats offer the closest views of the stage, but they may have limited elevation and visibility.
Side sections near the stage: These sections, such as Club 110, Club 133, and VIP 111, offer a better angle and elevation of the stage.
Head-on sections across from the stage: These sections, such as section 119, section 120, section 121, and section 122, offer a comfortable and unobstructed view of the performance.
Food and Beverages
There are many delicious food options to choose from at SoFi Stadium, each with its own unique flavor and flair. Here are a few highlights from the four LA Eats concepts created by chefs Jon Shook and Vinny Dotolo:
Olvera Street: This concept features family-inspired Mexican fare that is both spicy and savory. Try the chicken tinga burrito, beef barbacoa tacos, cheese quesadilla, or loaded nachos.
Fairfax Avenue: This concept offers a curated selection of burgers and deli favorites. Go for the cheeseburger, pastrami sandwich, vegan chili, jalapeño cheddar sausage, or beyond sausage.
San Vicente Boulevard: This concept serves traditional and tasty Italian eats. Enjoy cheese pizza, pepperoni pizza, kale and gem lettuce salad, meatballs, or chips and queso.
Sawtelle Boulevard: This concept pays homage to LA's diverse food scene, with cuisine inspired by pan-Asian flavors. Sample the chicken strips with tots, crispy chicken sandwiches, chick'n nugs, and tots, or tsunami tots.
You can also find other food and beverage options throughout SoFi Stadium, such as kosher food in the Marketplace on Level 4 South.
Parking at SoFi Stadium
SoFi Stadium has limited parking and requires a valid parking pass. You can purchase a parking pass online or at the stadium on game day. Parking passes are mobile and must be displayed on your phone when you arrive at the stadium.
Parking passes are assigned to specific parking zones, which are color-coded and have different entry points. You must follow the directions and arrival route shown for your zone on the parking map. You cannot enter from any other access point or circulate between zones. Parking spaces are not pre-assigned unless otherwise posted.
Parking lots open four hours before kickoff and close one hour after the end of the game. Overnight parking is not permitted. Tailgating is only allowed in designated areas for select events. Parking policy may vary depending on the event, so be sure to visit the SoFi Stadium website.
Alternatives to Parking at SoFi Stadium
If you do not have a parking pass or prefer to park off-site, you can use one of the following alternatives:
City of Inglewood Operated Park and Ride program: This is an off-site parking and shuttle service that you can book online.
Public Transportation: You can take the Metro C Line and disembark at Hawthorne/Lennox Station, where there is an express shuttle service to SoFi Stadium on game day. You can also take the GTrans line 7X from Harbor Gateway Transit Center, where you can park for free and take a $4 round-trip ride to SoFi Stadium.
Rideshare: You can use a rideshare service such as Uber or Lyft to get to and from SoFi Stadium. There is a designated pick-up and drop-off area near the stadium entrance.
Tailgating at SoFi Stadium
There are a few things to keep in mind if you plan to tailgate at SoFi Stadium.
Tailgating is only allowed in designated areas for select events. These areas are known as the Pink Zone, which is a lot directly adjacent to the stadium. Tailgating in other parking lots or on public streets is strictly prohibited.
Tailgating is also subject to certain rules and regulations, which include no charcoal grills, no glass containers, no overnight parking, and no drones.
Tailgating must end once the event begins. Fans without a ticket must leave the area once the event begins.
Stadium Tours at SoFi Stadium
SoFi Stadium offers tours that give guests a behind-the-scenes look at one of the most technologically advanced stadiums in the world. These tours include visits to the field, the locker rooms, the press box, and the suites. Guests also get to see the YouTube Theater, the Kinsey African American Art & History Collection exhibit, and the transformation of the 300-acre Hollywood Park.
Tours are available on select dates and times, and they last about 75 minutes. Tickets can be purchased online.
Rally Day Tours
In addition to regular tours, SoFi Stadium also offers Rally Day tours on the day before the Los Angeles Rams and Los Angeles Chargers home games. These tours give guests a sneak peek into the stadium as it gears up for game day. Guests get to see the field being prepared, the players getting dressed, and the fans arriving for the game.
Rally Day tours are a great way to experience the excitement of game day before the big event. Tickets can be purchased online.
What's Next for SoFi Stadium?
Sofi Stadium, since its opening, has become an iconic venue for various events. In the coming years, the stadium plans to host a multitude of exciting and diverse events, such as:
ILLENIUM: TRILOGY LOS ANGELES: A music festival hosted by the popular DJ and producer ILLENIUM, who will perform three albums in chronological order at SoFi Stadium on February 2 and 3, 2024. This event is for ages 18+ with valid ID.
Luke Combs Growin' Up and Gettin' Old Tour: Chart-topping, award-winning singer and songwriter Luke Combs will belt out his memorable tunes at SoFi Stadium on June 14 and 15, 2024.
2026 FIFA World Cup: Los Angeles will be one of 16 cities across America, Mexico, and Canada to host matches in the upcoming 2026 FIFA World Cup.
2028 Summer Olympics: As Los Angeles gears up as the host city, Sofi Stadium will be the stage for soccer matches and the always invigorating opening and closing ceremonies.
Memorable Moments at SoFi Stadium
SoFi Stadium has hosted several major events since it opened in 2020, including:
Super Bowl LVI: The first Super Bowl played at SoFi Stadium was a thrilling game between the Los Angeles Rams and the Cincinnati Bengals. The Rams won their second championship in franchise history, 23-20. The game also featured a halftime show that paid homage to Los Angeles, with performances by Dr. Dre, Snoop Dogg, Eminem, Kendrick Lamar, and Mary J. Blige.
Vax Live: A global concert event that aimed to promote COVID-19 vaccination and support equitable access to vaccines around the world. The event was hosted by Selena Gomez and featured musical acts such as Jennifer Lopez, H.E.R., Eddie Vedder, Foo Fighters, and J Balvin. It also had appearances by Prince Harry, President Joe Biden, Vice President Kamala Harris, and other world leaders and celebrities. The event was attended by over 20,000 fully vaccinated frontline workers at SoFi Stadium.
Rams vs. Buccaneers: This was a regular season game between the Los Angeles Rams and the Tampa Bay Buccaneers in Week 3 of the 2021 NFL season. The game was a showdown between two of the best quarterbacks in the league, Matthew Stafford and Tom Brady. The Rams dominated the game with a 34-24 win, handing the Buccaneers their first loss of the season. Stafford threw for 343 yards and four touchdowns, while Brady threw for 432 yards and one touchdown.
2023 College Football Playoff National Championship: Another championship game was played under the roof at SoFi, this time, a matchup of the top college football programs, the defending national champion Georgia Bulldogs and the third-ranked TCU Horned Frogs. Georgia blew out TCU, 65-7 in a lopsided affair – the largest margin of victory in the modern bowl era. Georgia also completed a perfect season with a 15-0 record, the third college team to do so.
FAQs about SoFi Stadium
What is SoFi Stadium?
SoFi Stadium is a state-of-the-art sports and entertainment venue located in Inglewood, California. It is the home of the Los Angeles Rams and Los Angeles Chargers of the National Football League (NFL), and the annual LA Bowl in college football. SoFi Stadium is one of only two stadiums in the NFL that is shared by two teams, the other being MetLife Stadium in East Rutherford, New Jersey. It is also the first stadium complex outside of the New York metropolitan area to host two NFL teams concurrently (MetLife is home to both the Giants and the Jets).
Why is the stadium named SoFi Stadium?
SoFi Stadium is named after the financial technology company that was originally called Social Finance, Inc. SoFi is a leading provider of student loan refinancing, personal loans, and other financial products. In 2019, SoFi acquired the naming rights to the stadium in a 20-year deal worth over $30 million per year.
When did SoFi Stadium open?
SoFi Stadium opened on September 8, 2020.
What teams play at SoFi Stadium?
The Los Angeles Rams and the Los Angeles Chargers moved into SoFi Stadium in 2020, after spending the previous season at the Los Angeles Memorial Coliseum. The Rams had previously played at the Coliseum from 1946 to 1979, while the Chargers had played there from 1960 to 1966 and again from 1995 to 2016.
What is the capacity of SoFi Stadium?
SoFi Stadium has a seating capacity of 70,240 for most events, with the ability to expand by 30,000 seats for larger events. Here's a short rundown of the venue's capacity:
NFL, college football games, and soccer matches: 70,240
Concerts: 70,000+
Other events: 70,240 to 100,000
What was the first game ever played at SoFi Stadium?
The first game ever played at SoFi Stadium was a regular season NFL game between the Los Angeles Rams and the Dallas Cowboys on September 13, 2020. The Rams won 20-17.
What are the nicknames for SoFi Stadium?
As one of the newest venues in the NFL, SoFi Stadium hasn't had that much time to have many nicknames. Culture writers have suggested nicknames like The Colosseum, "The House that LA Built," and the "Jewel of the South Bay," but only time will tell which one will stick.
What is the most expensive ticket ever sold for a game at SoFi Stadium?
The most expensive game tickets at SoFi Stadium were for Super Bowl LVI in 2022. The most expensive VIP suite tickets at SoFi Stadium were priced at $100,000 on the official NFL Ticket Exchange.
Is tailgating allowed at SoFi Stadium?
Tailgating is only allowed in the Pink Zone. Tailgating spaces in the Pink Zone are 9 feet by 18 feet, with a 9-foot by 6-foot section behind the parked vehicle. Tailgating in any other parking lot is strictly prohibited. All parking lots open four to five hours before kickoff. Tailgating is allowed from four hours before kickoff and must end two hours before kickoff.
Tailgating staging/queuing is not allowed at The Market Place adjacent to SoFi Stadium. The Market Place is private property, and vehicles violating parking regulations will be towed at the owner's expense.
All vehicles must follow the instructions of SoFi Stadium and Hollywood Park personnel. Guests who violate tailgating rules may be asked to leave the stadium premises.
What are the accessibility options at SoFi Stadium?
SoFi Stadium offers a variety of accessibility options for guests with disabilities. These options include:
Wheelchair-accessible seating: SoFi Stadium has wheelchair-accessible seating available on every level of the stadium. Wheelchair-accessible seating is located in designated areas with companion seats available for guests who require them.
Accessible parking: SoFi Stadium has accessible parking available in designated areas. Accessible parking passes can be purchased in advance or on the day of the event.
Accessible restrooms: SoFi Stadium has accessible restrooms located throughout the stadium. Accessible restrooms are equipped with features such as grab bars and wider stalls.
Accessible concessions: SoFi Stadium has accessible concessions stands located throughout the stadium. Accessible concession stands are equipped with features such as lowered counters and wider aisles.
Accessible transportation: SoFi Stadium is accessible by public transportation. The stadium is served by the Metro E Line light rail. The E Line has a stop at the Hawthorne/Lennox Station, which is about a 10-minute walk from the stadium.
Assistive listening devices: SoFi Stadium has assistive listening devices available for guests with hearing impairments. Assistive listening devices can be borrowed at Guest Services locations throughout the stadium.
Sign language interpreters: SoFi Stadium can provide sign language interpreters for events upon request. To request a sign language interpreter, please contact Guest Services at least 72 hours in advance of the event.
Other accommodations: SoFi Stadium can provide other accommodations for guests with disabilities upon request. To request an accommodation, please contact Guest Services at least 72 hours in advance of the event.
What items are prohibited inside SoFi Stadium?
Here is a list of prohibited items at SoFi Stadium:
Purses larger than a clutch bag
Coolers
Briefcases
Backpacks
Fanny packs
Diaper bags
Cinch bags
Non-approved seat cushions*
Luggage of any kind
Computer bags
Camera bags
Any bag larger than 12" x 6" x 12"
Weapons or firearms of any kind
Illegal drugs or drug paraphernalia
Alcohol
Glass bottles or containers
Cans
Fireworks or explosives
Laser pointers
Animals (except service animals)
Large signs or banners
Food or beverages (except for factory-sealed water bottles of 16.9 ounces or less)
Umbrellas
Strollers
Poles or staffs of any kind
Any item that could be considered a safety hazard
Any item that could be considered a safety hazard
What is the bag policy at SoFi Stadium?
SoFi Stadium follows the NFL's clear bag policy, which entails:
Clear plastic, vinyl, or PVC bags that do not exceed 12" x 6" x 12" are permitted.
One-gallon clear plastic freezer bags (Ziplock bag or similar) and small clutch bags, which cannot exceed 4" x 6" in size, with or without a handle or strap, are also permitted.
Prohibited items include purses larger than a clutch bag, coolers, briefcases, backpacks, fanny packs, diaper bags, cinch bags, non-approved seat cushions*, luggage of any kind, computer bags, and camera bags or any bag larger than the permissible size.
The venue's bag policy may vary per event, so be sure to check beforehand.
What are the pick-up/drop-off zones at SoFi Stadium?
Guests are encouraged to use the rideshare drop-off and pick-up location at 3178 Pincay Dr. This is located offsite to the north side of SoFi Stadium, on Kareem Court.
To access the rideshare drop-off and pick-up location, drivers should take westbound Pincay Drive and follow the instructions of traffic control officers. Guests can use their rideshare app to request a ride to or from this location.
Is rideshare offered at the SoFi Stadium?
Guests reaching the stadium through rideshare services, taxis, and buses can be dropped off on the north curb lane of Kareem Court. Drivers should access Kareem Court via westbound Pincay Drive and follow the instructions of traffic control officers. Depending on the event, there may be multiple rideshare pick-up locations, so be sure to check any information for your specific event and rideshare app beforehand.
When do the gates open at SoFi Stadium?
The gates at SoFi Stadium open four to five hours prior to kickoff for NFL games, and fans are encouraged to come in about 60 minutes before the actual time of the game. For concerts and other special events, the gate opening times may vary, but it's usually 3-4 hours before the start.
You can always check the SoFi Stadium website or your ticket for the specific event for the exact gate opening time.
Is SoFi Stadium a cashless venue?
Yes, SoFi Stadium is a fully cashless facility. Visitors can pay with debit and credit cards, gift cards, and mobile pay.
Are there phone charging stations at SoFi Stadium?
There are ChargeFUZE charging stations located throughout SoFi Stadium.
Does SoFi Stadium have Wi-Fi?
Yes, SoFi Stadium guests can enjoy complimentary Wi-Fi throughout the venue.
Where can I get tickets for SoFi Stadium games and events?
You can get tickets right here through Event Tickets Center!
Facts about SoFi Stadium
Capacity:
70,240 (Expandable to 100,240)
Date/Year Built/Opened:
July 2020
Event Dates and Pricing Information
| Performer | Date | Price | Tickets Available |
| --- | --- | --- | --- |
| Los Angeles Rams | Dec 3, 2023 | From $63 | 1,051 |
| Los Angeles Chargers | Dec 10, 2023 | From $52 | 7,151 |
| LA Bowl | Dec 16, 2023 | From $54 | 3,580 |
| Los Angeles Rams | Dec 17, 2023 | From $41 | 4,293 |
| Los Angeles Rams | Dec 21, 2023 | From $69 | 3,653 |
| Los Angeles Chargers | Dec 23, 2023 | From $87 | 8,202 |
| Los Angeles Chargers | Jan 7, 2024 | From $96 | 8,367 |
| Illenium | Feb 2, 2024 | From $52 | 636 |
| Illenium | Feb 3, 2024 | From $37 | 1,043 |
| Monster Jam | May 18, 2024 | From $96 | 13,406 |