Paycor Stadium Seating Charts
Paycor Stadium - Football Seating Map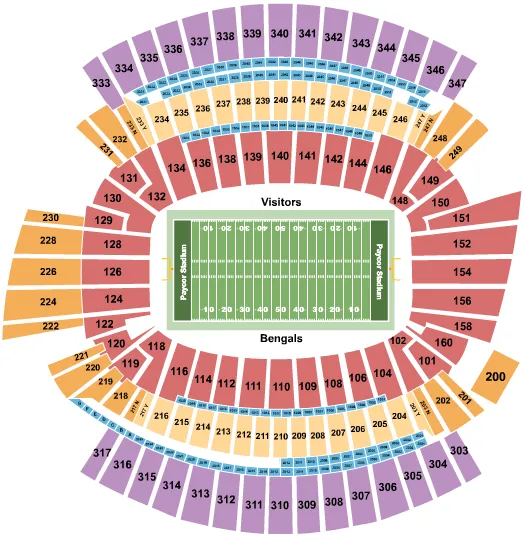 See Paycor Stadium - Football events that use this seating chart configuration
Buy NFL Cincinnati Bengals Tickets
The Cincinnati Bengals, established in 1968, are a professional American football team based in Cincinnati, Ohio. As members of the National Football League (NFL), they compete in the AFC North division and play their home games at Paycor Stadium. Throughout their history, the Bengals have experienced various levels of success, cultivating a dedicated fan base and contributing to the league's competitive landscape.
Founded by former Cleveland Browns head coach and Hall of Famer Paul Brown, the Bengals joined the American Football League (AFL) before becoming part of the NFL as a result of the AFL-NFL merger in 1970. The team enjoyed early success under Brown, making several playoff appearances in the 1970s with notable players like quarterback Ken Anderson and wide receiver Isaac Curtis.
The Bengals' greatest successes came in the 1980s when they reached the Super Bowl twice under head coach Forrest Gregg and later under Sam Wyche. In Super Bowl XVI, the team faced the San Francisco 49ers but ultimately fell short. They would meet the 49ers again in Super Bowl XXIII, only to suffer another heartbreaking loss in a closely contested game. They also met the Los Angeles Rams in Super Bowl LVI in 2022 but fell short by a score of 23-20. Despite the Super Bowl setbacks, these appearances remain high points in the team's history.
Following the 1980s, the Bengals experienced a period of decline, with a playoff drought that lasted from the 1990 season until the 2005 season. The team began to show signs of resurgence in the 2010s under head coach Marvin Lewis, making several consecutive playoff appearances but failing to secure a postseason victory.
Today, the Cincinnati Bengals continue to compete in the AFC North and the NFL as a whole. Their storied history, marked by moments of triumph and struggle, has endeared them to fans both locally and nationally, establishing their place as a respected franchise in professional football.
FAQs about Cincinnati Bengals 2023 Game Schedule And Tickets
How and where to buy Cincinnati Bengals tickets?
While it may be difficult to find Cincinnati Bengals tickets, Event Tickets Center has plenty of Cincinnati Bengals tickets available starting from $11. Select your tickets using our interactive seating chart, and follow the steps in checkout. You'll be going to a Cincinnati Bengals event in no time!
How much are Cincinnati Bengals tickets?
On Event Tickets Center, Cincinnati Bengals ticket prices range from $11 up to $19,756 over a number of different Cincinnati Bengals events.
When do Cincinnati Bengals tickets go on sale?
Typically, Cincinnati Bengals will announce the schedule 3-6 months before the first game, and tickets go on sale within a few weeks of the schedule announcement.
Are Cincinnati Bengals tickets sold out?
No. While tickets to see Cincinnati Bengals may be sold out on other ticketing websites, Event Tickets Center has plenty of tickets available for you to see Cincinnati Bengals live.
Are Cincinnati Bengals tickets on sale?
Yes, Cincinnati Bengals tickets are on sale, and you can buy them right here at Event Tickets Center.
When is the next Cincinnati Bengals event?
The next Cincinnati Bengals event is on September 25, 2023 at Paycor Stadium in Cincinnati, OH. Event Tickets Center has 54 tickets available for this event.
Event Dates and Pricing Information
| Venue | Date | Price | Tickets Available |
| --- | --- | --- | --- |
| Paycor Stadium | Sep 25, 2023 | From $162 | 54 |
| Nissan Stadium - Nashville | Oct 1, 2023 | From $91 | 1,540 |
| State Farm Stadium Parking Lots | Oct 8, 2023 | From $11 | 34 |
| State Farm Stadium | Oct 8, 2023 | From $41 | 5,370 |
| Gameday Hospitality - Cincinnati | Oct 15, 2023 | From $31 | 200 |
| Paycor Stadium Parking Lots | Oct 15, 2023 | From $50 | 17 |
| Paycor Stadium | Oct 15, 2023 | From $165 | 2,704 |
| Levi's Stadium | Oct 29, 2023 | From $228 | 3,196 |
| Gameday Hospitality - Cincinnati | Nov 5, 2023 | From $31 | 198 |
| Paycor Stadium | Nov 5, 2023 | From $260 | 2,876 |