Caesars Superdome Seating Charts
Caesars Superdome - Football RW Seating Map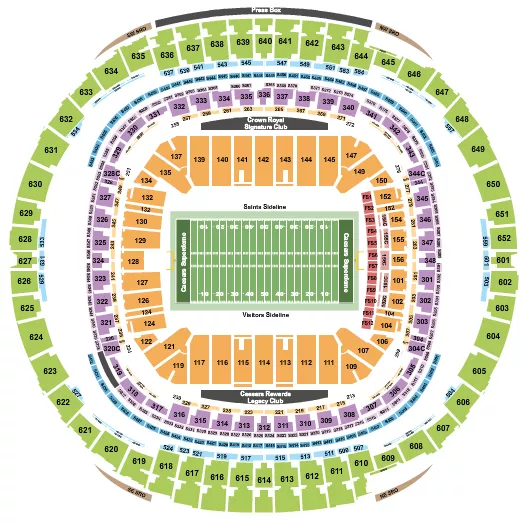 See Caesars Superdome - Football RW events that use this seating chart configuration
Can The Saints March Back to the Playoffs
After a disappointing couple of seasons, the Saints get ready for 2023.
Buy NFL New Orleans Saints Tickets
Led by Dennis Allen, who is coming into his second season as the team's head coach, the Saints have tilted the scales slightly in their favor when comparing gains to losses, and they come into this new season with experts placing them as the frontrunners to clinch the lowly NFC South. Success hinges on significant strategic offseason moves, such as signing quarterback Derek Carr from the Las Vegas Raiders. Carr was offered a four-year contract worth $150 million, making $37.5 million annually. This offseason, none of the other free agents who switched teams got a higher total or yearly salary than him. Carr will join Jameis Winston, who was the QB2 last year and will most likely stay in that role.
In addition to their talented quarterbacks, the Saints have a strong defense led by players like Cameron Jordan and Demario Davis. The team's offense is also expected to be a force to be reckoned with, with players like Alvin Kamara and NFL's Offensive Player of the Year, Michael Thomas, leading the way.
However, one of the biggest stories surrounding the Saints this offseason is the suspension of rookie quarterback Jake Haener for the first six games due to a violation of the NFL's performance-enhancing drugs policy. Despite this setback, the Saints are still focused on doing their best and clinching a playoff berth.
The Saints have a challenging schedule ahead of them, with games against teams like the Carolina Panthers, Green Bay Packers, and Tampa Bay Buccaneers in the first few weeks of the season. Fans are hoping for a strong start and a successful season. However, it won't be an easy feat to achieve, as the NFC South is always unpredictable, and even though they're favorites, anything can happen.
How did the New Orleans Saints perform in the 2022 NFL Season?
The 2022 NFL season was a roller coaster ride for the Saints, who faced many changes and challenges. They had a chance to rule the NFC South, weaker than usual, in their first year under coach Dennis Allen, who took over after former head coach Sean Payton announced his retirement in January 2022. The Saints suffered from injuries to important players and missed the playoffs for the second year in a row, finishing with a record of 7-10.
They notched impressive wins, including a shutout victory over the Las Vegas Raiders and a comeback win against the Seattle Seahawks. The team had a chance to make the playoffs in Week 17, but they lost to the Philadelphia Eagles and were eliminated by other results. They ended their season on a sour note, losing to the Carolina Panthers and finishing in a three-way tie for worst in the division with the Falcons and Panthers. Womp, womp.
They had some personnel bright spots, namely rookie wide receiver Chris Olave, who led the team with 1,042 receiving yards and four touchdowns, and versatile playmaker Taysom Hill, who scored seven touchdowns in hybrid roles. However, as with every team that ends the season on a losing record, the Saints had more weaknesses than strengths, as their quarterback play, offensive line, secondary, and special teams did not meet expectations. Andy Dalton only passed for 2,871 yards, 18 touchdowns, and nine interceptions, ranking 19th in passer rating among other quarterbacks. He also fumbled the ball five times. The offensive line allowed 38 sacks, ranking 17th in the league.
Who did the New Orleans Saints acquire in the 2023 NFL Draft?
These are their picks for this upcoming season:
Round 1, Pick 29: Bryan Bresee, DT, Clemson
Round 2, Pick 40: Isaiah Foskey, DE, Notre Dame
Round 3, Pick 71, Kendre Miller, RB, TCU
Round 4, Pick 103 (from Chicago): Nick Saldiveri, OT, Old Dominion
Round 4, Pick 127 (From Jacksonville): Jake Haener, QB, Fresno State (Reserve list, suspended)
Round 5, Pick 146: Jordan Howden, S, Minnesota
Round 6, Pick 195: A.T. Perry, WR, Wake Forest
Who else did the Saints sign for the 2023 Season?
The offseason brought the following players to the Saints' roster:
Derek Carr, QB, Las Vegas Raiders (Free Agent)
Ugo Amadi, FS, Tennessee Titans (Free Agent)
Khalen Saunders, DT, Kansas City Chiefs (Free Agent)
Nathan Shepherd, DT, New York Jets (Free Agent)
Foster Moreau, TE, Las Vegas Raiders (Free Agent)
Max Garcia, C, Arizona Cardinals (Free Agent)
Jimmy Graham, TE, Chicago Bears (Free Agent)
Blake Grupe, K, Notre Dame (Undrafted Free Agent)
Lou Hedley, P, Miami (Undrafted Free Agent)
The team signed other players who didn't make the cut but were put either on reserve list or the practice squad:
Lynn Bowden, WR, New England Patriots (Free Agent, Practice squad)
Trai Turner, G, Washington Commanders (Free Agent, Reserve list)
Kyle Phillips, DE, New York Jets (Free Agent, Practice squad)
Tommy Kraemer, G, Detroit Lions (Free Agent, Practice squad)
Jaylon Smith, MLB, New York Giants (Free Agent, Practice squad)
Shaquan Davis, WR, South Carolina State (Undrafted Free Agent, Practice squad)
Jontre Kirklin, WR (Undrafted Free Agent, Practice Squad)
Anthony Johnson, CB, Virginia (Undrafted Free Agent, Practice squad)
Anfernee Orji, LB, Vanderbilt (Undrafted Free Agent, Practice squad)
New Orleans Saints Key Matchups in 2023
After a very tight NFC South race last season, the Saints have the easiest schedule this year according to experts. These are some hurdles they'll have to jump in 2023:
Week 5 at New England Patriots: This is a rare matchup between two of the most successful franchises in the NFL, who have only met six times in the regular season since 2000. The Saints will face a challenge against the Patriots, who have won six Super Bowls under coach Bill Belichick and are looking to succeed with a revamped offense and a strong, stingy defense.
Week 17 at Tampa Bay Buccaneers: This is an NFC South game with playoff implications and the second time they'll meet this season. The Saints will try to reclaim their dominance over the Buccaneers, who swept them in the regular season in 2022.
Week 18 vs. Atlanta Falcons: This is the regular season finale, and it also has potential playoff implications game for both teams. The Saints and the Falcons have a long-standing rivalry, with the Saints dominating in the last few years. They will try to end their season on a high note and secure a postseason berth against their divisional foes.
FAQs about New Orleans Saints 2023 Game Schedule And Tickets
When were the New Orleans Saints established and joined the NFL?
The team was established on November 1, 1966, by John W. Mecom Jr., David Dixon, and the city of New Orleans. The same year, they became part of the NFL as an expansion team. The team derives its name from the rich jazz music tradition of New Orleans and the spiritual hymn "When the Saints Go Marching In." Before the NFL-AFL merger, they played in the Eastern Conference between 1967 and 1969, and after the merger, they were part of the NFC West Division until 2001. They are currently playing in the NFC South Division, along with the Atlanta Falcons, the Carolina Panthers, and the Tampa Bay Buccaneers.
Who owns the New Orleans Saints?
The team is owned by Gayle Benson, an American billionaire, businesswoman, and sports franchise owner. She became the principal owner of the Saints and the New Orleans Pelicans of the NBA in 2018, following the death of her husband, Tom Benson, who bought the team in 1985 from its original owners. She is the first woman to be the majority shareholder of the voting stock in both an NFL and NBA franchise.
Who is the head coach of the New Orleans Saints?
The team's current head coach is Dennis Allen, who was named as the successor of Sean Payton on February 8, 2022. Allen was previously the defensive coordinator of the Saints between 2015 and 2022 and has been with the organization for 12 seasons. He led the Saints defense to rank in the top 10 in yards per game and in the top five in opponent points per game in 2021 and 2022. He was also the former head coach of the Oakland Raiders from 2012 to 2014.
What are some of the other personnel and assistant coaches?
Pete Carmichael, offensive coordinator
Joe Woods, defensive coordinator
Darren Rizzi, special teams coordinator
Mickey Loomis, general manager
How many championships have the New Orleans Saints won?
The New Orleans Saints have won one championship in their history, Super Bowl XLIV in 2009, defeating the Indianapolis Colts 31-17. The Saints and the New York Jets stand as one of only two NFL teams to have won the Super Bowl in their only appearance.
How many divisional championships have the New Orleans Saints won?
Throughout their history, the New Orleans Saints have clinched nine divisional championships. They secured the NFC West title on four occasions (in 1987, 1991, 1992, and 2000) and the NFC South title five times (in 2006, 2009, 2011, 2017, and 2018). They share the distinction of the most division titles in the NFC South with the Atlanta Falcons. Additionally, the Saints have earned playoff berths as a wild-card team five times (in 1983, 1990, 2010, 2013, and 2020). In postseason play, their record stands at ten wins and 14 losses, which includes a Super Bowl victory.
What is the New Orleans Saints best overall season record?
The team achieved their best overall season in 2009, culminating in their Super Bowl XLIV victory. They ended the regular season with an outstanding 13-3 record during that campaign. Furthermore, the Saints established new franchise records, making 510 points, scoring 64 touchdowns, and boasting a remarkable point differential of +169.
What is the New Orleans Saints overall franchise record?
The team's overall franchise record is 403 wins, 460 losses, and five ties in their regular season history, with a winning percentage of .467. They have also made 14 playoff appearances, with a postseason record of 10 wins and 13 losses.
Who have been some of the most famous players in New Orleans Saints history?
Some of the most important players in Saints' history have been:
Drew Brees: The quarterback who led the Saints to their first Super Bowl title in 2009. Holds NFL records in passing yards, completions, and completion percentage. A 13-time Pro Bowler, two-time Offensive Player of the Year, and Super Bowl MVP. He is widely considered one of the greatest quarterbacks ever.
Rickey Jackson: The first Saints player inducted into the Pro Football Hall of Fame. He dominated the league as an outside linebacker from 1981 to 1993 and it is the Saints' all-time leader in sacks, forced fumbles, and fumble recoveries. A six-time Pro Bowler, four-time All-Pro, and NFL 1980s All-Decade Team member.
Willie Roaf: The second Saints player inducted into the Hall of Fame. He was an elite offensive tackle from 1993 to 2001 who was an 11-time Pro Bowler, six-time All-Pro, and part of the NFL 1990s and 2000s All-Decade Teams.
Morten Andersen: The third Saints player inducted into the Hall of Fame. He was a highly accurate and clutch kicker from 1982 to 1994. The Saints' all-time leader in points scored, field goals made, and attempted. Seven-time Pro Bowler, three-time All-Pro, and a member of the NFL 1980s and 1990s All-Decade Teams.
Sam Mills: The fourth Saints player inducted into the Hall of Fame, Mills was a leader and playmaker at inside linebacker from 1986 to 1994. He is part of the famed "Dome Patrol" with other Pro Bowl linebackers. Ranks second in Saints history in tackles, third in sacks, and fourth in interceptions. A five-time Pro Bowler, three-time All-Pro, and NFL 1990s All-Decade Team member.
Have the New Orleans Saints retired any jersey numbers?
The team does not officially retire jersey numbers, but there are at least two that you will never see on the field again. These are number 8 and number 9, which were worn by Archie Manning and Drew Brees, respectively. Both quarterbacks are considered legends of the franchise and have earned the fans' and the organization's respect and admiration. The Saints have technically stopped using four other numbers, but they still occasionally assign them to other players. These are number 31 (Jim Taylor), number 51 (Sam Mills), number 57 (Rickey Jackson), and number 81 (Doug Atkins).
Where do the New Orleans Saints play?
The team calls the Caesars Superdome their home, a stadium in the Central Business District of New Orleans, Louisiana. This venue is the world's largest fixed-domed structure, with a seating capacity of 73,208 for football games, which can be expandable to 76,468.
The Superdome is the stadium that has hosted the most Super Bowls in history, with seven, and it will soon host its eighth Super Bowl LIX in 2025. It has also hosted five NCAA championships in men's college basketball. Additionally, it serves as the primary venue for college football events such as the Sugar Bowl, New Orleans Bowl, and Bayou Classic.
Before playing at Caesars Superdome, the Saints used the Tulane Stadium as their home turf, which was demolished in 1980.
Who are the New Orleans Saints biggest rivals?
The New Orleans Saints have several rivals in the NFL, but the most prominent ones are the Atlanta Falcons, the Carolina Panthers, and the Minnesota Vikings. Here is a summary of each rivalry:
Atlanta Falcons: The Saints and Falcons have shared the same division since 1970, leading to an enduring rivalry. They face off at least twice a year, resulting in a history of intense and closely contested matches accompanied by mutual animosity and spirited banter. The series is tied 54-54, and the Saints have claimed victory in eight of the last ten meetings.
Carolina Panthers: The Saints and Panthers have been divisional rivals since 1995, giving rise to a heated rivalry. These two teams have frequently vied for the division championship, and notable players and coaches have switched allegiances between them. The Saints hold a slight advantage in the all-time series, leading 29-28. Additionally, the Saints emerged victorious in their sole playoff encounter in 2017.
Minnesota Vikings: While not divisional rivals, the Saints and Vikings have crossed paths 37 times, five of those in the postseason, resulting in thrilling encounters. The Vikings have emerged victorious in four matchups, including the memorable "Minneapolis Miracle" in 2017 and the contentious "push-off" game in 2019. However, the Saints' lone playoff victory over the Vikings occurred in the 2009 NFC Championship game, a pivotal win that propelled them to their first and only Super Bowl triumph.
What is the New Orleans Saints mascot?
The New Orleans Saints have two official mascots: Sir Saint and Gumbo the Dog.
Sir Saint: He is a human-like character with a big chin, small eyes, and gold pants. He wears a Saints outfit and helmet, and he often has a smirk on his face. He's been around since the team started, and they brought him back in 2009 when they won their first Super Bowl.
Gumbo the Dog: Gumbo is a brown Saint Bernard who wears a Saints jersey and a chef's hat. He was the first mascot to dress up on the field and got his name from the famous Louisiana dish popular in New Orleans.
What are the New Orleans Saints colors?
The New Orleans Saints proudly sport black, gold, and white as their team colors, each holding special significance reflecting the culture and heritage of their city and Louisiana. Here's a brief explanation of what each color represents:
Black: Symbolizing resilience and strength, black pays homage to the Saints and their fans who have triumphed over numerous challenges throughout their history. It also signifies authority, power, elegance, and sophistication. The Saints have donned black as their primary color since their inception in 1967.
Gold: Reflecting glory and excellence, gold is a nod to the Saints' remarkable achievements, notably their inaugural and sole Super Bowl victory in 2009. It's also associated with wealth, prosperity, faith, and optimism. The inspiration for gold comes from the fleur-de-lis, an iconic emblem of the Saints with deep roots in French culture and Louisiana history.
White: Representing purity and unity, white signifies the common bond and passion shared by the Saints and their fans. It embodies peace, harmony, simplicity, and clarity. White serves as the tertiary color for the Saints and often acts as a striking contrast to the black and gold, creating a visually captivating effect. The Saints adopted white as one of their team colors in 1967.
Where can I buy tickets to see the New Orleans Saints?
Don't miss the Saints' season by getting your tickets here at Event Tickets Center!
How and where to buy New Orleans Saints tickets?
While it may be difficult to find New Orleans Saints tickets, Event Tickets Center has plenty of New Orleans Saints tickets available starting from $33. Select your tickets using our interactive seating chart, and follow the steps in checkout. You'll be going to a New Orleans Saints event in no time!
How much are New Orleans Saints tickets?
On Event Tickets Center, New Orleans Saints ticket prices range from $33 up to $19,260 over a number of different New Orleans Saints events.
When do New Orleans Saints tickets go on sale?
Typically, New Orleans Saints will announce the schedule 3-6 months before the first game, and tickets go on sale within a few weeks of the schedule announcement.
Are New Orleans Saints tickets sold out?
No. While tickets to see New Orleans Saints may be sold out on other ticketing websites, Event Tickets Center has plenty of tickets available for you to see New Orleans Saints live.
Are New Orleans Saints tickets on sale?
Yes, New Orleans Saints tickets are on sale, and you can buy them right here at Event Tickets Center.
When is the next New Orleans Saints event?
The next New Orleans Saints event is on December 3, 2023 at Caesars Superdome in New Orleans, LA. Event Tickets Center has 1,115 tickets available for this event.
NFL Teams, Stadiums, and Divisions
Event Dates and Pricing Information
| Venue | Date | Price | Tickets Available |
| --- | --- | --- | --- |
| Caesars Superdome | Dec 3, 2023 | From $60 | 1,115 |
| Caesars Superdome Parking Lots | Dec 3, 2023 | From $33 | 22 |
| Caesars Superdome | Dec 10, 2023 | From $48 | 2,869 |
| Caesars Superdome Parking Lots | Dec 10, 2023 | From $33 | 25 |
| Caesars Superdome | Dec 17, 2023 | From $51 | 3,402 |
| Caesars Superdome Parking Lots | Dec 17, 2023 | From $33 | 28 |
| SoFi Stadium | Dec 21, 2023 | From $68 | 3,909 |
| SoFi Stadium Parking Lots | Dec 21, 2023 | From $72 | 7 |
| Raymond James Stadium | Dec 31, 2023 | From $76 | 3,265 |
| Caesars Superdome | Jan 7, 2024 | From $59 | 4,915 |