Little Caesars Arena Seating Charts
Little Caesars Arena - Basketball - Pistons Seating Map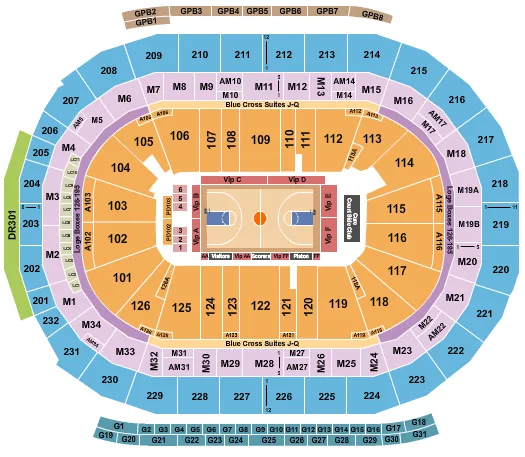 See Little Caesars Arena - Basketball - Pistons events that use this seating chart configuration
Detroit Pistons
The Detroit Pistons are a professional basketball team based in Detroit, MI, and a member of the Eastern Conference in the NBA. Founded in 1941, the Pistons are one of the oldest franchises in the NBA. They have won three NBA championships in their history, the most recent being in 2004. The team has also won nine conference titles and six division titles.
The Pistons play their home games at the Little Caesars Arena, a state-of-the-art facility located in downtown Detroit that opened in 2017. The arena has a seating capacity of 20,000 and features world-class amenities, including restaurants, bars, and luxury suites.
The Pistons have a rich history in the NBA and have been involved in several memorable playoff series over the years. They have had many notable rivals, including the Chicago Bulls, Boston Celtics, and Cleveland Cavaliers. The Pistons' rivalry with the Bulls in the late 80s and early 90s is particularly famous, with their playoff matchups featuring some of the most physical and intense basketball in NBA history.
If you're a fan of the Pistons or just a lover of basketball, there's no better way to experience the excitement of the NBA than by attending a game at Little Caesars Arena. With the team's young and talented roster, there's a lot of excitement around the future of the franchise. Don't miss out on the action! Buy your tickets today and be a part of the Detroit Pistons' storied history.
FAQs about Detroit Pistons 2023 Game Schedule And Tickets
How and where to buy Detroit Pistons tickets?
While it may be difficult to find Detroit Pistons tickets, Event Tickets Center has plenty of Detroit Pistons tickets available starting from $15. Select your tickets using our interactive seating chart, and follow the steps in checkout. You'll be going to a Detroit Pistons event in no time!
How much are Detroit Pistons tickets?
On Event Tickets Center, Detroit Pistons ticket prices range from $15 up to $5,905 over a number of different Detroit Pistons events.
When do Detroit Pistons tickets go on sale?
Typically, Detroit Pistons will announce the schedule 3-6 months before the first game, and tickets go on sale within a few weeks of the schedule announcement.
Are Detroit Pistons tickets sold out?
No. While tickets to see Detroit Pistons may be sold out on other ticketing websites, Event Tickets Center has plenty of tickets available for you to see Detroit Pistons live.
Are Detroit Pistons tickets on sale?
Yes, Detroit Pistons tickets are on sale, and you can buy them right here at Event Tickets Center.
When is the next Detroit Pistons event?
The next Detroit Pistons event is on November 30, 2023 at Madison Square Garden in New York, NY. Event Tickets Center has 1,222 tickets available for this event.
NBA Teams, Stadiums, and Divisions
Event Dates and Pricing Information
| Venue | Date | Price | Tickets Available |
| --- | --- | --- | --- |
| Madison Square Garden | Nov 30, 2023 | From $85 | 1,222 |
| Little Caesars Arena | Dec 2, 2023 | From $32 | 2,362 |
| Little Caesars Arena | Dec 6, 2023 | From $19 | 1,232 |
| Amway Center | Dec 8, 2023 | From $20 | 1,808 |
| Little Caesars Arena | Dec 11, 2023 | From $15 | 2,953 |
| Little Caesars Arena | Dec 13, 2023 | From $21 | 2,774 |
| Wells Fargo Center - PA | Dec 15, 2023 | From $29 | 2,526 |
| Fiserv Forum | Dec 16, 2023 | From $57 | 1,654 |
| State Farm Arena - GA | Dec 18, 2023 | From $18 | 2,175 |
| Little Caesars Arena | Dec 21, 2023 | From $18 | 2,771 |