Rogers Arena Seating Charts
Rogers Arena - Bruce Springsteen Seating Map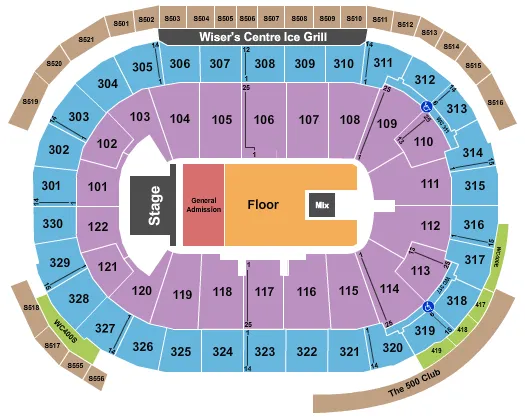 See Rogers Arena - Bruce Springsteen events that use this seating chart configuration
Rogers Arena - Bryan Adams-2 Seating Map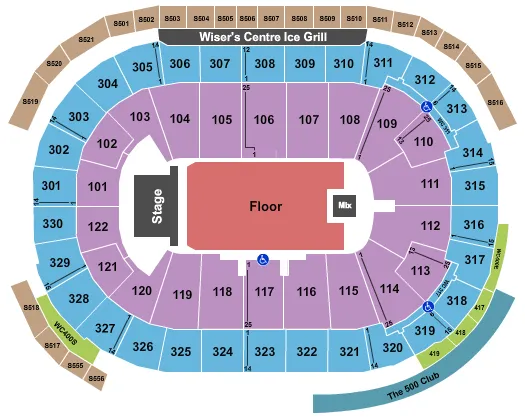 See Rogers Arena - Bryan Adams-2 events that use this seating chart configuration
Rogers Arena - Center Stage Seating Map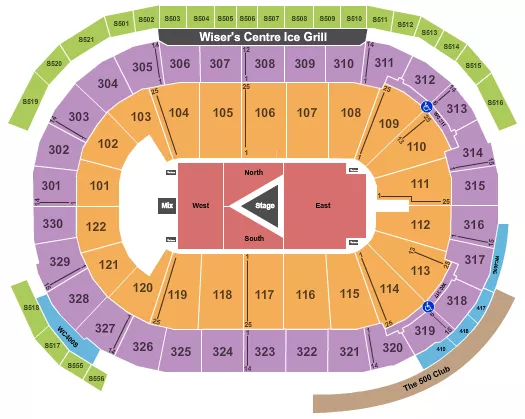 See Rogers Arena - Center Stage events that use this seating chart configuration
Rogers Arena - Center Stage 3 Seating Map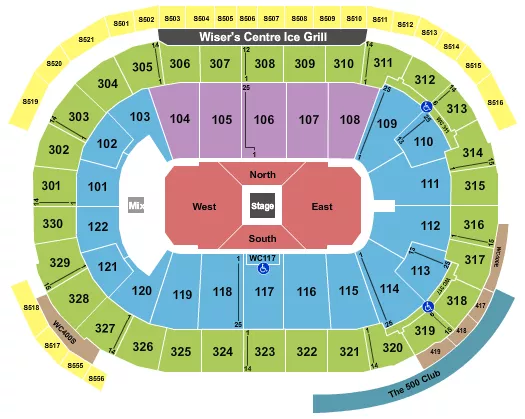 See Rogers Arena - Center Stage 3 events that use this seating chart configuration
Rogers Arena - City and Colour Seating Map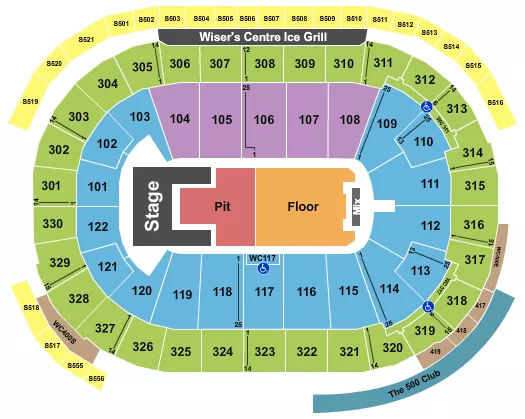 See Rogers Arena - City and Colour events that use this seating chart configuration
Rogers Arena - Endstage GA Pit Seating Map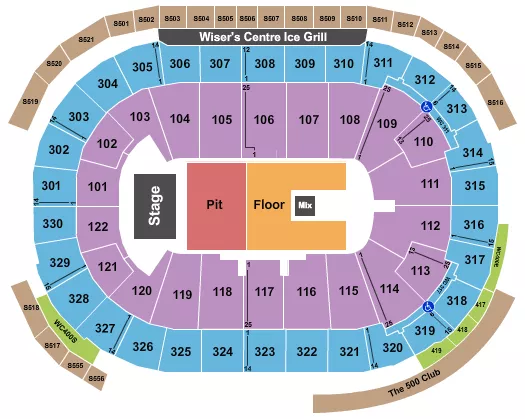 See Rogers Arena - Endstage GA Pit events that use this seating chart configuration
Rogers Arena - Enrique Iglesias Seating Map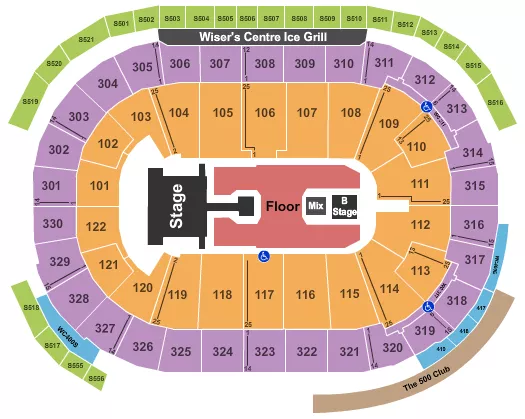 See Rogers Arena - Enrique Iglesias events that use this seating chart configuration
Rogers Arena - Generic Floor Seating Map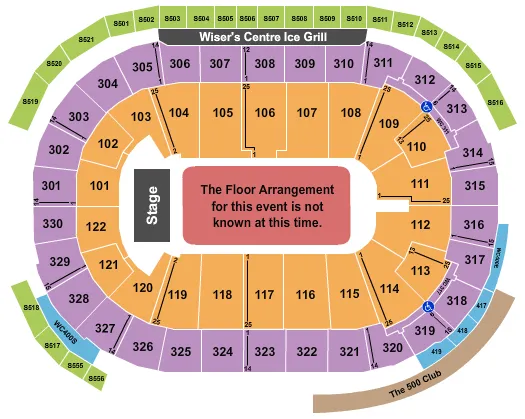 See Rogers Arena - Generic Floor events that use this seating chart configuration
Rogers Arena - Hockey Seating Map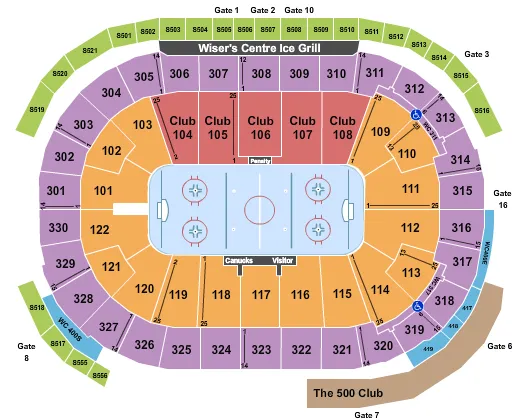 See Rogers Arena - Hockey events that use this seating chart configuration
Rogers Arena - Joker Xue Seating Map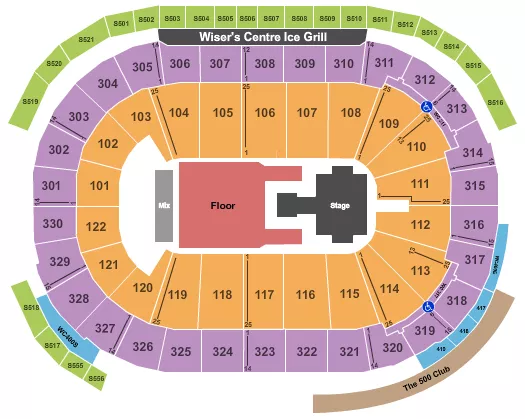 See Rogers Arena - Joker Xue events that use this seating chart configuration
Rogers Arena - Lacrosse 2 Seating Map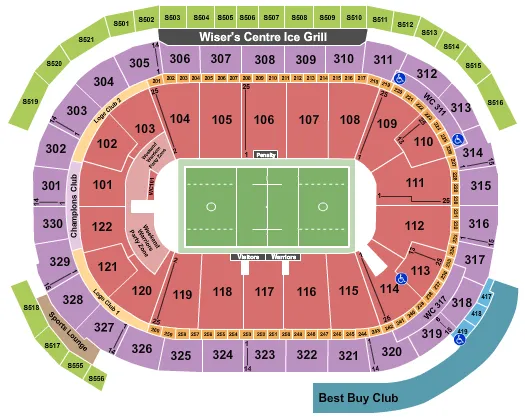 See Rogers Arena - Lacrosse 2 events that use this seating chart configuration
Rogers Arena - Lainey Wilson Seating Map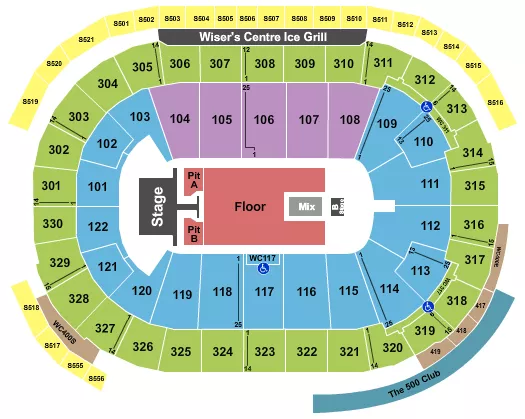 See Rogers Arena - Lainey Wilson events that use this seating chart configuration
Rogers Arena - Madonna 2 Seating Map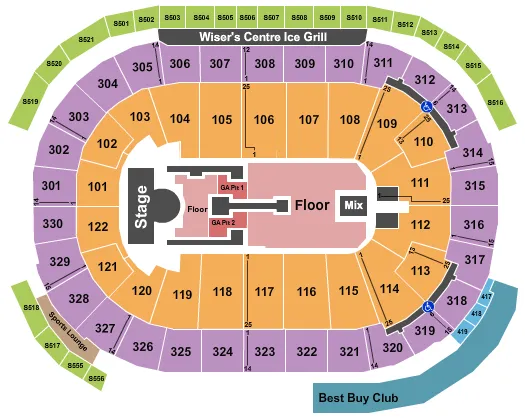 See Rogers Arena - Madonna 2 events that use this seating chart configuration
Rogers Arena - Noah Kahan Seating Map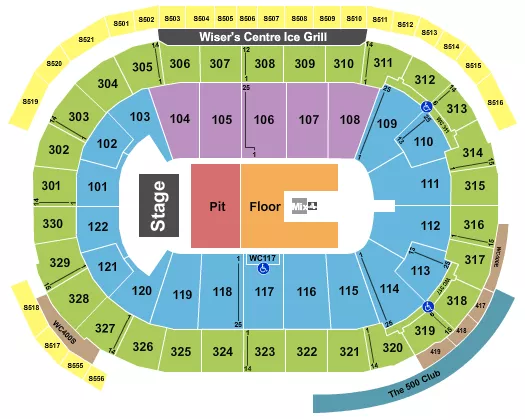 See Rogers Arena - Noah Kahan events that use this seating chart configuration
Rogers Arena - Olivia Rodrigo Seating Map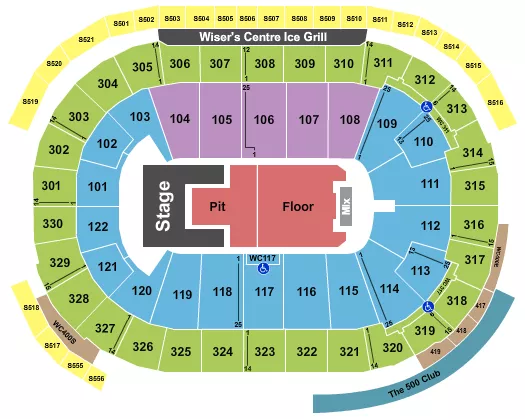 See Rogers Arena - Olivia Rodrigo events that use this seating chart configuration
Rogers Arena - Pink Seating Map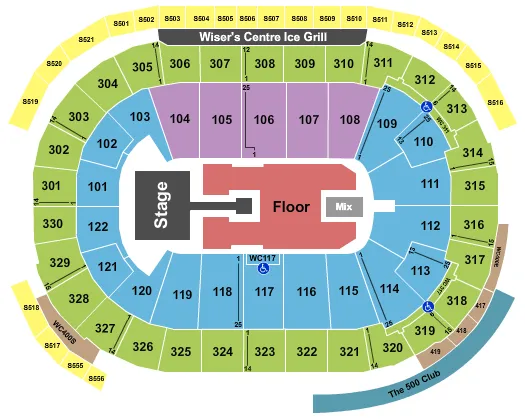 See Rogers Arena - Pink events that use this seating chart configuration
Rogers Arena - Snoop Dog Seating Map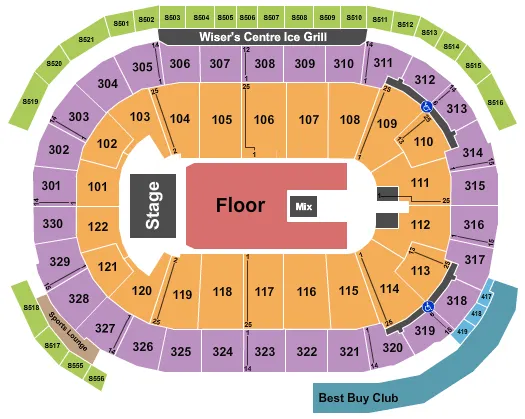 See Rogers Arena - Snoop Dog events that use this seating chart configuration
Rogers Arena - Stars On Ice 2 Seating Map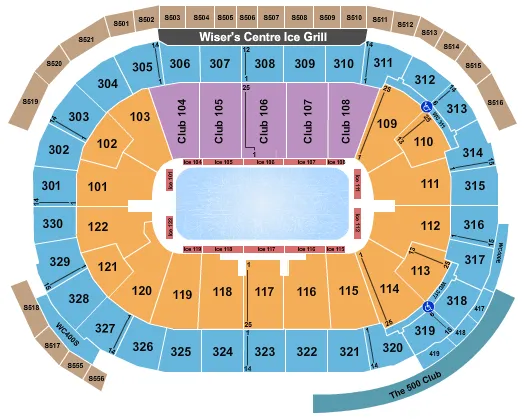 See Rogers Arena - Stars On Ice 2 events that use this seating chart configuration
Rogers Arena - Tim McGraw 2023 Seating Map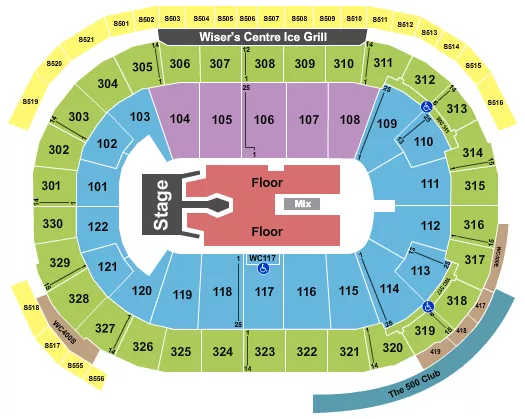 See Rogers Arena - Tim McGraw 2023 events that use this seating chart configuration
Rogers Arena - WWE Seating Map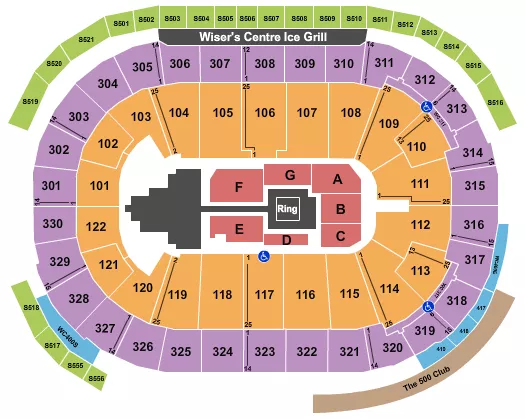 See Rogers Arena - WWE events that use this seating chart configuration
Rogers Arena - Zach Bryan Seating Map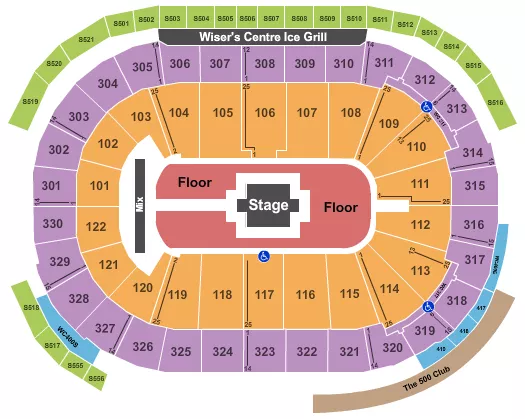 See Rogers Arena - Zach Bryan events that use this seating chart configuration
Learn more about Rogers Arena
Rogers Arena, located in the heart of downtown Vancouver, British Columbia, is a world-class sports and entertainment venue known for its state-of-the-art facilities. The Arena, opened in 1995, boasts a seating capacity of 18,910 for hockey matches and 19,700 for concerts, offering an intimate setting for large-scale events.
Over its history, Rogers Arena has hosted a wide array of notable performers, including renowned artists like Madonna, U2, and Coldplay, alongside major sporting events such as the 2010 Winter Olympics ice hockey matches. Notably, it is also home to the NHL's Vancouver Canucks, adding to its cultural significance.
One unique aspect of the Rogers Arena is its collection of significant sports and music memorabilia, including signed guitars from past performers and a statue of legendary Canucks coach, Pat Quinn. The Arena also excels in providing an innovative fan experience with its modern amenities and diverse food and beverage options.
Rogers Arena Seating Information
Rogers Arena provides a range of seating options tailored to diverse preferences. Below, we outline the various sections, each offering a distinct experience:
Club Seats
Located in sections 104-108, Club Seats offer an elevated experience during Canucks games. Attendees enjoy access to an exclusive lounge featuring premium food and beverages. The lounge, featuring a rotating tapas-style buffet and non-alcoholic beverages, adds to the upscale atmosphere. Club 500, another contemporary option, provides a unique premium experience for both Canucks games and concerts.
Champions Club
Offering an all-inclusive experience, Champions Club ticketholders enjoy a rotating tapas-style buffet and non-alcoholic beverages. Positioned in the lower bowl, this section provides an excellent view of the game.
Club 500
Club 500, situated in the lower bowl, is a modern club seating choice. Providing a unique premium experience for Canucks games and concerts, it offers an excellent view of the action.
Lower Bowl
The lower bowl, divided into three sections (101-103, 111-117, and 120-122), offers proximity to the action. Ideal for fans seeking a close-up view of the game.
Upper Bowl
Divided into two sections (301-318 and 320-329), the upper bowl provides a great vantage point for fans desiring proximity to the action during Canucks games.
Loge Seating
Sections 201-204 offer Loge Seating, providing a unique experience. Fans in these seats access an exclusive lounge with premium food, a rotating tapas-style buffet, and non-alcoholic beverages.
Suites
On the 300 level, Suites offer a private and luxurious experience for Canucks games and concerts. Featuring a private entrance, premium food and beverages, and comfortable seating, suites enhance the overall event experience.
Top Two Hotels Near Rogers Arena
If you plan to attend an event at Rogers Arena in Vancouver, you'll need a comfortable and convenient place to stay. Here are our top two hotel recommendations near Rogers Arena:
YWCA Hotel Vancouver
The YWCA Hotel Vancouver is an affordable downtown Vancouver hotel just a short walk or 5-minute drive from Rogers Arena. This budget-friendly option offers clean and comfortable rooms, making it an excellent choice for cost-conscious travelers. The YWCA Hotel Vancouver provides amenities like a fitness center, laundry facilities, and a rooftop deck with stunning city views. You'll also find free Wi-Fi for your convenience.
Hotel Blu
Hotel Blu is a modern and stylish hotel in downtown Vancouver, only a 15-minute walk from Rogers Arena. This upscale option boasts spacious and luxurious rooms featuring high-end amenities like a 55-inch flat-screen TV, a Nespresso coffee machine, and a rainfall showerhead. The hotel also offers a fitness center, a sauna, and a rooftop hot tub with panoramic city views. Free Wi-Fi is available for guests.
No matter which hotel you choose, you'll be within easy reach of Rogers Arena and downtown Vancouver's excitement. Book your stay today for a comfortable and convenient trip to the area.
FAQs about Rogers Arena
What time do doors open at Rogers Arena?
Doors typically open anywhere between 90 minutes to 2 hours prior to showtime at Rogers Arena. Be sure to check the listing on your ticket as showtimes will vary.
Who plays at Rogers Arena?
The Vancouver Canucks are the home team at the Rogers Arena.
Facts about Rogers Arena
Capacity:
18,910
Opened:
September 21, 1995
Past Names:
General Motors Place, Canada Hockey Place
Event Dates and Pricing Information
| Performer | Date | Price | Tickets Available |
| --- | --- | --- | --- |
| Enrique Iglesias | Dec 10, 2023 | From $140 | 370 |
| Enrique Iglesias | Dec 11, 2023 | From $115 | 474 |
| Vancouver Canucks | Dec 12, 2023 | From $35 | 1,121 |
| Vancouver Canucks | Dec 14, 2023 | From $87 | 1,114 |
| Vancouver Warriors | Dec 16, 2023 | From $28 | 881 |
| Vancouver Canucks | Dec 23, 2023 | From $81 | 1,639 |
| Vancouver Canucks | Dec 28, 2023 | From $101 | 1,226 |
| Vancouver Canucks | Jan 2, 2024 | From $68 | 1,585 |
| WWE: Smackdown | Jan 5, 2024 | From $99 | 1,080 |
| Vancouver Warriors | Jan 13, 2024 | From $35 | 839 |