Canada Life Centre Seating Charts
Canada Life Centre - Bruce Springsteen 2023 Seating Map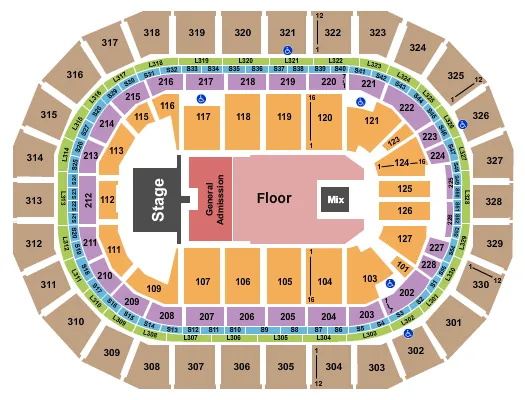 See Canada Life Centre - Bruce Springsteen 2023 events that use this seating chart configuration
Canada Life Centre - Bryan Adams Seating Map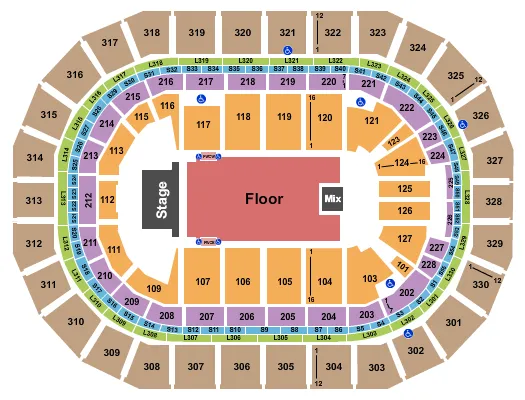 See Canada Life Centre - Bryan Adams events that use this seating chart configuration
Canada Life Centre - Center Stage 2 Seating Map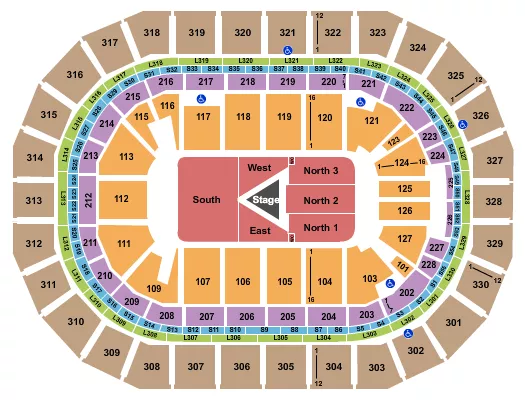 See Canada Life Centre - Center Stage 2 events that use this seating chart configuration
Canada Life Centre - City and Colour Seating Map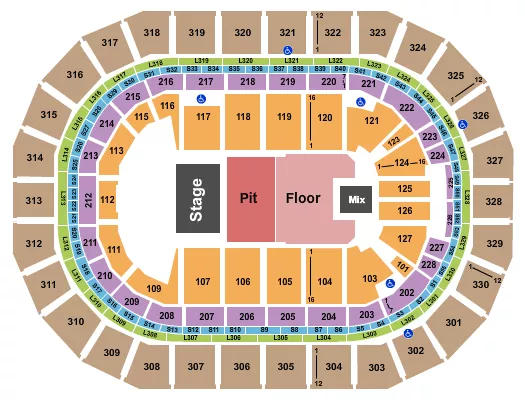 See Canada Life Centre - City and Colour events that use this seating chart configuration
Canada Life Centre - Corteo Seating Map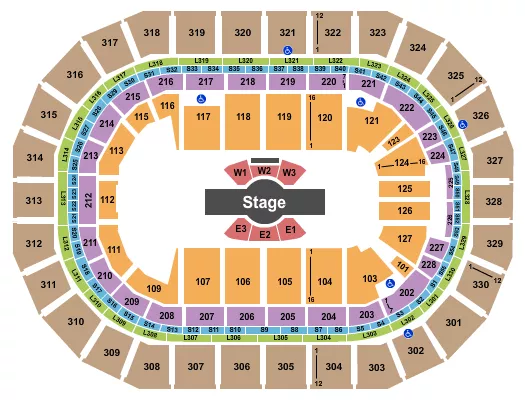 See Canada Life Centre - Corteo events that use this seating chart configuration
Canada Life Centre - Half House Reserved Floor Seating Map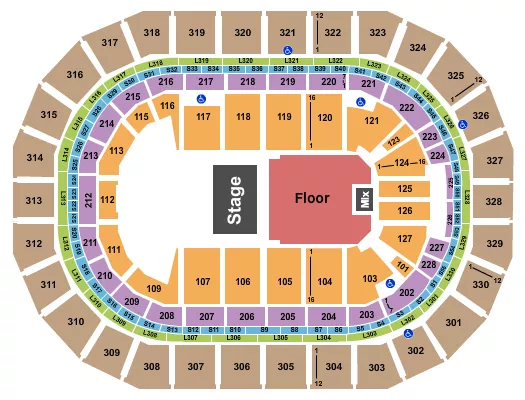 See Canada Life Centre - Half House Reserved Floor events that use this seating chart configuration
Canada Life Centre - Hockey Seating Map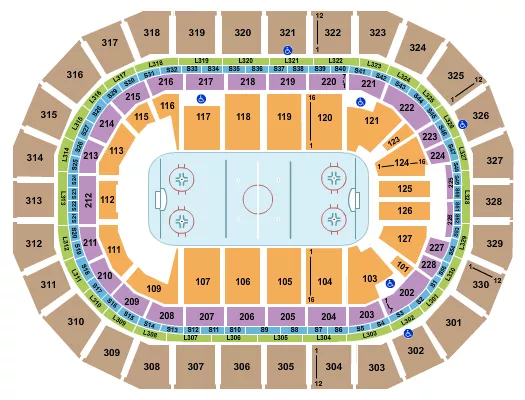 See Canada Life Centre - Hockey events that use this seating chart configuration
Canada Life Centre - Noah Kahan Seating Map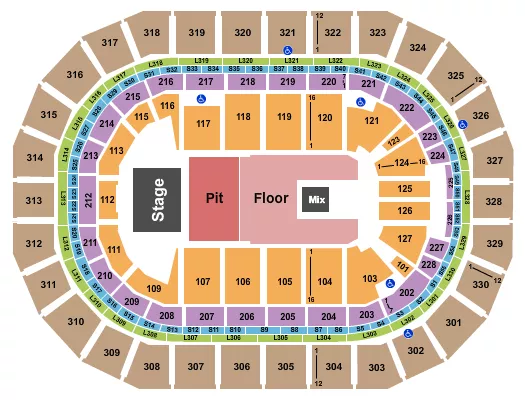 See Canada Life Centre - Noah Kahan events that use this seating chart configuration
Canada Life Centre - Open Floor 2 Seating Map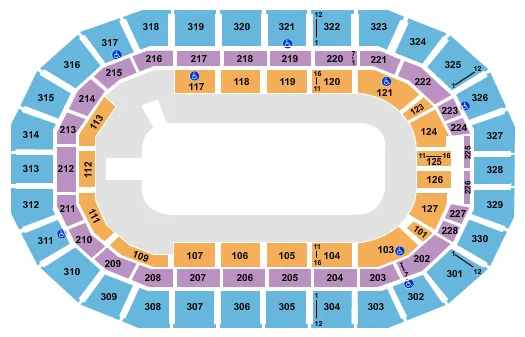 See Canada Life Centre - Open Floor 2 events that use this seating chart configuration
Learn more about Canada Life Centre
Canada Life Centre Seating Information
Discover a range of seating options at Canada Life Centre, each designed to provide a unique and enjoyable experience for all attendees:
Ticketmaster Lounge
The Ticketmaster Lounge stands out as one of the premier seating options at Canada Life Centre, offering a luxurious and comfortable theatre-like experience, making it an excellent choice for any event.
Floor Seats
Experience the thrill of the event up close with Floor Seats, providing some of the closest views of the performers. Please note that the floor layout may vary based on the specific event, with adjustments made for performer-specific requirements.
Side of the Stage
Opt for seats located to the side of the stage in Section 106, Section 107, and Section 117 for a unique perspective. These seats offer a combination of proximity to the stage, better elevation, and the comfort of actual stadium seats.
Head-on to the Stage
Enjoy a comfortable and immersive view of the performance by selecting seats directly across from the stage, such as those in Section 124, Section 125, Section 126, and Section 127. Even upper-level sections are designed to provide unobstructed sightlines for an optimal viewing experience.
It's important to note that seats behind the stage are occasionally sold but may offer a different view of the performance. Be sure to check the specific event seating chart for details.
Top Hotels Near Canada Life Centre
When attending an event at Canada Life Centre, choosing the right nearby hotel is essential for a convenient stay. Here are two highly recommended hotels within a short walking distance from the venue:
Inn at The Forks
The Inn at The Forks is a luxurious hotel, a 23-minute walk or 5-minute drive from Canada Life Centre. This smoke-free hotel boasts spacious, comfortable rooms with free Wi-Fi and a full-service spa for relaxation. Guests can savor dining options at the on-site restaurant, lounge, and coffee shop, offering convenience and diverse choices. With high Traveler Ratings, this hotel stands out for its cleanliness and room comfort.
Mere Hotel
The Mere Hotel, a boutique establishment a 5-minute drive or 20-minute walk from Canada Life Centre, offers smoke-free, spacious, and comfortable rooms with complimentary Wi-Fi. The hotel provides a welcoming lounge, an on-site restaurant, and a coffee shop for guests' convenience. Highlighted for its cleanliness and spacious rooms in Traveler Ratings, this hotel provides a comfortable stay for guests.
FAQs about Canada Life Centre
What time do doors open at Canada Life Centre?
Doors typically open anywhere between 90 minutes to 2 hours prior to showtime at Canada Life Centre. Be sure to check the listing on your ticket as showtimes will vary.
Who plays at Canada Life Centre?
The Winnipeg Jets are the home team at the Canada Life Centre.
Canada Life Centre Reviews, Interactive Seating Charts and Seat Views
Finding Canada Life Centre seating charts with seat views or 3D views from your seat has proven to be a difficult task - until now. Event Tickets Center provides fans with unbiased Canada Life Centre reviews on our venue guides, including information on Canada Life Centre seat numbers, row numbers, and tips on how to find great seats!
Are VIP Packages or Accessible Seating offered at Canada Life Centre?
Canada Life Centre VIP seating packages and accessible seating section locations may vary per event. Please click the seating chart below or contact our customer service department to discuss options for accessible seating or VIP package purchases.
Event Dates and Pricing Information
| Performer | Date | Price | Tickets Available |
| --- | --- | --- | --- |
| Manitoba Moose | Dec 1, 2023 | From $25 | 674 |
| Winnipeg Jets | Dec 2, 2023 | From $61 | 756 |
| Manitoba Moose | Dec 3, 2023 | From $25 | 724 |
| Winnipeg Jets | Dec 4, 2023 | From $20 | 1,540 |
| Cirque du Soleil - Corteo | Dec 7, 2023 | From $90 | 975 |
| Cirque du Soleil - Corteo | Dec 8, 2023 | From $95 | 821 |
| Cirque du Soleil - Corteo | Dec 9, 2023 | From $97 | 386 |
| Cirque du Soleil - Corteo | Dec 9, 2023 | From $83 | 700 |
| Cirque du Soleil - Corteo | Dec 10, 2023 | From $94 | 808 |
| Manitoba Moose | Dec 15, 2023 | From $25 | 922 |