Rogers Place Seating Charts
Rogers Place - Hockey 2 Seating Map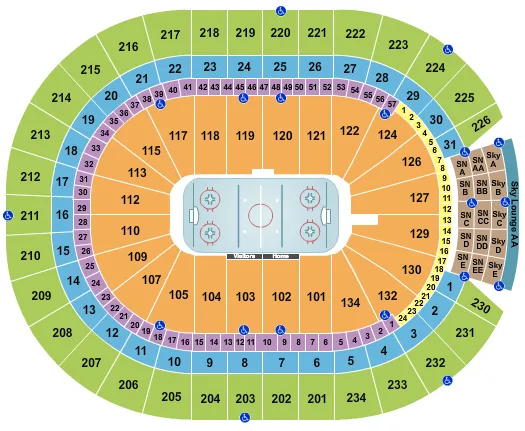 See Rogers Place - Hockey 2 events that use this seating chart configuration
Edmonton Oilers
The Edmonton Oilers are a professional ice hockey team based in Edmonton, AB, and are a member of the NHL The franchise was founded in 1971 and has won five Stanley Cup championships throughout its history. The Oilers play their home games at Rogers Place, which opened in 2016 and can seat over 18,000 fans.
The Oilers' history is highlighted by the dynasty that was formed in the 1980s, led by the likes of Wayne Gretzky, Mark Messier, and Paul Coffey. The team won four Stanley Cup championships in five years from 1984 to 1988, establishing themselves as one of the most dominant teams in NHL history. The Oilers have also made the playoffs 22 times and won seven division titles throughout their history.
The Oilers' biggest rival is the Calgary Flames, with whom they compete in the "Battle of Alberta." This rivalry dates back to the 1980s and has produced some of the most memorable moments in NHL history, including the 1986 and 1991 playoffs.
If you're looking to experience the excitement of an Oilers game firsthand, there's no better time to buy tickets than now. With a talented roster led by Connor McDavid and Leon Draisaitl, the Oilers are a team on the rise and are sure to provide an entertaining night of hockey. Whether you're a die-hard fan or just looking for a fun night out, an Oilers game at Rogers Place is an experience you won't want to miss. So grab some tickets and cheer on the Oilers as they look to add another chapter to their storied history!
FAQs about Edmonton Oilers 2023 Game Schedule And Tickets
How and where to buy Edmonton Oilers tickets?
While it may be difficult to find Edmonton Oilers tickets, Event Tickets Center has plenty of Edmonton Oilers tickets available starting from $35. Select your tickets using our interactive seating chart, and follow the steps in checkout. You'll be going to a Edmonton Oilers event in no time!
How much are Edmonton Oilers tickets?
On Event Tickets Center, Edmonton Oilers ticket prices range from $35 up to $5,778 over a number of different Edmonton Oilers events.
When do Edmonton Oilers tickets go on sale?
Typically, Edmonton Oilers will announce the schedule 3-6 months before the first game, and tickets go on sale within a few weeks of the schedule announcement.
Are Edmonton Oilers tickets sold out?
No. While tickets to see Edmonton Oilers may be sold out on other ticketing websites, Event Tickets Center has plenty of tickets available for you to see Edmonton Oilers live.
Are Edmonton Oilers tickets on sale?
Yes, Edmonton Oilers tickets are on sale, and you can buy them right here at Event Tickets Center.
When is the next Edmonton Oilers event?
The next Edmonton Oilers event is on November 30, 2023 at Canada Life Centre in Winnipeg, MB. Event Tickets Center has 1,108 tickets available for this event.
NHL Teams, Stadiums, and Divisions
Event Dates and Pricing Information
| Venue | Date | Price | Tickets Available |
| --- | --- | --- | --- |
| Canada Life Centre | Nov 30, 2023 | From $41 | 1,108 |
| Rogers Place | Dec 6, 2023 | From $35 | 1,473 |
| Rogers Place | Dec 8, 2023 | From $48 | 1,758 |
| Rogers Place | Dec 10, 2023 | From $52 | 1,498 |
| Rogers Place | Dec 12, 2023 | From $95 | 1,671 |
| Rogers Place | Dec 14, 2023 | From $44 | 2,089 |
| Rogers Place | Dec 16, 2023 | From $64 | 1,284 |
| UBS Arena | Dec 19, 2023 | From $40 | 2,260 |
| Prudential Center | Dec 21, 2023 | From $50 | 1,430 |
| Madison Square Garden | Dec 22, 2023 | From $212 | 1,990 |