TD Garden Seating Charts
TD Garden - Hockey Row Seating Map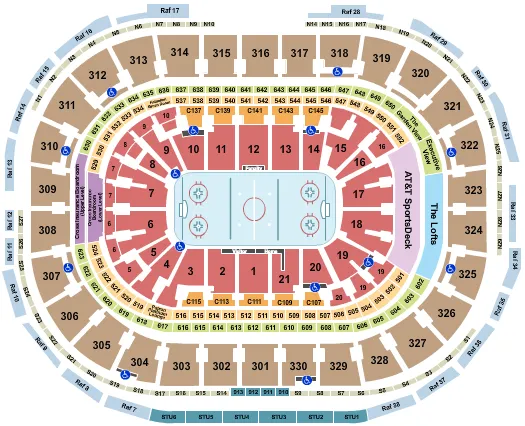 See TD Garden - Hockey Row events that use this seating chart configuration
Boston Bruins
The Boston Bruins are a professional ice hockey team based in Boston, MA, and are a member of the Atlantic Division of the NHL. The franchise was founded in 1924 and is one of the oldest teams in the league. The Bruins play their home games at the TD Garden, which is located in the North End neighborhood of Boston.
Throughout their long and storied history, the Boston Bruins have developed several fierce rivalries, including with the Montreal Canadiens and Toronto Maple Leafs. However, their most intense rivalry is with the New York Rangers, with the two teams having faced off in several memorable games and playoff series over the years.
The Boston Bruins have won six Stanley Cup championships throughout their history, with their most recent win coming in 2011. They have also made the playoffs numerous times, and their successful history has included some of the biggest names in hockey, such as Bobby Orr, Ray Bourque, and Zdeno Chara.
If you're a hockey fan looking for an exciting live game experience, then come out to support the Boston Bruins. With a talented roster that includes players like Patrice Bergeron, Brad Marchand, and David Pastrnak, the team promises to deliver thrilling action on the ice. Don't miss your chance to see the Bruins in action and purchase your tickets now! Whether you're a lifelong fan or a newcomer to the sport, the Boston Bruins offer an unforgettable game atmosphere that will have you cheering on the team all night long. With their passionate fan base and commitment to excellence, the Bruins are a must-see for any hockey enthusiast.
FAQs about Boston Bruins 2023 Game Schedule And Tickets
How and where to buy Boston Bruins tickets?
While it may be difficult to find Boston Bruins tickets, Event Tickets Center has plenty of Boston Bruins tickets available starting from $42. Select your tickets using our interactive seating chart, and follow the steps in checkout. You'll be going to a Boston Bruins event in no time!
How much are Boston Bruins tickets?
On Event Tickets Center, Boston Bruins ticket prices range from $42 up to $2,479 over a number of different Boston Bruins events.
When do Boston Bruins tickets go on sale?
Typically, Boston Bruins will announce the schedule 3-6 months before the first game, and tickets go on sale within a few weeks of the schedule announcement.
Are Boston Bruins tickets sold out?
No. While tickets to see Boston Bruins may be sold out on other ticketing websites, Event Tickets Center has plenty of tickets available for you to see Boston Bruins live.
Are Boston Bruins tickets on sale?
Yes, Boston Bruins tickets are on sale, and you can buy them right here at Event Tickets Center.
When is the next Boston Bruins event?
The next Boston Bruins event is on December 7, 2023 at TD Garden in Boston, MA. Event Tickets Center has 342 tickets available for this event.
NHL Teams, Stadiums, and Divisions
Event Dates and Pricing Information
| Venue | Date | Price | Tickets Available |
| --- | --- | --- | --- |
| TD Garden | Dec 7, 2023 | From $69 | 342 |
| TD Garden | Dec 9, 2023 | From $120 | 910 |
| Prudential Center | Dec 13, 2023 | From $42 | 1,928 |
| UBS Arena | Dec 15, 2023 | From $69 | 1,622 |
| TD Garden | Dec 16, 2023 | From $216 | 1,391 |
| TD Garden | Dec 19, 2023 | From $83 | 653 |
| Canada Life Centre | Dec 22, 2023 | From $68 | 1,248 |
| Xcel Energy Center | Dec 23, 2023 | From $125 | 1,901 |
| KeyBank Center | Dec 27, 2023 | From $83 | 1,428 |
| TD Garden | Dec 30, 2023 | From $99 | 1,535 |