Lyric Opera House - MD Seating Charts
Lyric Opera House - MD - End Stage Seating Map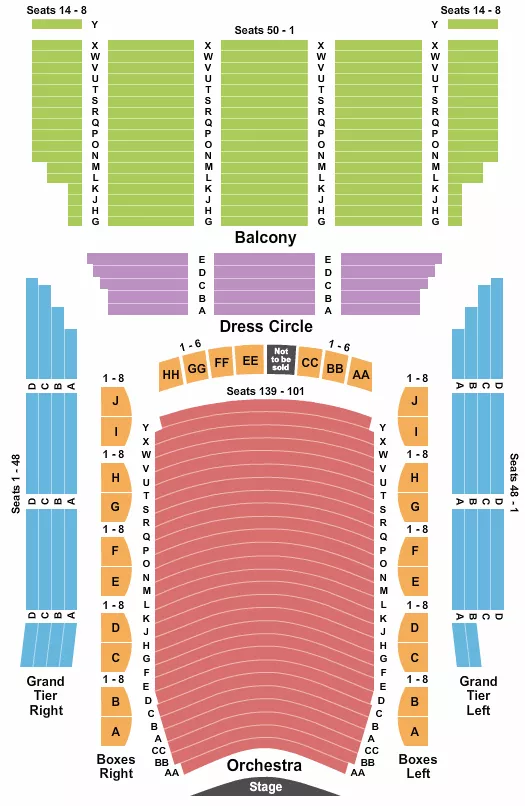 See Lyric Opera House - MD - End Stage events that use this seating chart configuration
Learn more about Lyric Opera House - MD
Lyric Opera House is located in Baltimore,
Maryland
. As the home of the Baltimore Opera, this venue sees plenty of action on a regular basis. In fact, it is safe to say that the Lyric Opera House is one of the most popular music venues in the
Baltimore
area.
The Lyric Performing Arts Center opened for business in October of 1894. With that being said, you can only imagine how many performances have taken place there. And despite its old age, the Lyric Opera House still does a great job in attracting new performers, and giving spectators what they want to see.
All in all, the Lyric Opera House has been hosting music concerts, speeches, and other events for more than 100 years. And due to its long history of success, there is no reason to think that this is going to change.
FAQs about Lyric Opera House - MD
What time do doors open at the Lyric Opera House?
Doors typically open anywhere between 90 minutes to 2 hours prior to showtime at the Lyric Opera House. Be sure to check the listing on your ticket as showtimes will vary.
Facts about Lyric Opera House - MD
Capacity:
2,564
Date Opened:
October 31, 1894
Event Dates and Pricing Information
| Performer | Date | Price | Tickets Available |
| --- | --- | --- | --- |
| David Spade | Dec 1, 2023 | From $41 | 418 |
| The Nutcracker | Dec 14, 2023 | From $105 | 766 |
| A Charlie Brown Christmas | Dec 15, 2023 | From $60 | 311 |
| Mark Normand | Dec 16, 2023 | From $9 | 690 |
| Jim Jefferies | Jan 12, 2024 | From $102 | 545 |
| Eddie Griffin | Jan 13, 2024 | From $77 | 777 |
| Tom Papa | Jan 19, 2024 | From $59 | 175 |
| Drumline Live! | Jan 20, 2024 | From $62 | 780 |
| Swan Lake | Feb 13, 2024 | From $83 | 711 |
| The Whispers | Feb 16, 2024 | From $92 | 779 |