Red Rocks Amphitheatre Seating Charts
Red Rocks Amphitheatre - End Stage GA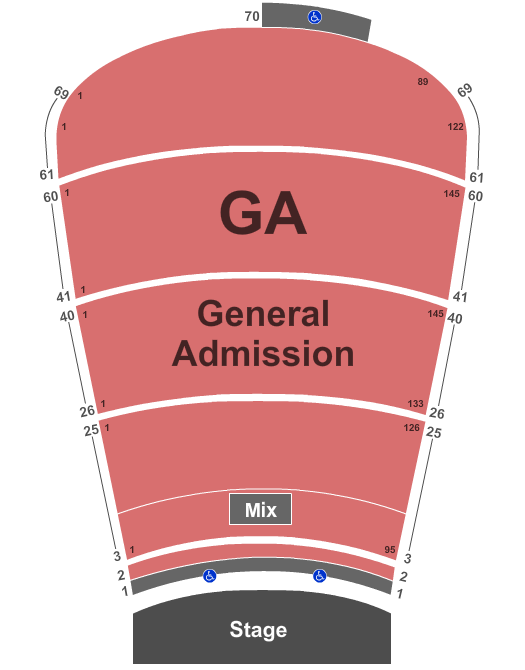 See Red Rocks Amphitheatre - End Stage GA events that use this seating chart configuration
Red Rocks Amphitheatre - Endstage Reserved
See Red Rocks Amphitheatre - Endstage Reserved events that use this seating chart configuration
Red Rocks Amphitheatre - Endstage Resv1 1-7 GA 8-69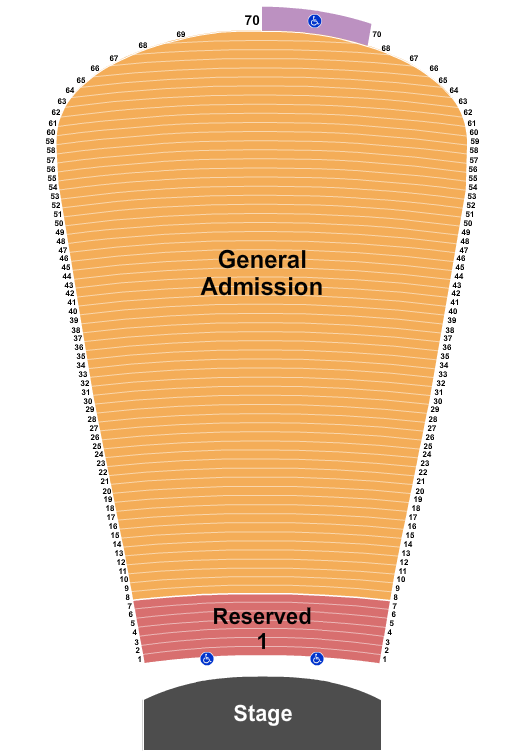 See Red Rocks Amphitheatre - Endstage Resv1 1-7 GA 8-69 events that use this seating chart configuration
Red Rocks Amphitheatre - Reserved 1-44/General Admission 45-69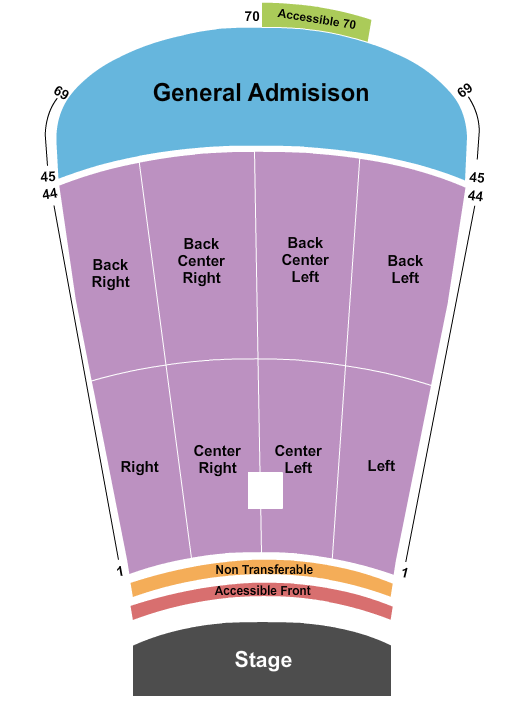 See Red Rocks Amphitheatre - Reserved 1-44/General Admission 45-69 events that use this seating chart configuration
Red Rocks Amphitheatre - Resv 1-45, GA 46-69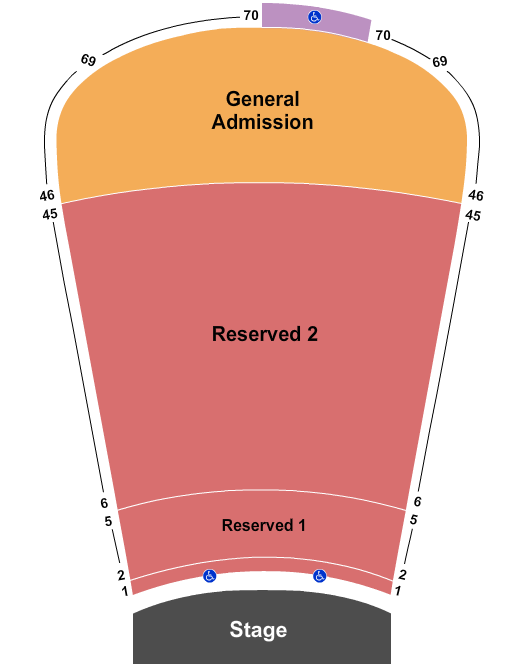 See Red Rocks Amphitheatre - Resv 1-45, GA 46-69 events that use this seating chart configuration
Red Rocks Amphitheatre - Resv 1-7 and 25-56, GA 8-24 and 57-69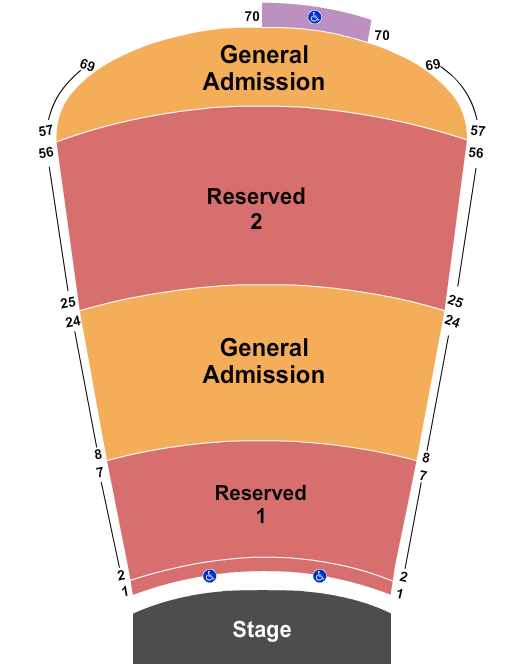 See Red Rocks Amphitheatre - Resv 1-7 and 25-56, GA 8-24 and 57-69 events that use this seating chart configuration
Red Rocks Amphitheatre - RSV 2-44 GA 45-69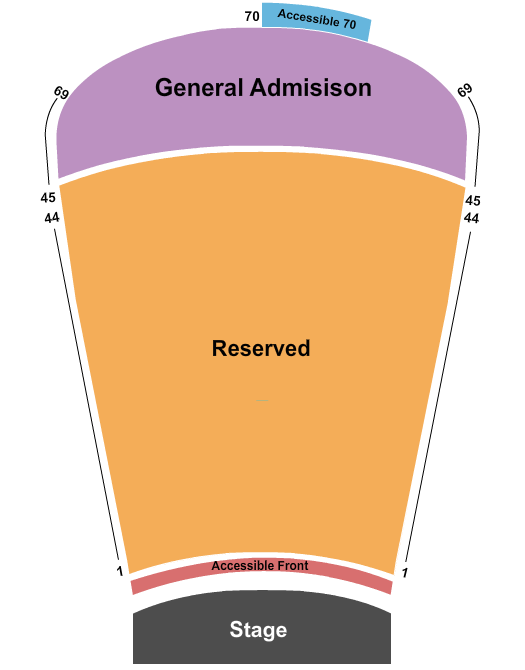 See Red Rocks Amphitheatre - RSV 2-44 GA 45-69 events that use this seating chart configuration
Learn more about Red Rocks Amphitheatre
Nestled within 868 acres of geological wonders and breathtaking vistas, Red Rocks Amphitheatre is said to be the only naturally occurring amphitheater in the world. The unique venue is situated 6,450 feet above sea level near Denver and plays hosts to live concerts, movie screenings, and special events. The geologically formed open-air amphitheater is not the only attraction within the area—learn more about this stunning park at the Red Rocks Visitor Center, take a hike or a bike ride on one of its trails, discover fossil fragments and Dinosaur tracks, and even join a yoga workout!

Guests are recommended to arrive early for events because parking is available only on a first-come, first-served basis. Concerts are rarely cancelled due to rain, but it may be cancelled if the rain is accompanied by lightning.

Umbrellas are prohibited, but personal cameras, non-alcoholic beverages in factory-sealed plastic containers, food in clear plastic bags, soft-sided six pack coolers, cloth bags or soft packs, and binoculars are allowed.

A magical visual and music experience awaits you in Morrison, Colorado at the Red Rocks Amphitheater. Event Tickets Center offers a wide selection of Red Rocks Amphitheatre tickets to choose from.
FAQs about Red Rocks Amphitheatre
Q: What time do gates open at Red Rocks Amphitheater?
A: Gates typically open anywhere between 90 minutes to 2 hours prior to showtime at Red Rocks Amphitheater. Be sure to check the listing on your ticket as showtimes will vary.
Q: Looking for local Denver Amphitheater concerts?
A: Our event listing has a list of all Denver amphitheater concerts happening at Red Rocks Amphitheater. You can also check out events in neighboring cities by checking out our list of venues by state.
Q: Are VIP Packages or Accessible Seating offered at Red Rocks Amphitheater?
A: Red Rocks Amphitheater VIP seating packages and accessible seating section locations may vary per event. Please click the seating chart below or contact our customer service department to discuss options for accessible seating or VIP package purchases.
Facts about Red Rocks Amphitheatre
Capacity:
9,525
Past Names/Nicknames:
Garden of the Titans
Date/Year Built/Opened:
1906