Climate Pledge Arena Seating Charts
Climate Pledge Arena - Hockey 2 Seating Map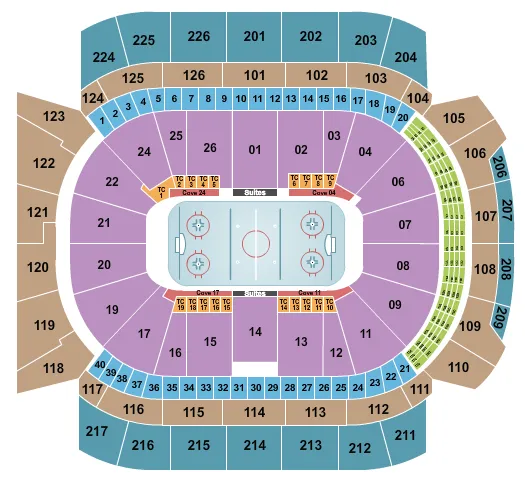 See Climate Pledge Arena - Hockey 2 events that use this seating chart configuration
Seattle Kraken
The Seattle Kraken are the newest addition to the NHL, having joined the league as an expansion team in 2021. The team is based in Seattle, WA and is owned by billionaire David Bonderman. The Kraken play their home games at Climate Pledge Arena, which has a seating capacity of 17,100.
As a new team, the Kraken do not have a long league history or established rivalries yet, but they have already built a strong fan base in the Seattle area. The team's name and branding pay homage to the city's maritime history, and the Kraken have already gained a reputation as a bold and exciting team on the ice.
The Kraken's inaugural season saw them compete in the Pacific Division of the NHL's Western Conference. While the team did not make the playoffs in their first year, they showed promise and potential for future success. With a talented roster that includes players like Jordan Eberle, Philipp Grubauer, and Jaden Schwartz, the Kraken are sure to be a force to be reckoned with in the years to come.
If you're a hockey fan in the Seattle area, don't miss the chance to be a part of the Kraken's exciting journey. Climate Pledge Arena provides a unique and energetic atmosphere that you won't find anywhere else, and the Kraken promise to deliver an unforgettable experience for fans. Buy tickets to an upcoming game and join in on the excitement as the Kraken continue to establish themselves as a competitive and dynamic team in the NHL.
FAQs about Seattle Kraken 2023 Game Schedule And Tickets
How and where to buy Seattle Kraken tickets?
While it may be difficult to find Seattle Kraken tickets, Event Tickets Center has plenty of Seattle Kraken tickets available starting from $15. Select your tickets using our interactive seating chart, and follow the steps in checkout. You'll be going to a Seattle Kraken event in no time!
How much are Seattle Kraken tickets?
On Event Tickets Center, Seattle Kraken ticket prices range from $15 up to $5,177 over a number of different Seattle Kraken events.
When do Seattle Kraken tickets go on sale?
Typically, Seattle Kraken will announce the schedule 3-6 months before the first game, and tickets go on sale within a few weeks of the schedule announcement.
Are Seattle Kraken tickets sold out?
No. While tickets to see Seattle Kraken may be sold out on other ticketing websites, Event Tickets Center has plenty of tickets available for you to see Seattle Kraken live.
Are Seattle Kraken tickets on sale?
Yes, Seattle Kraken tickets are on sale, and you can buy them right here at Event Tickets Center.
When is the next Seattle Kraken event?
The next Seattle Kraken event is on December 2, 2023 at Canadian Tire Centre in Ottawa, ON. Event Tickets Center has 924 tickets available for this event.
NHL Teams, Stadiums, and Divisions
Event Dates and Pricing Information
| Venue | Date | Price | Tickets Available |
| --- | --- | --- | --- |
| Canadian Tire Centre | Dec 2, 2023 | From $15 | 924 |
| Centre Bell | Dec 4, 2023 | From $39 | 1,220 |
| Climate Pledge Arena | Dec 7, 2023 | From $86 | 418 |
| Climate Pledge Arena | Dec 9, 2023 | From $112 | 839 |
| Climate Pledge Arena | Dec 10, 2023 | From $85 | 821 |
| Climate Pledge Arena | Dec 12, 2023 | From $92 | 1,164 |
| Climate Pledge Arena | Dec 14, 2023 | From $103 | 1,191 |
| Climate Pledge Arena | Dec 16, 2023 | From $140 | 788 |
| American Airlines Center | Dec 18, 2023 | From $33 | 1,905 |
| Crypto.com Arena | Dec 20, 2023 | From $49 | 2,463 |