Blossom Music Center Seating Charts
Blossom Music Center - Endstage 2 Seating Map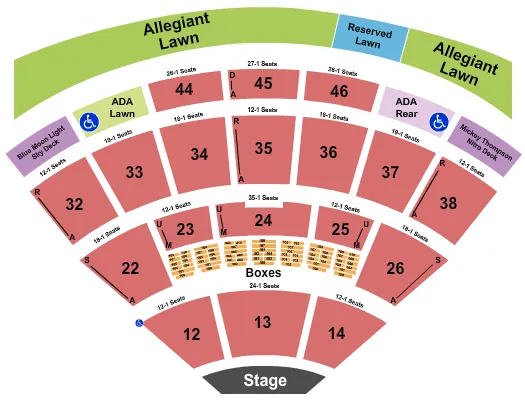 See Blossom Music Center - Endstage 2 events that use this seating chart configuration
Blossom Music Center - Endstage GA Pit & RSV Lawn Seating Map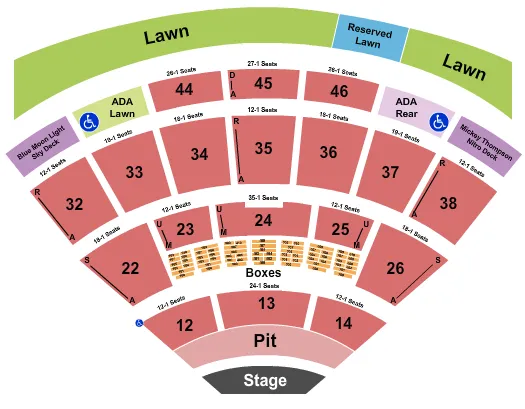 See Blossom Music Center - Endstage GA Pit & RSV Lawn events that use this seating chart configuration
Learn more about Blossom Music Center
Nestled within
Cuyahoga Falls
800 acres of rolling hills and encircled by the Cuyahoga Valley National Park, Blossom Music Center opened in 1968, and has since become the summer home of
The Cleveland Orchestra
. The venue was named in honor of Dudley S. Blossom, the orchestra's former president. The famous open-air amphitheater specializes in many large concerts as well as music festivals like the Country Throwdown Tour, Lilith Fair, Projekt Revolution, and All That! Music and More Festival. Its lovely outdoor setting and laid-back ambiance has inspired many legendary artists such as James Taylor and Barry Manilow. The venue has a capacity of 5,700 pavilion seats and 13,500 on the hillside lawn seating area. Blossom Music Center welcomes about 400,000 visitors each summer.
Blossom Music Center is about 25 miles south of
Cleveland, OH
. The amphitheater is easily identified by the distinct sloping slate roof of its pavilion and its grass-covered back rows. It also features stunning gardens and picnic areas, which offer guests an outdoor music experience like no other.
The venue has both paved and grass parking areas. Free trams go around the grounds and operate continuously before and after concerts. Tailgate parties are not allowed, however, picnic tables are provided for guests who want to enjoy a picnic before entering the venue. Visitors may bring in a small non-professional digital camera, one factory-sealed water bottle, food in a one-gallon, clear Ziploc bag, and lawn chairs no higher than nine inches above the ground. The show must go on rain or shine, so do not forget a small umbrella and rain gear.
Blossom Music Center is home to an art gallery, a full-service restaurant, beautiful gardens, and natural wooded surroundings, so there are many things guests can enjoy on-site. Also very near to the venue are the Cuyahoga National Valley Park and the Cuyahoga Valley Arts Center, where visitors can explore and discover some of
Ohio's
many scenic spots and artistic masterpieces.
FAQs about Blossom Music Center
What time do gates open at Blossom Music Center?
Gates typically open anywhere between 90 minutes to 2 hours prior to showtime at Blossom Music Center. Be sure to check the listing on your ticket as showtimes will vary.
Looking for local Akron Amphitheater concerts?
Our event listing has a list of all Akron amphitheater concerts happening at Blossom Music Center. You can also check out events in neighboring cities by checking out our list of venues by state.
Are VIP Packages or Accessible Seating offered at Blossom Music Center?
Blossom Music Center VIP seating packages and accessible seating section locations may vary per event. Please click the seating chart below or contact our customer service department to discuss options for accessible seating or VIP package purchases.
What happens if there is inclement weather at Blossom Music Center?
Blossom Music Center is a rain or shine venue unless there is extreme weather. Small 3" diameter umbrellas and ponchos are allowed.
Can I bring my own food and drink into Blossom Music Center?
Yes, you can bring food and water into Blossom Music Center. Food must be in a clear 1 gallon Ziploc bag and water no larger than 20oz and factory sealed.
How is the parking Blossom Music Center?
Parking at Blossom Music Center is free for all ticket holders. Lawn ticket holders park in the grass lots and pavilion ticket holders get hang tags and park in lots C-D-E. A small number of Lot A (closest parking) are also for sale.
Is cash accepted at Blossom Music Center?
No, all points of sale at Blossom Music Center only accept credit, debit, or mobile pay. This includes all merchandise or food vendors.
Is there a ride share location at Blossom Music Center?
Yes, there is an Uber/Lyft drop off pick up location at O'Neil Road. Parking staff can direct you before and after any show.
Can you tailgate at Blossom Music Center?
Yes, you can tailgate at Blossom Music Center but keep in mind that grills, tents, and open containers are prohibited. Blossom Music Center provides picnic tables along the path to the main gate.
Facts about Blossom Music Center
Capacity:
19,000
Date/Year Built/Opened:
1968
Event Dates and Pricing Information
| Performer | Date | Price | Tickets Available |
| --- | --- | --- | --- |
| Noah Kahan | May 28, 2024 | From $426 | 295 |
| Chris Stapleton | May 31, 2024 | From $80 | 1,229 |
| Needtobreathe | Jun 1, 2024 | From $55 | 1,250 |
| New Kids on the Block | Jun 14, 2024 | From $68 | 1,581 |
| Niall Horan | Jun 26, 2024 | From $41 | 1,404 |
| Earth, Wind and Fire | Jul 16, 2024 | From $57 | 1,993 |
| Alanis Morissette | Jul 17, 2024 | From $48 | 2,069 |
| Sammy Hagar | Jul 29, 2024 | From $51 | 1,081 |
| Hozier | Aug 6, 2024 | From $115 | 1,438 |
| Thirty Seconds To Mars | Aug 7, 2024 | From $50 | 1,404 |