Cleveland Browns Stadium Seating Charts
Cleveland Browns Stadium - Football NO VFS Seating Map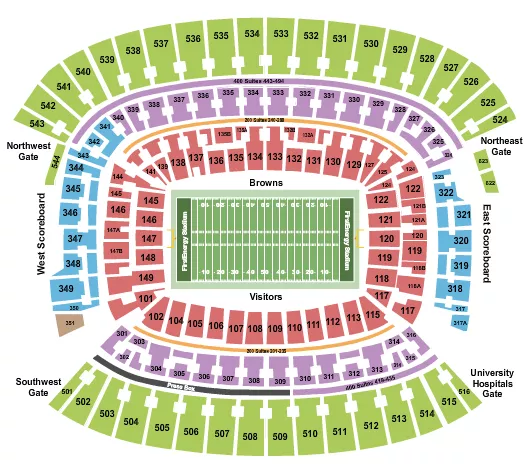 See Cleveland Browns Stadium - Football NO VFS events that use this seating chart configuration
Buy NFL Cleveland Browns Tickets
The Cleveland Browns, established in 1946, are a professional American football team based in Cleveland, Ohio. As members of the National Football League (NFL), they compete in the AFC North division and play their home games at Cleveland Browns Stadium. Despite facing challenges in recent decades, the Browns possess a rich history and a loyal fan base that remains passionate about the team's potential for success.
Founded by Arthur B. McBride and legendary coach Paul Brown, the Browns enjoyed significant success in their early years as part of the All-America Football Conference (AAFC), winning four consecutive championships. After joining the NFL in 1950, the Browns continued their winning ways, capturing three NFL championships in the 1950s and making numerous playoff appearances throughout the 1960s and 1970s. Players like quarterback Otto Graham, running back Jim Brown, and wide receiver Paul Warfield helped establish the team as a dominant force in professional football.
While the Browns have never reached the Super Bowl, they had several close calls in the 1980s under head coach Marty Schottenheimer. With quarterback Bernie Kosar at the helm, the Browns made three appearances in the AFC Championship Game, but fell short each time, losing twice to the Denver Broncos and once to the Buffalo Bills.
Since the 1990s, the Browns have experienced a period of struggle and instability, both on the field and in the front office. The team was temporarily deactivated from 1996 to 1998 during a controversial relocation to Baltimore, returning to the league in 1999 as an expansion team. Despite the challenges, the Browns have shown signs of promise in recent years, making their first playoff appearance in 18 years during the 2020 season.
Today, the Cleveland Browns continue to compete in the AFC North and the NFL, building toward a return to their storied past. With a dedicated fan base and a rich history of success, the Browns remain a beloved and important franchise in professional football.
Buy your next NFL Cleveland Browns tickets right here at Event Tickets Center.
FAQs about Cleveland Browns 2023 Game Schedule And Tickets
How and where to buy Cleveland Browns tickets?
While it may be difficult to find Cleveland Browns tickets, Event Tickets Center has plenty of Cleveland Browns tickets available starting from $44. Select your tickets using our interactive seating chart, and follow the steps in checkout. You'll be going to a Cleveland Browns event in no time!
How much are Cleveland Browns tickets?
On Event Tickets Center, Cleveland Browns ticket prices range from $44 up to $10,082 over a number of different Cleveland Browns events.
When do Cleveland Browns tickets go on sale?
Typically, Cleveland Browns will announce the schedule 3-6 months before the first game, and tickets go on sale within a few weeks of the schedule announcement.
Are Cleveland Browns tickets sold out?
No. While tickets to see Cleveland Browns may be sold out on other ticketing websites, Event Tickets Center has plenty of tickets available for you to see Cleveland Browns live.
Are Cleveland Browns tickets on sale?
Yes, Cleveland Browns tickets are on sale, and you can buy them right here at Event Tickets Center.
When is the next Cleveland Browns event?
The next Cleveland Browns event is on October 1, 2023 at Cleveland Browns Stadium in Cleveland, OH. Event Tickets Center has 1898 tickets available for this event.
Event Dates and Pricing Information
| Venue | Date | Price | Tickets Available |
| --- | --- | --- | --- |
| Cleveland Browns Stadium | Oct 1, 2023 | From $99 | 1,898 |
| Cleveland Browns Stadium Parking Lots | Oct 1, 2023 | From $87 | 4 |
| Cleveland Browns Stadium Parking Lots | Oct 15, 2023 | From $87 | 1 |
| Cleveland Browns Stadium | Oct 15, 2023 | From $125 | 3,189 |
| Lucas Oil Stadium | Oct 22, 2023 | From $82 | 2,675 |
| Lumen Field | Oct 29, 2023 | From $142 | 2,457 |
| Cleveland Browns Stadium | Nov 5, 2023 | From $44 | 5,344 |
| Cleveland Browns Stadium Parking Lots | Nov 5, 2023 | From $87 | 4 |
| M&T Bank Stadium | Nov 12, 2023 | From $83 | 5,032 |
| Cleveland Browns Stadium | Nov 19, 2023 | From $126 | 5,126 |