Nissan Stadium - Nashville Seating Charts
Nissan Stadium - Nashville - Football NO VFS Seating Map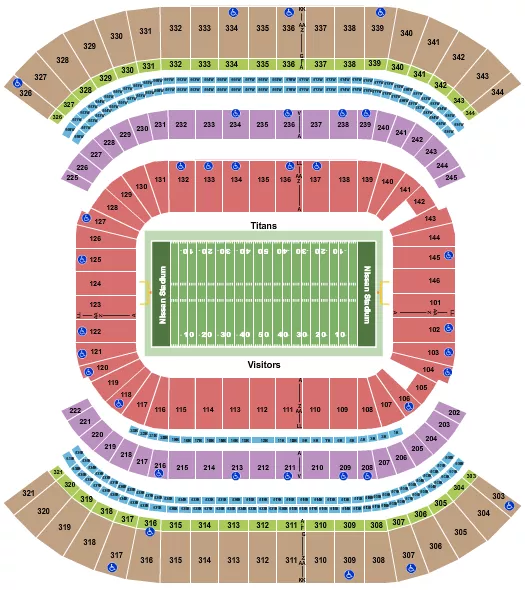 See Nissan Stadium - Nashville - Football NO VFS events that use this seating chart configuration
Looking for Redemption
The Tennessee Titans are certainly looking to bounce back from their disappointing 2022 season and make a strong push for the playoffs. With new additions to the coaching staff, key player signings, and a renewed sense of determination, the Titans are poised to make a statement in 2023, once again under head coach Mike Vrabel.
Quarterback Ryan Tannehill will be looking to regain his form after missing five games last season, while running back Derrick Henry will once again be a key player for the Titans' offense. The defense will also be looking to improve, with key players like DT Jeffery Simmons and LB Harold Landry returning from injury.
On the managerial side, this offseason was a good one for the Titans, with the hiring of San Francisco 49ers executive Ran Carthon as their new general manager. Carthon brings a wealth of experience and knowledge to the Titans organization, and he has already made several key moves to improve the team. The Titans have also made changes to their coaching staff, including promoting passing-game coordinator Tim Kelly to offensive coordinator and hiring Lori Locust from the Tampa Bay Buccaneers as the first full-time female coach in Titans history.
Overall, the 2023 NFL season promises to be an exciting one for the Tennessee Titans. There's a sense of optimism and excitement surrounding the team and they think they can do a lot better than last season, while fans are eagerly anticipating the start of the season and are hoping that their team can make a strong push for the playoffs.
How did the Tennessee Titans perform in the 2022 NFL Season?The Titans' 2022 NFL season marked their 53rd in the league, their 63rd overall, their 26th in Tennessee, and their fifth under the leadership of head coach Mike Vrabel.
The Titans were looking to improve their 12-5 record from 2021 and they seemed like they could do just that, achieving a 7-3 record by week 10. However, in week 11, they went into a seven-game losing streak and ended the regular season with a 7-10 record, their first losing record since 2015 and one that made them miss the playoffs for the first time since 2018.
Throughout the season, the Titans struggled from inconsistency and suffered from a lot of injuries, including their starting quarterback, Ryan Tannehill, who missed five games. Tannehill threw for 2,536 yards, achieving 13 passing touchdowns and 2 rushing touchdowns. Offensive tackle Taylor Lewan missed 15 games and linebacker Harold Landry missed the entire season. The Titans concluded the season with a league-leading 23 players placed on injured reserve.
Despite their failure to reach the playoffs, there was one outstanding performance all season long. Derrick Henry kept his consistency and became the 2nd best player in the league for both rushing yards and rushing touchdowns, with 1,538 and 13, respectively. He was selected to the 2023 Pro Bowl, along with other players from the team, such as defensive tackle Jeffery Simmons, long snapper Morgan Cox, and center Ben Jones. DT Jeffery Simmons and P Ryan Stonehouse were also named AP All-Pros (2nd team).
Who did the Tennessee Titans acquire in the 2023 NFL Draft?The Titans selected the following players to join their team in 2023:
Round 1, Pick 11: Peter Skoronski, OT, Northwestern
Round 2, Pick 33 (From HOU via AZ): Will Levis, QB, Kentucky
Round 3, Pick 81: Tyjae Spears, RB, Tulane
Round 5, Pick 147: Josh Whyle, TE, Cincinnati
Round 6, Pick 186: (From ATL): Jaelyn Duncan, OT, Maryland
Round 7, Pick 228: Colton Dowell, WR, UT Martin
Who else did the Titans sign for the 2023 Season?The offseason brought the following players to the Titans:
DeAndre Hopkins, WR, Arizona Cardinals (Free Agent)
Sean Murphy-Bunting, CB, Tampa Bay Buccaneers (Free Agent)
Arden Key, LB, Jacksonville Jaguars (Free Agent)
Andre Dillard, T, Philadelphia Eagles (Free Agent)
Daniel Brunskill, G, San Francisco 49ers (Free Agent)
Azeez Al-Shaair, LB, San Francisco 49ers (Free Agent)
Trevon Wesco, TE, Chicago Bears (Free Agent)
Chris Moore, WR, Houston Texans (Free Agent)
Chris Hubbard, OT, Cleveland Browns (Free Agent)
They also picked up some undrafted free agent players, and the ones who made the roster cut are:
Anthony Kendall, DB, Baldwin-Wallace
Eric Garror, CB, Louisiana Lafayette (Practice squad)
Matthew Jackson, LB, Eastern Kentucky
Tre'Shaun Harrison, WR, Oregon State (Practice squad)
Shakel Brown, DL, Troy (Reserve list)
Thomas Rush, LB, Minnesota (Practice squad)
John Ojukwu, OT, Boise State (Practice squad)
Caleb Murphy, EDGE, Ferris State
Otis Reese IV, LB, Mississippi
Tennessee Titans' Key Matchups in 2023The Titans' 2023 season is set to feature several key matchups, presenting a challenging path as they seek to elevate their performance from the previous season.
Week 1 at New Orleans Saints: The Titans will open the season on the road against the Saints. This will be a tough test for the Titans, as the Saints have a high-powered offense.
Week 6 vs. Baltimore Ravens: The Titans will travel to London as part of the NFL's International Series and play against Baltimore. The Ravens are a physical team, and this will be a tough test for the Titans' offensive line.
Week 13 vs. Indianapolis Colts: The Titans will host to face the Colts in a divisional game that could have playoff implications. The Colts have a strong defense, led by linebacker Darius Leonard.
Week 18 vs. Jacksonville Jaguars: Both teams will go all-in in the last game of the regular season, one that could define the division and make this long-time rivalry more spicy.
FAQs about Tennessee Titans 2023 Game Schedule And Tickets
When were the Tennessee Titans established and joined the NFL?
The Tennessee Titans were established as a professional football franchise in 1960 in Houston, Texas under the name of Houston Oilers. The team was one of the original members of the American Football League (AFL), which was a rival league to the National Football League (NFL) at the time. The Oilers joined the NFL as part of the AFL-NFL merger in 1970, a merger that led to the creation of the modern NFL as we know it today, with both the AFL and NFL teams coming together under a single league. As a result of the merger, the Houston Oilers became one of the teams in the newly formed American Football Conference (AFC) of the NFL. The franchise relocated to Nashville in 1997 and became the Tennessee Oilers. In 1999, they changed their name to the Tennessee Titans, and they have been known by that name ever since.
Who owns the Tennessee Titans?
Amy Adams Strunk currently owns the Tennessee Titans and serves as co-chairperson along with Susie Adams Smith. Adams inherited the franchise from her father, Bud Adams, who founded the team as the Houston Oilers in 1960 and later moved it to Tennessee, becoming the Titans.
Who is the head coach of the Tennessee Titans?
The head coach of the Tennessee Titans is Mike Vrabel. With a notable NFL playing career as a linebacker, during which he won three Super Bowl titles with the New England Patriots, Vrabel transitioned to coaching after retirement. He began his NFL coaching experience as a linebackers coach and then defensive coordinator for the Houston Texans. In 2018, he took over the reins of the Titans as head coach. Under his leadership, the team has shown adaptability and discipline, made playoff appearances and showcased a strong defensive approach influenced by his own background as a defensive player. He was picked NFL's Coach of the Year in 2021.
What are some of the other personnel and assistant coaches?
Terrell Williams, assistant head coach / defensive line

Shane Bowen, defensive coordinator

Tim Kelly, offensive coordinator

Craig Aukerman, special teams coordinator

Ran Carthon, general manager
How many championships have the Tennessee Titans won?
The Tennessee Titans have not yet won any Super Bowls. They've only had one appearance (Super Bowl XXXIV), where they narrowly lost to the St. Louis Rams with a final score of 23-16. The game is famous for the dramatic final play where Titans wide receiver Kevin Dyson was tackled just one yard short of the goal line as time expired, preventing a potential game-tying touchdown.
How many divisional championships have the Tennessee Titans won?
The Tennessee Titans have won a total of 11 divisional championships. These championships were achieved in different years while the team was in various divisions within the NFL and AFC. They won divisional championships three times in the AFC Central Division (1991, 1993, and 2000), and they won four divisional championships in the AFC South Division (2002, 2008, 2020 and 2021). Additionally, they won four divisional championships in the AFL Eastern Division (1960, 1961, 1962 and 1967) before the AFL and the NFL merged.
What are the Tennessee Titans best overall season record?
The Titans' best record is 13-3 and it has been achieved three times: 1999, 2000 and 2008. However, their most successful season was in 1999, when they reached the Super Bowl for their first and only time.
Who have been some of the most famous players in Tennessee Titans history?
Prominent Tennessee Titans players include Steve McNair, the tough and leading quarterback during their 1999 Super Bowl run. Eddie George, a powerful running back, was crucial to that run and beyond. Bruce Matthews, an iconic lineman, earned 14 Pro Bowl nods and Hall of Fame honors. Jevon Kearse, "The Freak," was a fearsome pass rusher in the late 1990s and early 2000s. Chris Johnson, "CJ2K," showcased incredible speed and long touchdowns. Derrick Henry led the NFL in rushing in 2019 and 2020, becoming a premier running back.
Have the Tennessee Titans retired any jersey numbers?
The Titans have officially retired the jersey numbers of eight of their most iconic players:
1, Warren Moon, QB, 1984–1993

9, Steve McNair, QB, 1995–2005

27, Eddie George, RB, 1996–2003

34, Earl Campbell, RB, 1978–1984

43, Jim Norton, S/P, 1960–1968

63, Mike Munchak, G, 1982–1993

65, Elvin Bethea, DE, 1968–1983

74, Bruce Matthews, G, 1983–2001
Where do the Tennessee Titans play?
The Tennessee Titans play their home games at Nissan Stadium, which is situated in downtown Nashville, Tennessee. The stadium has a seating capacity of around 69,143, making it the 14th largest stadium in the NFL. Originally known as Adelphia Coliseum when it opened in 1999, the stadium was later renamed The Coliseum between 2002 and 2006 and LP Field in 2006, before adopting the current name, Nissan Stadium, in 2015.
How and where to buy Tennessee Titans tickets?
While it may be difficult to find Tennessee Titans tickets, Event Tickets Center has plenty of Tennessee Titans tickets available starting from $36. Select your tickets using our interactive seating chart, and follow the steps in checkout. You'll be going to a Tennessee Titans event in no time!
How much are Tennessee Titans tickets?
On Event Tickets Center, Tennessee Titans ticket prices range from $36 up to $5,522 over a number of different Tennessee Titans events.
When do Tennessee Titans tickets go on sale?
Typically, Tennessee Titans will announce the schedule 3-6 months before the first game, and tickets go on sale within a few weeks of the schedule announcement.
Are Tennessee Titans tickets sold out?
No. While tickets to see Tennessee Titans may be sold out on other ticketing websites, Event Tickets Center has plenty of tickets available for you to see Tennessee Titans live.
Are Tennessee Titans tickets on sale?
Yes, Tennessee Titans tickets are on sale, and you can buy them right here at Event Tickets Center.
When is the next Tennessee Titans event?
The next Tennessee Titans event is on December 3, 2023 at Nissan Stadium - Nashville in Nashville, TN. Event Tickets Center has 1,721 tickets available for this event.
NFL Teams, Stadiums, and Divisions
Tennessee Titans Matchups
Event Dates and Pricing Information
| Venue | Date | Price | Tickets Available |
| --- | --- | --- | --- |
| Nissan Stadium - Nashville | Dec 3, 2023 | From $47 | 1,721 |
| Hard Rock Stadium | Dec 11, 2023 | From $128 | 3,518 |
| Hard Rock Stadium Parking Lots | Dec 11, 2023 | From $218 | 1 |
| Nissan Stadium - Nashville | Dec 17, 2023 | From $43 | 3,349 |
| Nissan Stadium - Nashville | Dec 24, 2023 | From $48 | 3,875 |
| NRG Stadium | Dec 31, 2023 | From $60 | 5,303 |
| NRG Stadium Parking Lots | Dec 31, 2023 | From $59 | 2 |
| Nissan Stadium - Nashville | Jan 7, 2024 | From $36 | 2,846 |