Ruoff Music Center Seating Charts
Ruoff Music Center - End Stage Seating Map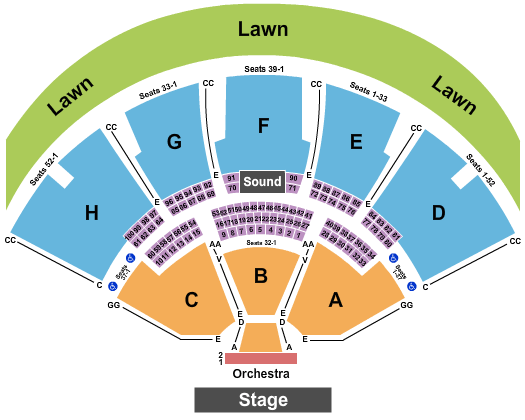 See Ruoff Music Center - End Stage events that use this seating chart configuration
Ruoff Music Center - End Stage GA Pit (To Row M) Seating Map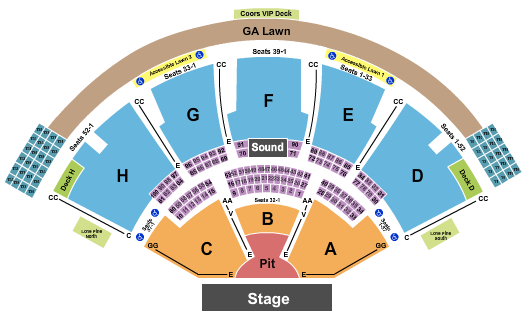 See Ruoff Music Center - End Stage GA Pit (To Row M) events that use this seating chart configuration
Ruoff Music Center - Endstage Tables Seating Map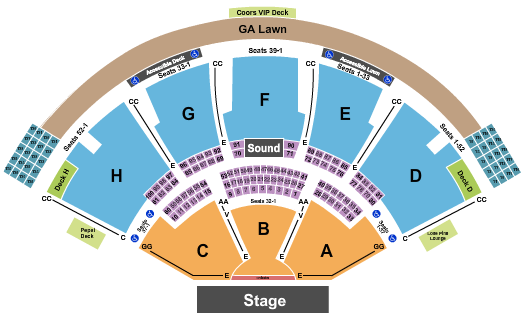 See Ruoff Music Center - Endstage Tables events that use this seating chart configuration
Ruoff Music Center - Endstage Tables GA Pit Seating Map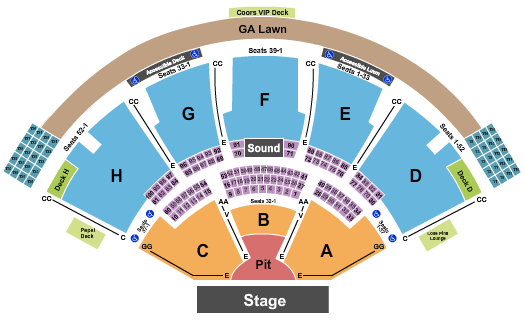 See Ruoff Music Center - Endstage Tables GA Pit events that use this seating chart configuration
Ruoff Music Center - Lumineers Seating Map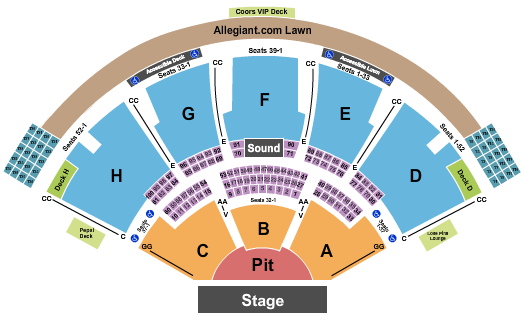 See Ruoff Music Center - Lumineers events that use this seating chart configuration
Learn more about Ruoff Music Center
The largest outdoor venue in the
Indianapolis
metropolitan area with a seating capacity of 24,000, Ruoff Music Center hosts live concerts and music festivals, as well as occasional political rallies and high school graduations. Due to its picturesque outdoor setting and first-class facilities, Ruoff Music Center has been ranked as one of the top amphitheaters in the country, with performers such as
Elton John
, Frank Sinatra,
Coldplay
, and others gracing its stage.
Nestled on a 228-acre property about 35 minutes from the heart of Indianapolis, Ruoff Music Center is accessible by bus, cab, or private car. Parking is typically included in the ticket price, and VIP parking is available as well for a fee. Guests may enjoy a tailgate party in the parking lot until the gates open. Because concerts and events typically go on rain or shine, patrons may bring an umbrella or rain gear. Also allowed: one water bottle up to one liter, food items in a clear plastic bag, binoculars, bags, backpacks, and lawn chairs with a seat bottom no higher than nine inches off the ground. Small digital cameras may be allowed although camera policies vary based on the event.
Before or after the concert, enjoy the city of Indianapolis, which boasts a number of attractions including museums, historic sites, and of course, the Indianapolis Motor Speedway. For your ticket needs, Event Tickets Center offers a wide selection of Ruoff Music Center tickets to choose from.
FAQs about Ruoff Music Center
Q: What time do gates open at Ruoff Music Center?
A: Gates typically open anywhere between 90 minutes to 2 hours prior to showtime at Ruoff Music Center. Be sure to check the listing on your ticket as showtimes will vary.
Q: Looking for local Indianapolis Amphitheater concerts?
A: Our event listing has a list of all Indianapolis amphitheater concerts happening at Ruoff Music Center. You can also check out events in neighboring cities by checking out our list of venues by state.
Q: Where is the Ruoff Music Center?
A: The Ruoff Music Center or Deer Creek as locals still call it is in Noblesville IN along Sand Creek. Ruoff Music Center holds about 24,000 guest and has consistently ranked among the top five amphitheaters worldwide in attendance.
Q: Can I use mobile ticketing at Ruoff Music Center?
A: Yes Ruoff Music Center is entirely mobile ticketing only. Download your tickets before getting to the venue to up speed entry.
Q: What happens if it rains at Ruoff Music Center?
A: Ruoff Music Center is a rain or shine venue for all events. If there is severe weather check the venue's social media for updates. The lawn can get muddy so bring shoes with good traction and a rain poncho if rain is forecast.
Q: How is parking at Ruoff Music Center?
A: Parking at Ruoff Music Center is included in the ticket price. You can purchase Premier Parking that provides closer parking to the main gates and a dedicated exit route.
Q: Can I bring a lawn chair into Ruoff Music Center?
A: Yes but it has to be no higher than 9 inches off the ground. Lawn chairs are also available for rent for $10.00.
Facts about Ruoff Music Center
Capacity:
24,000
Past Names/Nicknames:
Deer Creek Music Center Klipsch Music Center Verizon Wireless Music Center
Date/Year Built/Opened:
1989