Soldier Field Seating Charts
Soldier Field - Football Seating Map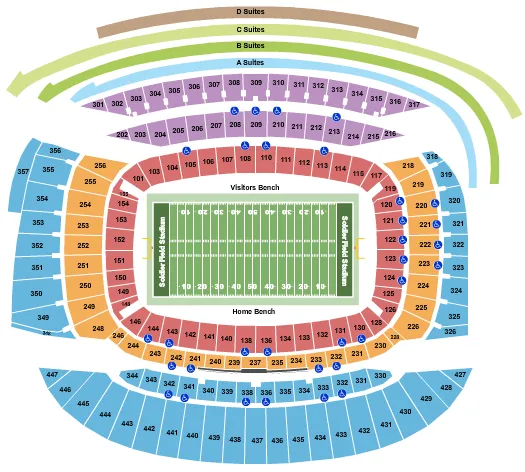 See Soldier Field - Football events that use this seating chart configuration
Buy NFL Chicago Bears Tickets
The Chicago Bears compete in the NFC North Division of the National Football League. The Bears were founded in 1919, and began competing in the NFL a year later. This makes them one of the oldest teams in the league. And to go along with this age comes quite a few victories over the years.
The Bears play their home games at
Soldier Field
, and have been doing so since the 2003 season. The fans love the stadium, and have really taken too it as of late. Not only do they love what the venue has to offer in the way of amenities, but the way that they can give their team a home field advantage is also something that they are proud of.
Bears head coach Matt Nagy signed Super Bowl winning quarterback Nick Foles to a three year contract, which will provide a nice competition battle with the 2017 second overall pick Mitchell Trubisky for the starting role in Chicago.
Many great players have suited up for the Bears. Some of the most popular players include Dick Butkus, Bill George, Gale Sayers, Walter Payton, and Brian Piccolo among many others.
As you can see, the Chicago Bears have been playing top level football for many seasons. Chicago Bears tickets are in high demand - fans know that the team is on the brink of something special. Come on out to one of the Chicago Bears games at Soldier Field, or check out the complete Chicago Bears schedule to find out where you can watch them on the road.
FAQs about Chicago Bears 2023 Game Schedule And Tickets
How and where to buy Chicago Bears tickets?
While it may be difficult to find Chicago Bears tickets, Event Tickets Center has plenty of Chicago Bears tickets available starting from $33. Select your tickets using our interactive seating chart, and follow the steps in checkout. You'll be going to a Chicago Bears event in no time!
How much are Chicago Bears tickets?
On Event Tickets Center, Chicago Bears ticket prices range from $33 up to $15,457 over a number of different Chicago Bears events.
When do Chicago Bears tickets go on sale?
Typically, Chicago Bears will announce the schedule 3-6 months before the first game, and tickets go on sale within a few weeks of the schedule announcement.
Are Chicago Bears tickets sold out?
No. While tickets to see Chicago Bears may be sold out on other ticketing websites, Event Tickets Center has plenty of tickets available for you to see Chicago Bears live.
Are Chicago Bears tickets on sale?
Yes, Chicago Bears tickets are on sale, and you can buy them right here at Event Tickets Center.
When is the next Chicago Bears event?
The next Chicago Bears event is on October 1, 2023 at Soldier Field in Chicago, IL. Event Tickets Center has 970 tickets available for this event.
Event Dates and Pricing Information
| Venue | Date | Price | Tickets Available |
| --- | --- | --- | --- |
| Soldier Field | Oct 1, 2023 | From $168 | 970 |
| FedexField | Oct 5, 2023 | From $63 | 3,870 |
| Soldier Field | Oct 15, 2023 | From $156 | 2,265 |
| Soldier Field | Oct 22, 2023 | From $155 | 2,719 |
| SoFi Stadium | Oct 29, 2023 | From $63 | 7,864 |
| SoFi Stadium Parking Lots | Oct 29, 2023 | From $72 | 6 |
| Caesars Superdome Parking Lots | Nov 5, 2023 | From $33 | 26 |
| Caesars Superdome | Nov 5, 2023 | From $125 | 1,835 |
| Soldier Field | Nov 9, 2023 | From $126 | 3,995 |
| Ford Field | Nov 19, 2023 | From $213 | 2,082 |