Bridgestone Arena Seating Charts
Bridgestone Arena - Hockey Rows Seating Map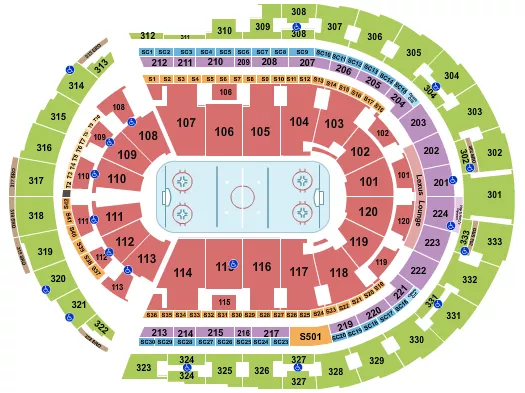 See Bridgestone Arena - Hockey Rows events that use this seating chart configuration
Nashville Predators
The Nashville Predators are a professional ice hockey team based in Nashville, TN. They were founded in 1998 as an expansion team and have been playing in the Central Division of the Western Conference of the NHL ever since. The team is owned by a group of local businessmen and women, and their home arena is the Bridgestone Arena, located in the heart of downtown Nashville.
The Predators have had a relatively short but successful history in the NHL, having made the playoffs in 14 of their 23 seasons as of 2021. They reached the Stanley Cup Finals in 2017, where they ultimately fell to the Pittsburgh Penguins in six games. Despite not winning the championship, the Predators' impressive playoff run electrified the city of Nashville and solidified their status as a legitimate contender in the league..
The Predators have a few notable rivals, including the St. Louis Blues, the Chicago Blackhawks, and the Detroit Red Wings. These matchups are always intense and highly anticipated, and fans from both sides come out in droves to support their team..
If you're a fan of ice hockey or just looking for a fun night out, buying tickets to a Nashville Predators game is a must-do activity. With their fast-paced, hard-hitting style of play and passionate fan base, attending a game at the Bridgestone Arena is an experience you won't soon forget. So why wait? Get your tickets today!.
FAQs about Nashville Predators 2023 Game Schedule And Tickets
How and where to buy Nashville Predators tickets?
While it may be difficult to find Nashville Predators tickets, Event Tickets Center has plenty of Nashville Predators tickets available starting from $17. Select your tickets using our interactive seating chart, and follow the steps in checkout. You'll be going to a Nashville Predators event in no time!
How much are Nashville Predators tickets?
On Event Tickets Center, Nashville Predators ticket prices range from $17 up to $5,778 over a number of different Nashville Predators events.
When do Nashville Predators tickets go on sale?
Typically, Nashville Predators will announce the schedule 3-6 months before the first game, and tickets go on sale within a few weeks of the schedule announcement.
Are Nashville Predators tickets sold out?
No. While tickets to see Nashville Predators may be sold out on other ticketing websites, Event Tickets Center has plenty of tickets available for you to see Nashville Predators live.
Are Nashville Predators tickets on sale?
Yes, Nashville Predators tickets are on sale, and you can buy them right here at Event Tickets Center.
When is the next Nashville Predators event?
The next Nashville Predators event is on December 3, 2023 at KeyBank Center in Buffalo, NY. Event Tickets Center has 1,110 tickets available for this event.
NHL Teams, Stadiums, and Divisions
Nashville Predators Matchups
Event Dates and Pricing Information
| Venue | Date | Price | Tickets Available |
| --- | --- | --- | --- |
| KeyBank Center | Dec 3, 2023 | From $30 | 1,110 |
| United Center | Dec 5, 2023 | From $35 | 1,925 |
| Bridgestone Arena | Dec 7, 2023 | From $24 | 1,794 |
| Scotiabank Arena | Dec 9, 2023 | From $116 | 461 |
| Centre Bell | Dec 10, 2023 | From $49 | 1,950 |
| Bridgestone Arena | Dec 12, 2023 | From $17 | 2,592 |
| PNC Arena | Dec 15, 2023 | From $36 | 1,670 |
| Bridgestone Arena | Dec 16, 2023 | From $64 | 2,031 |
| Bridgestone Arena | Dec 19, 2023 | From $17 | 2,183 |
| Wells Fargo Center - PA | Dec 21, 2023 | From $38 | 1,718 |