American Family Fields of Phoenix Seating Charts
American Family Fields of Phoenix - Baseball Seating Map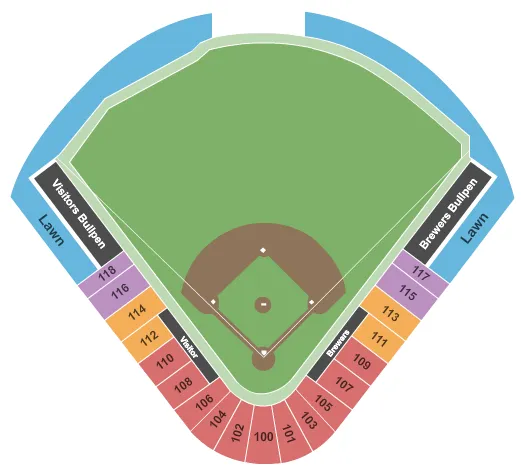 See American Family Fields of Phoenix - Baseball events that use this seating chart configuration
Milwaukee Brewers: A Rich Baseball Legacy
In the realm of Major League Baseball, the Milwaukee Brewers have cultivated a dedicated fan base and an enduring legacy. With a history that spans over half a century, the Brewers have seen their share of ups and downs, yet have remained a beloved fixture in the hearts of their supporters. As a Brewers fan, you can take pride in the team's playoff history, remarkable players, and a stadium that has become a symbol of Milwaukee's passion for the game.
Established in 1969 as the Seattle Pilots, the team moved to Milwaukee in 1970 and adopted the Brewers moniker. The Brewers have made five playoff appearances in their history, highlighted by their 1982 World Series run, where they ultimately fell to the St. Louis Cardinals. The team has also earned three division titles (1982, 2011, and 2018) and two Wild Card berths (2008 and 2019), showcasing their dedication and resilience in the face of competition.
The Milwaukee Brewers have been home to many talented and unforgettable players over the years. Hall of Famers such as Robin Yount, Paul Molitor, and Rollie Fingers have donned the Brewers uniform, leaving indelible marks on the team's history. Yount, in particular, spent his entire 20-year career with the Brewers, earning two American League MVP awards and solidifying his place as a franchise icon. More recent players, like Ryan Braun and Christian Yelich, have continued to excite fans with their outstanding performances and commitment to the team.
Located in Milwaukee, Wisconsin, American Family Field has been the Brewers' home since its opening in 2001. With its unique fan-shaped retractable roof, the stadium ensures an enjoyable baseball experience in any weather. American Family Field has a seating capacity of 41,900 and features attractions like the "Dew Deck" and "Bernie's Slide," providing a fun and engaging atmosphere for fans of all ages.
There's nothing quite like the energy and excitement of attending a Milwaukee Brewers game. From the camaraderie of fellow fans to the action on the field, each moment is infused with the spirit of the Brew Crew. Don't miss out on the opportunity to be a part of this incredible experience. Visit the Event Tickets Center today to secure your seats for upcoming Brewers games, and join in the celebration of Milwaukee's cherished baseball legacy.
FAQs about Milwaukee Brewers 2023 Game Schedule And Tickets
How and where to buy Milwaukee Brewers tickets?
While it may be difficult to find Milwaukee Brewers tickets, Event Tickets Center has plenty of Milwaukee Brewers tickets available starting from $20. Select your tickets using our interactive seating chart, and follow the steps in checkout. You'll be going to a Milwaukee Brewers event in no time!
How much are Milwaukee Brewers tickets?
On Event Tickets Center, Milwaukee Brewers ticket prices range from $20 up to $535 over a number of different Milwaukee Brewers events.
When do Milwaukee Brewers tickets go on sale?
Typically, Milwaukee Brewers will announce the schedule 3-6 months before the first game, and tickets go on sale within a few weeks of the schedule announcement.
Are Milwaukee Brewers tickets sold out?
No. While tickets to see Milwaukee Brewers may be sold out on other ticketing websites, Event Tickets Center has plenty of tickets available for you to see Milwaukee Brewers live.
Are Milwaukee Brewers tickets on sale?
Yes, Milwaukee Brewers tickets are on sale, and you can buy them right here at Event Tickets Center.
When is the next Milwaukee Brewers event?
The next Milwaukee Brewers event is on February 24, 2024 at Peoria Stadium in Peoria, AZ. Event Tickets Center has 602 tickets available for this event.
MLB Teams, Stadiums, and Divisions
Milwaukee Brewers Matchups
Event Dates and Pricing Information
| Venue | Date | Price | Tickets Available |
| --- | --- | --- | --- |
| Peoria Stadium | Feb 24, 2024 | From $30 | 602 |
| American Family Fields of Phoenix | Feb 25, 2024 | From $31 | 346 |
| American Family Fields of Phoenix | Feb 26, 2024 | From $28 | 335 |
| Tempe Diablo Stadium | Feb 27, 2024 | From $20 | 655 |
| American Family Fields of Phoenix | Feb 28, 2024 | From $31 | 371 |
| Surprise Stadium | Feb 29, 2024 | From $20 | 533 |
| American Family Fields of Phoenix | Mar 1, 2024 | From $31 | 351 |
| American Family Fields of Phoenix | Mar 2, 2024 | From $33 | 381 |
| Salt River Fields | Mar 3, 2024 | From $30 | 870 |
| Scottsdale Stadium | Mar 5, 2024 | From $57 | 395 |