Roger Dean Stadium Seating Charts
Roger Dean Stadium - Baseball 2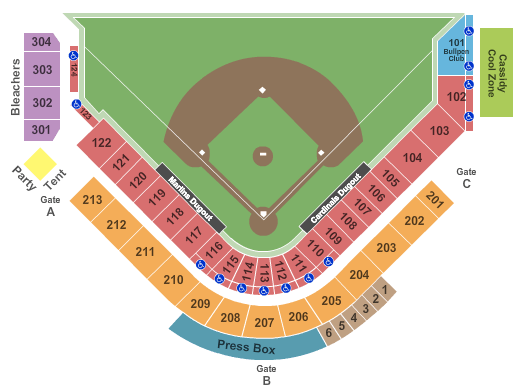 See Roger Dean Stadium - Baseball 2 events that use this seating chart configuration
The St Louis Cardinals are a Major League Baseball team that competes in the National League Central Division. The team was established more than 100 years ago in 1882. They have been in the same city ever since, and it is safe to say that this is not going to change anytime soon for the Cardinals.

The Cardinals play their home games at Busch Stadium III. This is the third venue to use the name Busch Stadium. The Cardinals have been playing at this venue since 2006 and it is easily one of the best in the league. Not only is it comfortable for fans, but at the same time the views are also breathtaking.

Many great players have played for the Cardinals. Some of the best include Lou Brock, Bob Gibson, Dizzy Dean, Stan Musial, Ozzie Smith, Bruce Sutter, and many more.

All in all, the St. Louis Cardinals have been competing at a high level for many years. If it is up to them, they will be winning more titles in the seasons to come. View the entire St Louis Cardinals schedule for 2023 to buy tickets.