Wells Fargo Center - PA Seating Charts
Wells Fargo Center - PA - Basketball Rows Seating Map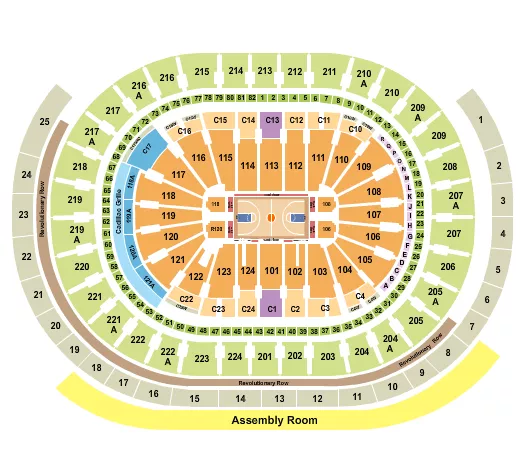 See Wells Fargo Center - PA - Basketball Rows events that use this seating chart configuration
Philadelphia 76ers
The Philadelphia 76ers are a professional basketball team based in Philadelphia, PA. The franchise was founded in 1946 and has been a part of the NBA ever since. The team plays in the Eastern Conference Atlantic Division, along with other top NBA teams such as the Boston Celtics, Brooklyn Nets, New York Knicks, and Toronto Raptors.
The 76ers play their home games at the Wells Fargo Center, which is located in the heart of Philadelphia. The arena has a seating capacity of over 21,000 fans and is equipped with modern amenities such as luxury suites, high-definition video screens, and state-of-the-art sound and lighting systems.
The 76ers have had a successful record in league history. The team has won three NBA championships, in 1955, 1967, and 1983, and has made the playoffs over 50 times in their history. The team has had many legendary players such as Julius Erving, Moses Malone, and Allen Iverson.
The 76ers' known rivals include the Boston Celtics, the Brooklyn Nets, and the New York Knicks. These intense rivalries have produced some of the most memorable games in NBA history, making for exciting matchups on the court.
If you are a basketball fan or just looking for a fun and exciting night out, be sure to buy tickets to a 76ers game. With a talented team featuring superstars like Joel Embiid and James Harden, you are sure to have an unforgettable experience at the Wells Fargo Center. Don't miss your chance to see some of the NBA's top players in action and be a part of the 76ers' journey towards another championship.
FAQs about Philadelphia 76ers 2023 Game Schedule And Tickets
How and where to buy Philadelphia 76ers tickets?
While it may be difficult to find Philadelphia 76ers tickets, Event Tickets Center has plenty of Philadelphia 76ers tickets available starting from $11. Select your tickets using our interactive seating chart, and follow the steps in checkout. You'll be going to a Philadelphia 76ers event in no time!
How much are Philadelphia 76ers tickets?
On Event Tickets Center, Philadelphia 76ers ticket prices range from $11 up to $16,351 over a number of different Philadelphia 76ers events.
When do Philadelphia 76ers tickets go on sale?
Typically, Philadelphia 76ers will announce the schedule 3-6 months before the first game, and tickets go on sale within a few weeks of the schedule announcement.
Are Philadelphia 76ers tickets sold out?
No. While tickets to see Philadelphia 76ers may be sold out on other ticketing websites, Event Tickets Center has plenty of tickets available for you to see Philadelphia 76ers live.
Are Philadelphia 76ers tickets on sale?
Yes, Philadelphia 76ers tickets are on sale, and you can buy them right here at Event Tickets Center.
When is the next Philadelphia 76ers event?
The next Philadelphia 76ers event is on December 1, 2023 at TD Garden in Boston, MA. Event Tickets Center has 891 tickets available for this event.
NBA Teams, Stadiums, and Divisions
Philadelphia 76ers Matchups
Event Dates and Pricing Information
| Venue | Date | Price | Tickets Available |
| --- | --- | --- | --- |
| TD Garden | Dec 1, 2023 | From $118 | 891 |
| Capital One Arena | Dec 6, 2023 | From $11 | 1,852 |
| Wells Fargo Center - PA | Dec 8, 2023 | From $21 | 2,787 |
| Wells Fargo Center - PA | Dec 11, 2023 | From $16 | 3,187 |
| Little Caesars Arena | Dec 13, 2023 | From $21 | 3,003 |
| Wells Fargo Center - PA | Dec 15, 2023 | From $29 | 2,448 |
| Spectrum Center | Dec 16, 2023 | From $31 | 3,465 |
| Wells Fargo Center - PA | Dec 18, 2023 | From $26 | 2,535 |
| Wells Fargo Center - PA | Dec 20, 2023 | From $41 | 2,280 |
| Wells Fargo Center - PA | Dec 22, 2023 | From $57 | 2,223 |