Madison Square Garden Seating Charts
Madison Square Garden - Hockey Rows Seating Map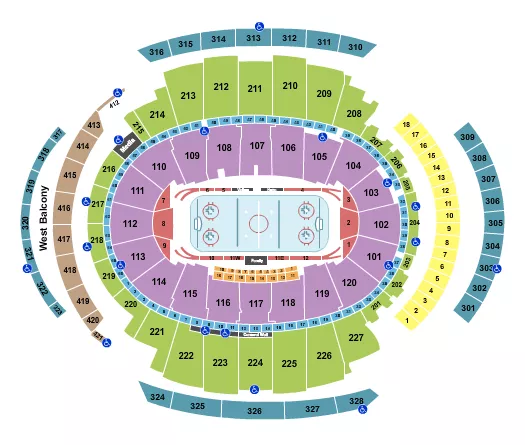 See Madison Square Garden - Hockey Rows events that use this seating chart configuration
New York Rangers
The New York Rangers are a professional ice hockey team based in New York, NY. The franchise was founded in 1926 and is one of the original six teams in the NHL. The team is owned by Madison Square Garden Entertainment Corp. and has a rich history in the league, having won four Stanley Cup championships in 1928, 1933, 1940, and 1994.
The Rangers' home arena is the world-famous Madison Square Garden, which is located in the heart of Manhattan. The arena is known for its electric atmosphere and has a seating capacity of 18,006 for hockey games. The team has a loyal fan base that packs the arena for every home game, making it a must-see experience for any hockey fan.
The Rangers have several fierce rivals in the league, including the New York Islanders, New Jersey Devils, and Philadelphia Flyers. The rivalry between the Rangers and Islanders is particularly intense, as both teams share the New York City market and compete for bragging rights. The teams' annual matchups, known as the "Battle of New York," are always highly anticipated.
The Rangers have made 35 playoff appearances in their history, with their most recent appearance in 2022. In addition to their four Stanley Cup championships, the team has won three conference championships and eight division championships. The team has a storied history, with many legendary players having worn the Rangers' jersey, including Mark Messier, Wayne Gretzky, Brian Leetch, and Henrik Lundqvist.
If you're a hockey fan looking for an unforgettable experience, don't miss the opportunity to see the New York Rangers play at Madison Square Garden. From the electric atmosphere to the passionate fans, a Rangers game is an experience like no other. Buy tickets to an upcoming game and witness the excitement firsthand!
FAQs about New York Rangers 2023 Game Schedule And Tickets
How and where to buy New York Rangers tickets?
While it may be difficult to find New York Rangers tickets, Event Tickets Center has plenty of New York Rangers tickets available starting from $103. Select your tickets using our interactive seating chart, and follow the steps in checkout. You'll be going to a New York Rangers event in no time!
How much are New York Rangers tickets?
On Event Tickets Center, New York Rangers ticket prices range from $103 up to $9,914 over a number of different New York Rangers events.
When do New York Rangers tickets go on sale?
Typically, New York Rangers will announce the schedule 3-6 months before the first game, and tickets go on sale within a few weeks of the schedule announcement.
Are New York Rangers tickets sold out?
No. While tickets to see New York Rangers may be sold out on other ticketing websites, Event Tickets Center has plenty of tickets available for you to see New York Rangers live.
Are New York Rangers tickets on sale?
Yes, New York Rangers tickets are on sale, and you can buy them right here at Event Tickets Center.
When is the next New York Rangers event?
The next New York Rangers event is on December 10, 2023 at Madison Square Garden in New York, NY. Event Tickets Center has 437 tickets available for this event.
NHL Teams, Stadiums, and Divisions
New York Rangers Matchups
Other New York City Teams
Event Dates and Pricing Information
| Venue | Date | Price | Tickets Available |
| --- | --- | --- | --- |
| Madison Square Garden | Dec 10, 2023 | From $155 | 437 |
| Madison Square Garden | Dec 12, 2023 | From $155 | 598 |
| Madison Square Garden | Dec 15, 2023 | From $164 | 561 |
| TD Garden | Dec 16, 2023 | From $217 | 1,068 |
| Scotiabank Arena | Dec 19, 2023 | From $121 | 753 |
| Madison Square Garden | Dec 22, 2023 | From $213 | 1,601 |
| Madison Square Garden | Dec 23, 2023 | From $210 | 1,700 |
| Madison Square Garden | Dec 27, 2023 | From $265 | 1,677 |
| Amerant Bank Arena | Dec 29, 2023 | From $103 | 2,158 |
| Amalie Arena | Dec 30, 2023 | From $131 | 1,629 |