JetBlue Park At Fenway South Seating Charts
JetBlue Park At Fenway South - Baseball Seating Map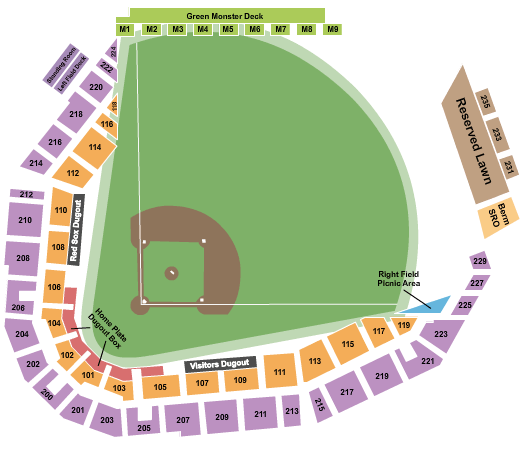 See JetBlue Park At Fenway South - Baseball events that use this seating chart configuration
The Boston Red Sox are one of the oldest franchises in all of professional sports. They began to compete in Major League Baseball in 1901. In fact, under the name the Boston Americans they won the first ever World Series in 1903. So as you can see, the Red Sox are one franchise that knows how to succeed year in and year out.

Seeing a Red Sox game in person at Fenway Park is a great experience. But if you want to get tickets, you better buy them as soon as possible. Boston Red Sox tickets are among the most popular in all of Major League Baseball. Check out the complete Boston Red Sox schedule for 2023 to buy tickets.

To go along with the long history of the franchise, the Red Sox also play in the oldest stadium in Major League Baseball. Fenway Park opened before the 1912 season, and has been going strong ever since. Even though it is not nearly as modern as the majority of the stadiums in the league, there is no sign that the team is looking to make a change. This is a good thing for the league because Fenway Park has become a historical landmark of sorts.

Many great players have worn the Red Sox jersey over the years. Two of the best include Babe Ruth before being sold to the New York Yankees, and of course, Ted Williams.