JetBlue Park At Fenway South Seating Charts
JetBlue Park At Fenway South - Baseball Seating Map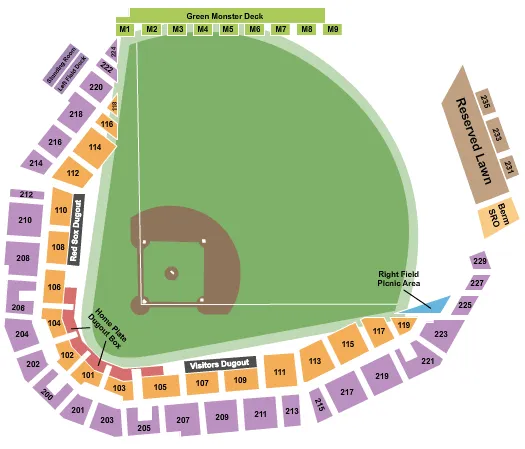 See JetBlue Park At Fenway South - Baseball events that use this seating chart configuration
The Boston Red Sox: A Storied Franchise with Passionate Fans
For generations, the Boston Red Sox have been a source of pride and passion for their legions of devoted fans. This storied MLB franchise has experienced its fair share of ups and downs throughout the years, but its rich history, iconic stadium, and legendary players have left an indelible mark on the sport.
Established in 1901 as one of the American League's eight charter franchises, the Red Sox have a long and storied history. The team experienced early success, winning the first World Series in 1903 and claiming four more titles by 1918. However, after the controversial sale of Babe Ruth to the New York Yankees in 1919, the Red Sox suffered an 86-year championship drought, often referred to as the "Curse of the Bambino."
The Red Sox finally broke the curse in 2004 with a historic playoff run, sweeping the St. Louis Cardinals in the World Series. The team's success continued with World Series titles in 2007, 2013, and 2018, solidifying the Red Sox as one of the most successful MLB franchises in the 21st century.
The Red Sox have been home to numerous legendary players, including Hall of Famers like Ted Williams, Carl Yastrzemski, and Pedro Martinez. Other iconic figures include David Ortiz, who played a key role in the team's 2004, 2007, and 2013 championships, and Cy Young Award winners Roger Clemens and Jim Lonborg. The Red Sox have also seen numerous fan-favorite players, such as Nomar Garciaparra, Johnny Damon, and Mookie Betts, who have all left a lasting impact on the team's history.
Since 1912, the Red Sox have called Fenway Park their home, making it the oldest ballpark in Major League Baseball. Nestled in the heart of Boston, Massachusetts, Fenway Park is known for its unique features, such as the Green Monster, a 37-foot-tall left-field wall, and Pesky's Pole, the right-field foul pole named after former player and coach Johnny Pesky. Fenway Park is a cherished landmark for both Red Sox fans and baseball enthusiasts alike, drawing thousands of visitors each year to experience its historic charm and electric atmosphere.
Red Sox fans are known for their unwavering passion and loyalty, and the team boasts many unique traditions. One of the most famous is the singing of Neil Diamond's "Sweet Caroline" during the eighth inning of every home game, a Fenway Park staple since 2002. The Red Sox also have a long-standing rivalry with the New York Yankees, which has produced some of the most memorable moments in baseball history.
The Boston Red Sox have established themselves as one of the most iconic and successful franchises in Major League Baseball. With their storied history, legendary players, and beloved ballpark, the Red Sox continue to captivate the hearts of fans in Boston and beyond.
FAQs about Boston Red Sox 2023 Game Schedule And Tickets
How and where to buy Boston Red Sox tickets?
While it may be difficult to find Boston Red Sox tickets, Event Tickets Center has plenty of Boston Red Sox tickets available starting from $11. Select your tickets using our interactive seating chart, and follow the steps in checkout. You'll be going to a Boston Red Sox event in no time!
How much are Boston Red Sox tickets?
On Event Tickets Center, Boston Red Sox ticket prices range from $11 up to $5,618 over a number of different Boston Red Sox events.
When do Boston Red Sox tickets go on sale?
Typically, Boston Red Sox will announce the schedule 3-6 months before the first game, and tickets go on sale within a few weeks of the schedule announcement.
Are Boston Red Sox tickets sold out?
No. While tickets to see Boston Red Sox may be sold out on other ticketing websites, Event Tickets Center has plenty of tickets available for you to see Boston Red Sox live.
Are Boston Red Sox tickets on sale?
Yes, Boston Red Sox tickets are on sale, and you can buy them right here at Event Tickets Center.
When is the next Boston Red Sox event?
The next Boston Red Sox event is on February 23, 2024 at JetBlue Park At Fenway South in Fort Myers, FL. Event Tickets Center has 56 tickets available for this event.
MLB Teams, Stadiums, and Divisions
Event Dates and Pricing Information
| Venue | Date | Price | Tickets Available |
| --- | --- | --- | --- |
| JetBlue Park At Fenway South | Feb 23, 2024 | From $11 | 56 |
| Ed Smith Stadium | Feb 24, 2024 | From $42 | 448 |
| JetBlue Park At Fenway South | Feb 25, 2024 | From $38 | 523 |
| CoolToday Park | Feb 25, 2024 | From $36 | 922 |
| JetBlue Park At Fenway South | Feb 26, 2024 | From $44 | 467 |
| Roger Dean Stadium | Feb 27, 2024 | From $46 | 829 |
| The Ballpark of The Palm Beaches | Feb 28, 2024 | From $40 | 577 |
| JetBlue Park At Fenway South | Feb 29, 2024 | From $44 | 550 |
| Hammond Stadium at Lee Health Sports Complex | Mar 1, 2024 | From $32 | 315 |
| JetBlue Park At Fenway South | Mar 2, 2024 | From $36 | 592 |