T-Mobile Park Seating Charts
T-Mobile Park - Baseball Seating Map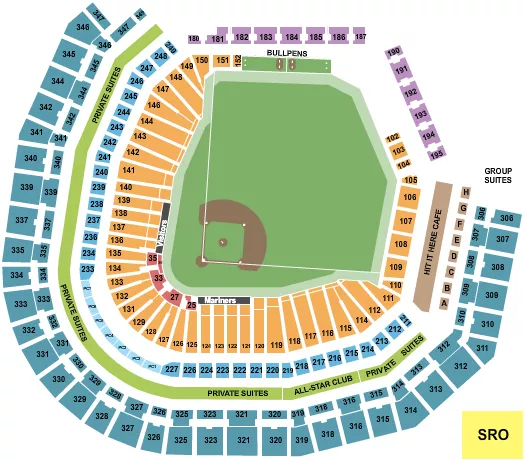 See T-Mobile Park - Baseball events that use this seating chart configuration
As a dedicated fan of the Major League Baseball team, the Seattle Mariners, it's essential to know the rich history and accomplishments of the franchise. The Seattle Mariners have made their mark in the MLB through an engaging playoff history, a roster of notable players, and their iconic stadium, T-Mobile Park.
Established in 1977, the Seattle Mariners entered the MLB as an expansion team. Their first game took place on April 6, 1977, against the California Angels, and the team has since been making strides on the field. Throughout their existence, the Mariners have had ups and downs, but they have managed to develop a loyal fan base that continues to support them at every game.
The Mariners' playoff history has had its fair share of memorable moments. They made their first playoff appearance in 1995, winning the American League West division. This playoff run was fueled by the team's dynamic roster, which included Hall of Famer Ken Griffey Jr., Edgar Martinez, Randy Johnson, and many other notable players. The team has since made three more playoff appearances (2000, 2001, and 2021) but have yet to clinch a World Series title.
Over the years, the Seattle Mariners have seen numerous exceptional players don their uniform. Some of the most iconic Mariners include Ichiro Suzuki, Félix Hernández, and Alex Rodriguez. These players have contributed to the team's success with their exceptional talent and dedication on the field.
The Mariners' home ground, T-Mobile Park, is an architectural marvel and a must-visit for any baseball fan. Located in the bustling heart of Seattle, T-Mobile Park boasts a retractable roof, ensuring that games can be enjoyed rain or shine. The stadium is known for its stunning views of the city skyline and its unique features, such as the famous "Hit It Here Café" and the "Mariners Hall of Fame."
The Seattle Mariners' mascot, the Mariner Moose, has been entertaining fans since 1990. The Moose is a beloved figure at Mariners games, often engaging in antics and interacting with fans. In 2001, the Mariners set an MLB record for most wins in a single season, finishing the year with 116 victories, a feat that has yet to be matched. There's no better time to join the excitement and cheer on your Seattle Mariners! Catch the action live at T-Mobile Park and be a part of the thrilling atmosphere. Buy your Mariners tickets now and experience the best of Major League Baseball!
FAQs about Seattle Mariners 2023 Game Schedule And Tickets
How and where to buy Seattle Mariners tickets?
While it may be difficult to find Seattle Mariners tickets, Event Tickets Center has plenty of Seattle Mariners tickets available starting from $9. Select your tickets using our interactive seating chart, and follow the steps in checkout. You'll be going to a Seattle Mariners event in no time!
How much are Seattle Mariners tickets?
On Event Tickets Center, Seattle Mariners ticket prices range from $9 up to $1,561 over a number of different Seattle Mariners events.
When do Seattle Mariners tickets go on sale?
Typically, Seattle Mariners will announce the schedule 3-6 months before the first game, and tickets go on sale within a few weeks of the schedule announcement.
Are Seattle Mariners tickets sold out?
No. While tickets to see Seattle Mariners may be sold out on other ticketing websites, Event Tickets Center has plenty of tickets available for you to see Seattle Mariners live.
Are Seattle Mariners tickets on sale?
Yes, Seattle Mariners tickets are on sale, and you can buy them right here at Event Tickets Center.
When is the next Seattle Mariners event?
The next Seattle Mariners event is on September 25, 2023 at T-Mobile Park in Seattle, WA. Event Tickets Center has 191 tickets available for this event.
Event Dates and Pricing Information
| Venue | Date | Price | Tickets Available |
| --- | --- | --- | --- |
| T-Mobile Park | Sep 25, 2023 | From $10 | 191 |
| T-Mobile Park | Sep 26, 2023 | From $9 | 2,764 |
| T-Mobile Park | Sep 27, 2023 | From $15 | 3,062 |
| T-Mobile Park | Sep 28, 2023 | From $10 | 4,288 |
| T-Mobile Park | Sep 29, 2023 | From $44 | 2,289 |
| T-Mobile Park | Sep 30, 2023 | From $42 | 3,345 |
| T-Mobile Park | Oct 1, 2023 | From $46 | 2,652 |
| T-Mobile Park | Oct 3, 2023 | From $242 | 72 |
| T-Mobile Park | Oct 4, 2023 | From $294 | 78 |
| T-Mobile Park | Oct 5, 2023 | From $294 | 68 |