PNC Music Pavilion Tickets and Seating Charts - Charlotte, NC
PNC Music Pavilion - Charlotte Seating Charts
PNC Music Pavilion - Charlotte - End Stage 3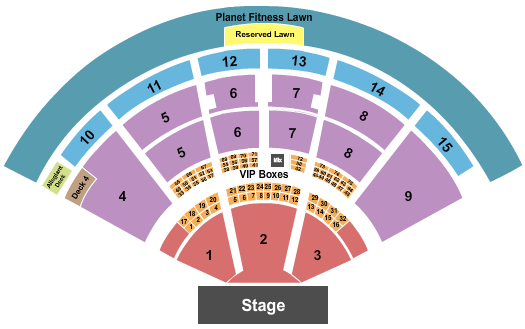 See PNC Music Pavilion - Charlotte - End Stage 3 events that use this seating chart configuration
PNC Music Pavilion - Charlotte - End Stage GA Pit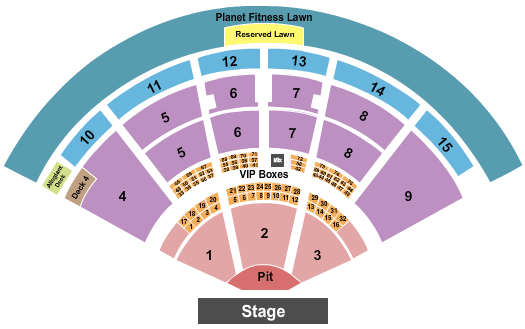 See PNC Music Pavilion - Charlotte - End Stage GA Pit events that use this seating chart configuration
PNC Music Pavilion - Charlotte - Keith Urban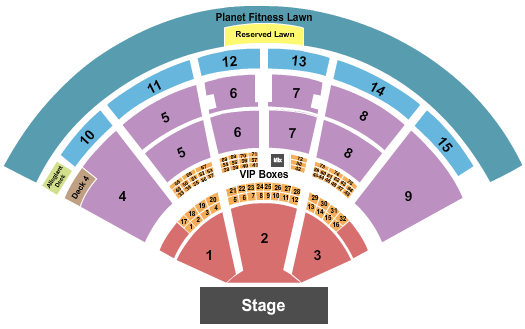 See PNC Music Pavilion - Charlotte - Keith Urban events that use this seating chart configuration
PNC Music Pavilion - Charlotte - Ozzy Osbourne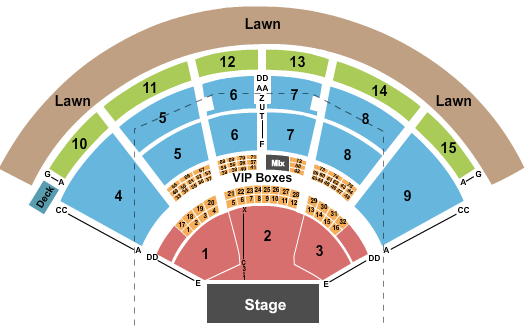 See PNC Music Pavilion - Charlotte - Ozzy Osbourne events that use this seating chart configuration
Learn more about PNC Music Pavilion - Charlotte
The PNC Music Pavilion is a fantastic outdoor music venue in Charlotte, N.C. that hosts live concerts featuring a variety of acts, including country, rock, pop, alternative, rhythm and blues, and jazz. PNC Music Pavilion opened in 1991, and since then it has been rocking the music world. Its prime location on Pavilion Boulevard in Charlotte's University City neighborhood makes it accessible to fans that trek to the city to watch their favorite musicians play. Famous musical artists such as Britney Spears, Coldplay, Gwen Stefani, Paul McCartney, Sheryl Crow, and Usher have performed on its stage, much to the delight of thousands of fans who have filled up the amphitheater and the lawn area, which has a total capacity of nearly 19,000. Taxis are available and CAT buses run close to the venue.

There are so many things to enjoy before or after the event. Visitors can take in the sights and attractions near the PNC Music Pavilion including shopping at the Concord Mills Mall, checking out the Charlotte Motor Speedway, and relaxing at the UNC-Charlotte Botanical Gardens.

Fans can enjoy live performances rain or shine at the PNC Music Pavilion as well as tailgating parties before the show. Event Tickets Center offers a wide selection of PNC Music Pavilion tickets to choose from.
PNC Music Pavilion Concert Ticket and Venue Information:
Capacity:
18,768
Past Names/Nicknames:
Blockbuster Pavilion

Verizon Wireless Amphitheater
Date/Year Built/Opened:
July 4, 1991
FAQs about PNC Music Pavilion - Charlotte
Q: What time do gates open at PNC Music Pavilion?
A: Gates typically open anywhere between 90 minutes to 2 hours prior to showtime at PNC Music Pavilion. Be sure to check the listing on your ticket as showtimes will vary.
Q: Looking for local Charlotte Amphitheater concerts?
A: Our event listing has a list of all Charlotte amphitheater concerts happening at PNC Music Pavilion. You can also check out events in neighboring cities by checking out our list of venues by state.