Xcel Energy Center Seating Charts
Xcel Energy Center - Hockey Seating Map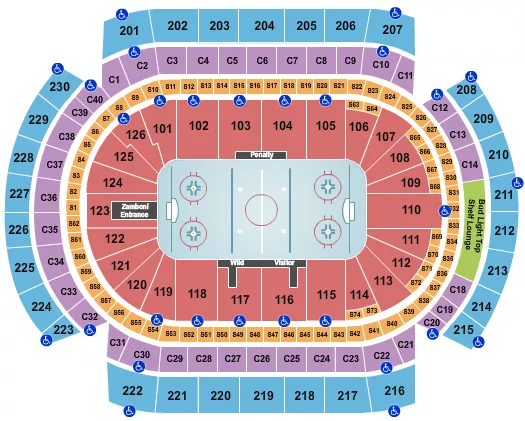 See Xcel Energy Center - Hockey events that use this seating chart configuration
Minnesota Wild
The Minnesota Wild are a professional ice hockey team based in Saint Paul. The franchise was founded in 2000 as part of the NHL's expansion and has quickly become a beloved team in the state of Minnesota. The Wild have a passionate fan base and a reputation for being a tough team to play against.
The Wild play their home games at the Xcel Energy Center, a state-of-the-art arena located in downtown Saint Paul. The arena has a capacity of over 17,000 fans and is known for its raucous atmosphere. The Wild have a strong following in Minnesota, with fans known for their unwavering support of the team.
The Wild have several rivals in the NHL, including the Chicago Blackhawks and the Colorado Avalanche. These matchups are known for their intensity and often result in hard-fought battles on the ice.
The Wild have made the playoffs several times since their inception, with their best showing coming in the 2003 playoffs when they advanced to the Western Conference Finals. Although they have yet to win a Stanley Cup championship, the Wild have been a competitive team in the NHL and have a bright future ahead of them.
If you're looking for an exciting night out, consider buying tickets to a Minnesota Wild game. With a passionate fan base and a talented roster, the Wild promise an unforgettable experience for fans of all ages. Don't miss your chance to see this up-and-coming team in action at the Xcel Energy Center. Get your tickets today!
FAQs about Minnesota Wild 2023 Game Schedule And Tickets
How and where to buy Minnesota Wild tickets?
While it may be difficult to find Minnesota Wild tickets, Event Tickets Center has plenty of Minnesota Wild tickets available starting from $8. Select your tickets using our interactive seating chart, and follow the steps in checkout. You'll be going to a Minnesota Wild event in no time!
How much are Minnesota Wild tickets?
On Event Tickets Center, Minnesota Wild ticket prices range from $8 up to $2,050 over a number of different Minnesota Wild events.
When do Minnesota Wild tickets go on sale?
Typically, Minnesota Wild will announce the schedule 3-6 months before the first game, and tickets go on sale within a few weeks of the schedule announcement.
Are Minnesota Wild tickets sold out?
No. While tickets to see Minnesota Wild may be sold out on other ticketing websites, Event Tickets Center has plenty of tickets available for you to see Minnesota Wild live.
Are Minnesota Wild tickets on sale?
Yes, Minnesota Wild tickets are on sale, and you can buy them right here at Event Tickets Center.
When is the next Minnesota Wild event?
The next Minnesota Wild event is on December 3, 2023 at Xcel Energy Center in Saint Paul, MN. Event Tickets Center has 645 tickets available for this event.
NHL Teams, Stadiums, and Divisions
Event Dates and Pricing Information
| Venue | Date | Price | Tickets Available |
| --- | --- | --- | --- |
| Xcel Energy Center | Dec 3, 2023 | From $93 | 645 |
| Scotiabank Saddledome | Dec 5, 2023 | From $8 | 1,515 |
| Rogers Arena | Dec 7, 2023 | From $39 | 1,693 |
| Rogers Place | Dec 8, 2023 | From $48 | 1,799 |
| Climate Pledge Arena | Dec 10, 2023 | From $92 | 917 |
| Xcel Energy Center | Dec 14, 2023 | From $44 | 2,736 |
| Xcel Energy Center | Dec 16, 2023 | From $80 | 2,123 |
| PPG Paints Arena | Dec 18, 2023 | From $52 | 1,681 |
| TD Garden | Dec 19, 2023 | From $83 | 847 |
| Xcel Energy Center | Dec 21, 2023 | From $58 | 2,807 |