George M. Steinbrenner Field Seating Charts
George M. Steinbrenner Field - Baseball Seating Map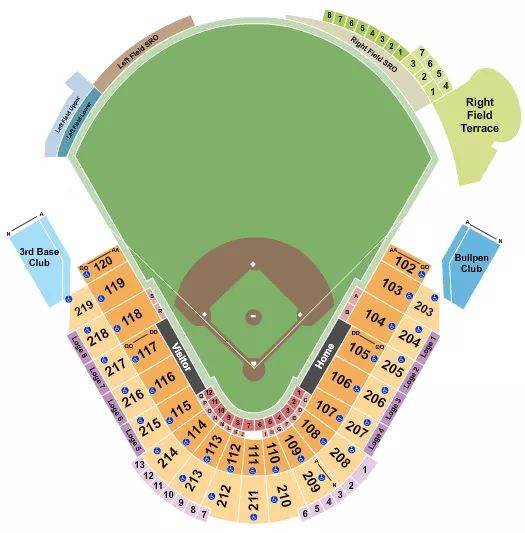 See George M. Steinbrenner Field - Baseball events that use this seating chart configuration
When it comes to Major League Baseball, few teams boast a legacy as rich and storied as the New York Yankees. Founded in 1901 as the Baltimore Orioles, the team relocated to New York City in 1903 and became the Yankees in 1913. Throughout their storied history, the Yankees have amassed an unparalleled 27 World Series championships and 40 American League pennants. This success has earned them the reputation as one of the most successful sports franchises in the world. The team's roster of legends includes names like Babe Ruth, Lou Gehrig, Joe DiMaggio, Mickey Mantle, and Derek Jeter, each of whom has contributed to the team's storied legacy.
In recent years, the Yankees have continued to be a dominant force in Major League Baseball. They have made numerous playoff appearances and captured their most recent World Series title in 2009. The current roster features an exciting mix of young talent and established stars, including Aaron Judge, Giancarlo Stanton, and Gerrit Cole. These players have kept the team competitive and the fan base hopeful for another championship run.
The Yankees play home games at Yankee Stadium which is located in the Bronx, a borough just north of downtown New York. Attending a game at Yankee Stadium is an unforgettable experience for any baseball fan. The current stadium, which opened in 2009, pays tribute to the team's rich history while offering modern amenities and an unmatched game-day atmosphere. Fans can explore Monument Park, which commemorates the team's legends, or enjoy a wide variety of dining options that cater to all tastes. The franchise has a long history of success, a legendary stadium, and an incredible roster of past and present players that have left an indelible mark on the game.
One aspect of the Yankees' lore that adds to the excitement of attending a game is their intense rivalry with the Boston Red Sox. This historic rivalry dates back to the early 20th century and has featured countless memorable moments and unforgettable games. The rivalry captures the spirit of competition and adds an extra layer of excitement to the already thrilling world of Major League Baseball.
From their unparalleled success and legendary players to their iconic stadium and historic rivalries, the New York Yankees offer a unique and unforgettable baseball experience. Don't miss the opportunity to witness the greatness of the Yankees firsthand!
FAQs about New York Yankees 2023 Game Schedule And Tickets
How and where to buy New York Yankees tickets?
While it may be difficult to find New York Yankees tickets, Event Tickets Center has plenty of New York Yankees tickets available starting from $9. Select your tickets using our interactive seating chart, and follow the steps in checkout. You'll be going to a New York Yankees event in no time!
How much are New York Yankees tickets?
On Event Tickets Center, New York Yankees ticket prices range from $9 up to $1,123 over a number of different New York Yankees events.
When do New York Yankees tickets go on sale?
Typically, New York Yankees will announce the schedule 3-6 months before the first game, and tickets go on sale within a few weeks of the schedule announcement.
Are New York Yankees tickets sold out?
No. While tickets to see New York Yankees may be sold out on other ticketing websites, Event Tickets Center has plenty of tickets available for you to see New York Yankees live.
Are New York Yankees tickets on sale?
Yes, New York Yankees tickets are on sale, and you can buy them right here at Event Tickets Center.
When is the next New York Yankees event?
The next New York Yankees event is on September 26, 2023 at Rogers Centre in Toronto, ON. Event Tickets Center has 2175 tickets available for this event.
Event Dates and Pricing Information
| Venue | Date | Price | Tickets Available |
| --- | --- | --- | --- |
| Rogers Centre | Sep 26, 2023 | From $24 | 2,175 |
| Rogers Centre | Sep 27, 2023 | From $16 | 4,576 |
| Rogers Centre | Sep 28, 2023 | From $18 | 3,601 |
| Kauffman Stadium | Sep 29, 2023 | From $11 | 3,570 |
| Kauffman Stadium | Sep 30, 2023 | From $14 | 1,904 |
| Kauffman Stadium | Oct 1, 2023 | From $9 | 3,492 |
| Publix Field at Joker Marchant Stadium | Feb 24, 2024 | From $62 | 84 |
| BayCare Ballpark | Feb 25, 2024 | From $61 | 267 |
| George M. Steinbrenner Field | Feb 25, 2024 | From $69 | 496 |
| George M. Steinbrenner Field | Feb 26, 2024 | From $48 | 391 |