The Greek Theatre Tickets and Seating Charts - Los Angeles, CA
Greek Theatre - Los Angeles CA Seating Charts
Greek Theatre - Los Angeles CA - End Stage Seating Map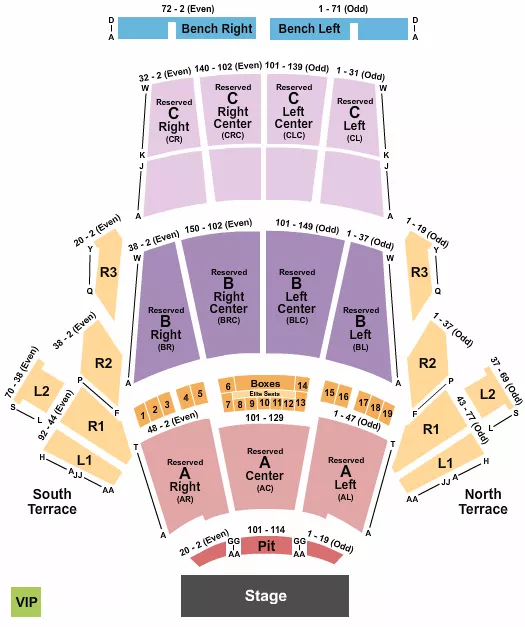 See Greek Theatre - Los Angeles CA - End Stage events that use this seating chart configuration
Greek Theatre - Los Angeles CA - End Stage 2 Seating Map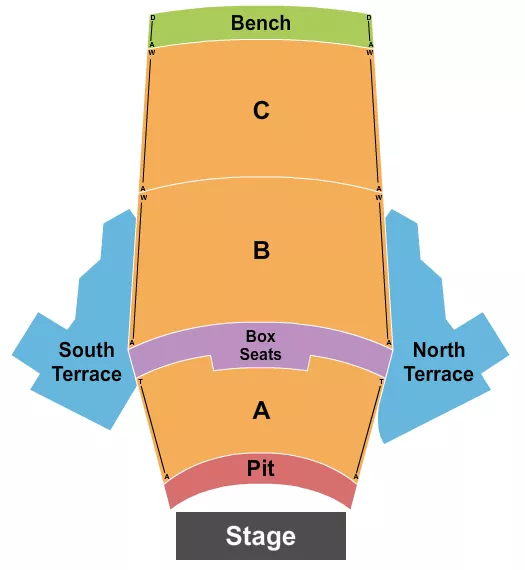 See Greek Theatre - Los Angeles CA - End Stage 2 events that use this seating chart configuration
Learn more about Greek Theatre - Los Angeles CA
One of Los Angeles' most historic entertainment venues, the Greek Theatre -
Los Angeles
is an award-winning outdoor theater where music lovers can enjoy live concerts under the glittering stars right in the heart of the City of Angels. The land where it stands was donated by Colonel Griffith J. Griffith, a Welsh-American industrialist and philanthropist, who bequeathed a million dollars for the construction of the Greek Theatre and the Griffith Observatory. The design of the building was inspired by Greek theater models.
There are a number of off-site parking lots near the theater. Visitors can also park remotely at the Griffith Park Pony Rides lot where a shuttle service is provided continuously two hours before show time. The last shuttle departs 30 minutes after the show.
No outside food or drinks are allowed. Coolers are not allowed inside the venue. Small, non-professional still cameras may be brought into the venue, but professional cameras with lenses longer than two inches, and video and audio recording equipment are prohibited.
Since opening in 1929, this
California
theater has served as a venue for world-class entertainment from the biggest names in the music world such as Sting, Alicia Keys, Pearl Jam, Santana, Tina Turner, Elton John, and Paul Simon, just to name a few. The theater's intimate concert setting, state-of-the-art acoustics, and excellent sight lines are the prime reasons why its 5,900-seating capacity is always filled up by fans. The Greek Theatre - L.A. has been named North America's Best Small Outdoor Venue multiple times by Pollstar Magazine. Concert season runs late April through October. Event Tickets Center offers a wide selection of Greek Theater - Los Angeles tickets to choose from.
FAQs about Greek Theatre - Los Angeles CA
What time do gates open at The Greek Theatre?
Gates typically open anywhere between 90 minutes to 2 hours prior to showtime at The Greek Theatre. Be sure to check the listing on your ticket as showtimes will vary.
Looking for local Los Angeles Amphitheater concerts?
Our event listing has a list of all Los Angeles amphitheater concerts happening at The Greek Theatre. You can also check out events in neighboring cities by checking out our list of venues by state.
Are VIP Packages or Accessible Seating offered at The Greek Theatre?
The Greek Theatre VIP seating packages and accessible seating section locations may vary per event. Please click the seating chart below or contact our customer service department to discuss options for accessible seating or VIP package purchases.
What can I bring into The Greek?
You can bring small food items, sealed water bottles, refillable water bottles and small bags and backpacks. Keep in mind that all bags are subject to a security check.
Is there a coat check at The Greek Theatre?
No there is no coat check at The Greek Theatre.
How is parking at The Greek Theatre?
Parking is very limited around The Greek. It is recommended to arrive early and give yourself plenty of time. The parking structures run by the University typically do not open until 5pm.
Is there a ride share location at The Greek Theatre?
Yes, there is designated Rideshare Drop-off/Pick-up in Lot C on Vermont and Commonwealth.
Is cash accepted at The Greek Theatre?
No, The Greek Theatre only accepts mobile payments, debit and credit cards at all food, beverage and merchandise locations.
Facts about Greek Theatre - Los Angeles CA
Capacity:
5,900
Date/Year Built/Opened:
1929
Event Dates and Pricing Information