Goodyear Ballpark Seating Charts
Goodyear Ballpark - Baseball Seating Map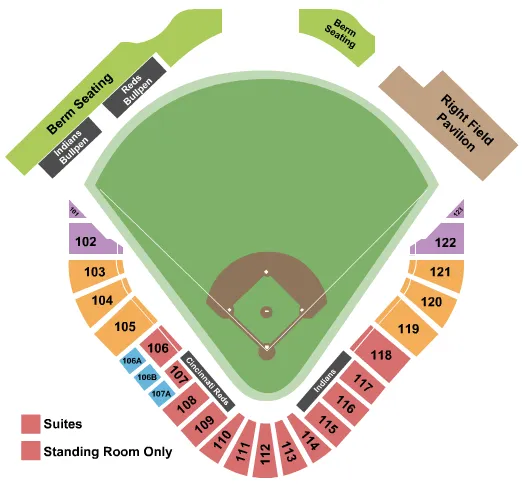 See Goodyear Ballpark - Baseball events that use this seating chart configuration
A Journey Through the History of the Cleveland Guardians
The Cleveland Guardians of Major League Baseball have a storied history that dates back to 1901. Originally named the Cleveland Bluebirds, the team underwent several name changes before finally adopting the Guardians moniker in 2021. Over the years, the franchise has experienced a rollercoaster ride of success and disappointment, with playoff appearances and memorable moments etched into the hearts of fans.
Throughout their playoff history, the Cleveland Guardians have made six trips to the World Series. They emerged victorious in 1920 and 1948, but suffered losses in 1954, 1995, 1997, and 2016. The team has also clinched the American League Central Division title ten times since the division's inception in 1994. Despite a long playoff drought between 1955 and 1994, the franchise has become a force to be reckoned with in recent years. With a talented roster and a dedicated fan base, the Guardians continue their pursuit of a third championship.
Many notable players have donned the Cleveland jersey over the years, such as legendary pitcher Bob Feller, slugger Jim Thome, and shortstop Omar Vizquel. Each of these players has contributed to the team's success and has etched their names into the annals of baseball history. The Guardians' ability to develop and acquire talent has played a significant role in their accomplishments on the field.
Since 1994, the Guardians have called Progressive Field their home. This ballpark, located in the heart of downtown Cleveland, offers a unique blend of classic architecture and modern amenities. Fans can enjoy stunning views of the Cleveland skyline while cheering on their favorite players. Progressive Field also boasts one of the largest scoreboards in Major League Baseball, ensuring that fans never miss a moment of the action. In addition to hosting the Guardians, the stadium has also been the site of concerts, special events, and even the 2019 MLB All-Star Game.
While the Cleveland Guardians have experienced their fair share of ups and downs throughout their history, the dedication and passion of their fans have never wavered. The team's storied past, talented roster, and beautiful home stadium make attending a Guardians game a must for any baseball enthusiast. If you're ready to experience the excitement of Cleveland Guardians baseball in person, visit Event Tickets Center to secure your tickets today. Don't miss the opportunity to cheer on your favorite team as they continue their pursuit of greatness!
FAQs about Cleveland Guardians 2023 Game Schedule And Tickets
How and where to buy Cleveland Guardians tickets?
While it may be difficult to find Cleveland Guardians tickets, Event Tickets Center has plenty of Cleveland Guardians tickets available starting from $20. Select your tickets using our interactive seating chart, and follow the steps in checkout. You'll be going to a Cleveland Guardians event in no time!
How much are Cleveland Guardians tickets?
On Event Tickets Center, Cleveland Guardians ticket prices range from $20 up to $535 over a number of different Cleveland Guardians events.
When do Cleveland Guardians tickets go on sale?
Typically, Cleveland Guardians will announce the schedule 3-6 months before the first game, and tickets go on sale within a few weeks of the schedule announcement.
Are Cleveland Guardians tickets sold out?
No. While tickets to see Cleveland Guardians may be sold out on other ticketing websites, Event Tickets Center has plenty of tickets available for you to see Cleveland Guardians live.
Are Cleveland Guardians tickets on sale?
Yes, Cleveland Guardians tickets are on sale, and you can buy them right here at Event Tickets Center.
When is the next Cleveland Guardians event?
The next Cleveland Guardians event is on February 24, 2024 at Goodyear Ballpark in Goodyear, AZ. Event Tickets Center has 225 tickets available for this event.
MLB Teams, Stadiums, and Divisions
Cleveland Guardians Matchups
Event Dates and Pricing Information
| Venue | Date | Price | Tickets Available |
| --- | --- | --- | --- |
| Goodyear Ballpark | Feb 24, 2024 | From $27 | 225 |
| Peoria Stadium | Feb 25, 2024 | From $32 | 716 |
| Peoria Stadium | Feb 26, 2024 | From $36 | 646 |
| Goodyear Ballpark | Feb 27, 2024 | From $27 | 236 |
| Goodyear Ballpark | Feb 28, 2024 | From $27 | 234 |
| Tempe Diablo Stadium | Feb 29, 2024 | From $20 | 633 |
| Camelback Ranch Stadium | Mar 1, 2024 | From $30 | 856 |
| Goodyear Ballpark | Mar 2, 2024 | From $26 | 245 |
| Goodyear Ballpark | Mar 3, 2024 | From $30 | 244 |
| Sloan Park | Mar 3, 2024 | From $37 | 563 |