US Bank Stadium Seating Charts
US Bank Stadium - Football NO VFS Seating Map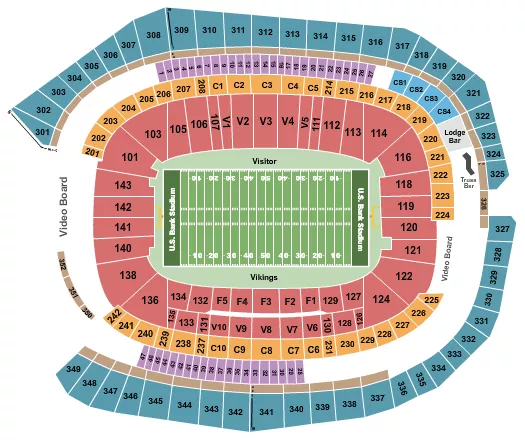 See US Bank Stadium - Football NO VFS events that use this seating chart configuration
Back-To-Back Divisional Titles: Is It Possible?
The offseason is over and the Minnesota Vikings are ready for another year in the NFC North. The team is aiming to win back-to-back divisional titles, which is something they haven't accomplished since 2008 and 2009. Is it possible, though?
This season, they experienced some significant losses, such as wide receiver Adam Thielen and running back Dalvin Cook, both who were very reliable and productive targets for quarterback Kirk Cousins. The losses of Eric Hendricks and veteran cornerback Patrick Peterson are also a cause for concern in terms of their defense, and the Vikings are surely going to miss their 103 combined tackles last season.
There's still hope they can achieve their goal. They still have arguably one of the best young wide receivers in the league, Justin Jefferson, and the team also drafted Jordan Addison from the University of Pittsburgh in the first round, hoping he could fill Thielen's shoes and have good chemistry with Cousins. On the defensive side, the additions of Byron Murphy from the Arizona Cardinals and Mekhi Blackmon, the rookie from USC and second-draft pick, could fill the void of Patrick Peterson.
On the managerial side, the team opted to part ways with defensive coordinator Ed Donatell and hired the Miami Dolphins' former head coach, Brian Flores, who is expected to bring a more aggressive approach to the team's defensive strategy.
The Vikings are a team that could either surprise or disappoint in 2023. Some experts believe they didn't commit enough to match or improve on last season. They have some strengths that could make them contenders, but they also have some weaknesses that could make them pretenders, and their schedule will certainly be challenging as they compete in an NFC North that seems to be shuffling the pecking order amidst the rise of the Lions and the purported dominance of the Bears and a potential third-year leap for Justin Fields.
How did the Minnesota Vikings perform in the 2022 NFL Season?
The Vikings had a really good season in 2022, winning the NFC North for the first time since 2017 and finishing with a 13-4 record. They made history by completing the largest comeback in NFL history, overcoming a 33-0 halftime deficit to beat the Indianapolis Colts 39-36 in overtime. However, their season ended in disappointment as they lost to the New York Giants 31-24 in the Wild Card round of the playoffs.
The Vikings offense was led by quarterback Kirk Cousins, who had a career year with 4,547 passing yards, 29 touchdowns, and 14 interceptions. He was bolstered by a dynamic duo of receivers, Justin Jefferson and Adam Thielen, who combined for 2,525 yards and 14 touchdowns. The Vikings running game was powered by Dalvin Cook, who rushed for 1,173 yards and 8 touchdowns.
Their defense was a mixed bag, ranking 31st in total yards, and 30th in points allowed. They struggled to stop the run and the pass, giving up big plays and allowing opponents to convert on third downs. However, they also made some game-changing plays, forcing 25 turnovers. The Vikings defense was boosted by the addition of outside linebacker Za'Darius Smith, who signed as a free agent from the Green Bay Packers joining Danielle Hunter. Hunter led the team with 10.5 sacks, and Smith followed him with 10 sacks. The Vikings secondary was anchored by veteran cornerback Patrick Peterson, who returned for his second season with the team and had five interceptions and 15 pass breakups.
Overall, the Vikings have shown that they can compete with some of the best teams in the league, but they also need to be more consistent in all lines and improve their defensive game.
Who did the Minnesota Vikings acquire in the 2023 NFL Draft?These are the players that the Vikings acquire in the draft:
Round 1, Pick 23: Jordan Addison, WR, USC
Round 3, Pick 102 (from San Francisco): Mekhi Blackmon, CB, USC
Round 4, Pick 134 (from Kansas City): Jay Ward, CB, LSU
Round 5, Pick 141 (from Indianapolis): Jaquelin Roy, DT, LSU
Round 5, Pick 164 (from San Francisco): Jaren Hall, QB, BYU
Round 7, Pick 222 (from San Francisco): DeWayne McBride, RB, UAB
Who else did the Vikings sign for the 2023 Season?The Vikings made several other signings for 2023, mostly from free agency. These are the ones who made it to the 53-Man list:
Brandon Powell, WR, Los Angeles Rams (Free Agent)
Dean Lowry, DT, Green Bay Packers (Free Agent)
Josh Oliver, TE, Baltimore Ravens (Free Agent)
Marcus Davenport, OLB, New Orleans Saints (Free Agent)
Byron Murphy, CB, Arizona Cardinals (Free Agent)
Andre Carter II, OLB, Army (Undrafted Free Agent)
Ivan Pace Jr., ILB, Cincinnati (Undrafted Free Agent)
NaJee Thompson, CB, Georgia Southern (Undrafted Free Agent)
Some signings didn't make the cut but were put either on the reserve list or practice squad:
Joejuan Williams, CB, New England Patriots (Free Agent, Practice squad)
Abraham Beauplan, MLB, Marshall (Undrafted Free Agent, Reserve list)
C.J. Coldon, CB, Oklahoma (Undrafted Free Agent, Practice squad)
Malik Knowles, WR, Kansas State (Undrafted Free Agent, Reserve list)
Thayer Thomas, WR, NC State (Undrafted Free Agent, Practice squad)
Jaylin Williams, CB, Indiana (Undrafted Free Agent, Practice squad)
Minnesota Vikings Key Matchups in 2023
The Vikings have a tough schedule with five prime-time games this season, and they will face strong opponents from the NFC South and AFC West, including the current Super Bowl champions. If they want to make it to the playoffs, they will need to be consistent and avoid injuries. Their key matchups include:
FAQs about Minnesota Vikings 2023 Game Schedule And Tickets
When were the Minnesota Vikings established and joined the NFL?
The team was established January 28, 1960 and officially joined the NFL as an expansion franchise the following season. They were initially part of the Western Conference but moved to the NFC after the AFL-NFL merger in 1970.
Who owns the Minnesota Vikings?
Zygi Wilf, an American billionaire businessman and real estate developer, currently holds ownership of the team. In 2005, he acquired the Minnesota Vikings from Red McCombs for $600 million and presently serves as both chairman and co-owner, alongside his brother Mark and cousin Leonard. Additionally, Wilf is the majority owner of Orlando City in the MLS. Before Wilf, the Vikings changed hands on multiple occasions. The team's original ownership group, composed of five businessmen - Max Winter, E. William Boyer, H.P. Skoglund, Ole Haugsrud, and Bernard H. Ridder, Jr. - established the franchise in 1961 as an NFL expansion team. In 1988, Max Winter sold his ownership stake to a group of ten investors led by Irwin L. Jacobs and Carl Pohlad. In 1991, Wheelock Whitney Jr., Roger Headrick, and Jaye F. Dyer joined the ownership group. In 1998, Red McCombs, a billionaire and automotive magnate from San Antonio, purchased the team for $250 million.
Who is the head coach of the Minnesota Vikings?
Kevin O'Connell, at 38 years old, is the Minnesota Vikings current head coach and took charge of the team in February 2022 – three days after winning Super Bowl LVI as the offensive coordinator for the Los Angeles Rams. As OC, the Rams ranked 2nd in receiving TDs (41) and had the 5th highest yards in the league (4,893). In his head coaching debut with the Vikings last year, he helped power the Vikes to a 13-4 record, tying NFC North rival Matt LaFleur and current Michigan head coach, Jim Harbaugh, with second-most wins as a rookie head coach in NFl history. Before coaching, O'Connell played quarterback for San Diego State and was drafted by the New England Patriots in 2008, with stints at other NFL teams as a backup QB. His coaching journey began as an offensive assistant with the Cleveland Browns in 2015, followed by a role as the quarterbacks coach for the Washington Commanders in 2017, where he later became the offensive coordinator in 2019. O'Connell is known for his inventive offensive schemes, quarterback development skills, and strong leadership.
What are some of the other personnel and assistant coaches?
Mike Pettine,assistant head coach
Wes Phillips, offensive coordinator
Brian Flores, defensive coordinator
Matt Daniels, special teams coordinator
Kwesi Adofo-Mensah, general manager
How many championships have the Minnesota Vikings won?
The Vikings have not won any Super Bowls. They are one of 12 NFL franchises to never hoist a Lombardi Trophy. They have appeared in the Super Bowl four times: 1970, 1974, 1975, and 1977 – losing all four times.
How many divisional championships have the Minnesota Vikings won?
The Vikings have won 21 divisional championships since they were established as a team, making them the team with the most divisional championships in their division, the NFC North. They won two NFL Central titles (1968, 1969), 14 NFC Central titles (1970, 1971, 1973, 1974, 1975, 1976, 1977, 1978, 1980, 1989, 1992, 1994, 1998, 2000) and five NFC North titles (2008, 2009, 2015, 2017, 2022).
What is the Minnesota Vikings best overall season record?
The Vikings had their best season ever in 1998, with a record of 15-1. In that year, they won the NFC Central division and made it to the NFC Championship Game, where they failed to reach the Super Bowl by losing to the Atlanta Falcons in overtime. That season, the Vikings set several offensive records, like scoring 556 points (the most in NFL history at the time) and having four players (Randall Cunningham, Cris Carter, Randy Moss and Robert Smith) with over 1,000 yards each in their respective categories. To this day, they're still considered as one of the best teams in NFL history that never made it to the Super Bowl.
What is the Minnesota Vikings overall franchise record?
The Vikings have an overall franchise record of 516-425-11 with a winning percentage of .548, – the seventh-best team in NFL history by win-loss records. However, they also have a negative playoff record of 21-31 with a winning percentage of .404, the sixth-worst team in NFL history.
Who have been some of the most famous players in Minnesota Vikings history?
Some of the most important players in Minnesota Vikings history have been:
Fran Tarkenton: an iconic Hall of Fame quarterback who had two stints with the Vikings, from 1961 to 1966 and from 1972 to 1978. He led the team to three Super Bowl appearances and earned nine Pro Bowl selections and two first-team All-Pro honors. Tarkenton holds the Vikings all-time records for passing yards, touchdowns, completions, and attempts.
Alan Page: a Hall of Fame defensive tackle, played for the Vikings from 1967 to 1978 and was part of the famed "Purple People Eaters" defensive line. He was the first defensive player to win the NFL MVP award in 1971 and secured eight Pro Bowl nods and six first-team All-Pro honors. Page is the Vikings all-time leader in sacks with 108.
Randy Moss: a Hall of Fame wide receiver, donned the purple and gold from 1998 to 2004 and again in 2010. He was an explosive and dominant force, setting the single-season touchdown receptions record with 23 in 2007. Moss earned five Pro Bowl selections and three first-team All-Pro honors. He is second-place all-time with 92 receiving touchdowns and holds the record for most 100-yard games with 41.
Adrian Peterson: a running back who played for the Vikings from 2007 to 2016, is one of the premier backs of his era. He won the NFL MVP award in 2012 after rushing for 2,097 yards, the second-highest in a single season. Peterson garnered seven Pro Bowl selections and four first-team All-Pro honors and holds the Vikings all-time records for rushing yards, touchdowns, and attempts.
Cris Carter: a Hall of Fame wide receiver, was a Vikings stalwart from 1990 to 2001. He was remarkably reliable and productive, recording at least 70 catches and 10 touchdowns in eight consecutive seasons from 1993 to 2000. Carter earned eight Pro Bowl nods and two first-team All-Pro honors and stands atop the Vikings all-time lists for receiving yards, touchdowns, and receptions.
Have the Minnesota Vikings retired any jersey numbers?
Yes, the Minnesota Vikings have retired six jersey numbers in their franchise history.
10, Fran Tarkenton, Quarterback, 1961–1966, 1972–1978
53, Mick Tingelhoff, Center, 1962–1978
70, Jim Marshall, DE, 1961–1979
77, Korey Stringer, OT, 1995–2000
80, Cris Carter, WR, 1990–2001
88, Alan Page, DT, 1967–1978
Where do the Minnesota Vikings play?
The Minnesota Vikings call U.S. Bank Stadium their home, a versatile enclosed stadium located in Minneapolis, Minnesota. This state-of-the-art facility, inaugurated in 2016, has a seating capacity of 66,860 seats and it is expandable to 73,000 for special events. It features a transparent roof that welcomes natural light, an expansive video board spanning the field's entirety, and a glass wall showcasing the downtown skyline, offering a unique atmosphere. Beyond NFL games, this venue accommodates various events such as concerts, soccer matches, college sports, and more. Before playing in this stadium, the Vikings played in three different venues: the Metropolitan Stadium (1961–1981), the Hubert H. Humphrey Metrodome (1982–2013) and temporarily at TCF Bank Stadium (2014–2015).
Who are the Minnesota Vikings biggest rivals?
The Vikings biggest rivals are the teams who are in their same division, the NFC North, and they play each other twice every season, making these matchups even more exciting as the season advances. These are these rivals.
Green Bay Packers: The Packers are the Vikings oldest and fiercest rivals, having clashed 125 times since 1961. The series stands at 65-57-3 in favor of the Packers. This rivalry thrives on the proximity of the two states, cultural differences among fans, and closely matched competitiveness. Memorable moments include the 2009 NFC Championship Game, Brett Favre's fateful interception, the 2012 regular-season finale, and the 2015 NFC Wild Card Game's subzero drama.
Chicago Bears: The Bears, another historic rival, have faced the Vikings 124 times since 1961, with the Vikings holding a 65-57-2 advantage. This rivalry highlights the Bears' strong defense against the Vikings offensive prowess. Iconic games include the 1985 defensive masterpiece by the "Monsters of the Midway," the 1994 Warren Moon-led comeback, and Brett Favre's game-winning pass in 2009.
Detroit Lions: The Lions are the Vikings most lopsided rival, losing 80 out of 123 matchups. The rivalry showcases the Vikings dominance, especially in the late 1960s and early 1970s when they won 13 straight games. Noteworthy moments include Joe Kapp's seven-touchdown game in 1969, Tommy Kramer's Hail Mary in 1980, and Case Keenum's Thanksgiving triumph in 2017.
What is the Minnesota Vikings mascot?
The Minnesota Vikings mascot is Viktor the Viking, a Norse warrior "who was frozen by Thor and thawed in 2007". He was chosen by the fans in a contest and is a reflection of the prominent Scandinavian-American culture of Minnesota. He often cheers for the Vikings on the sidelines and interacts with the fans. He also has a program called Viktor's Voyage, where he visits schools and teaches students about health, fitness, and teamwork. Ragnar the Viking is the former official mascot of the National Football League's Minnesota Vikings. From 1970 to 1992, Hub Meeds dressed as a Viking and served as the team mascot.
How and where to buy Minnesota Vikings tickets?
While it may be difficult to find Minnesota Vikings tickets, Event Tickets Center has plenty of Minnesota Vikings tickets available starting from $31. Select your tickets using our interactive seating chart, and follow the steps in checkout. You'll be going to a Minnesota Vikings event in no time!
How much are Minnesota Vikings tickets?
On Event Tickets Center, Minnesota Vikings ticket prices range from $31 up to $5,778 over a number of different Minnesota Vikings events.
When do Minnesota Vikings tickets go on sale?
Typically, Minnesota Vikings will announce the schedule 3-6 months before the first game, and tickets go on sale within a few weeks of the schedule announcement.
Are Minnesota Vikings tickets sold out?
No. While tickets to see Minnesota Vikings may be sold out on other ticketing websites, Event Tickets Center has plenty of tickets available for you to see Minnesota Vikings live.
Are Minnesota Vikings tickets on sale?
Yes, Minnesota Vikings tickets are on sale, and you can buy them right here at Event Tickets Center.
When is the next Minnesota Vikings event?
The next Minnesota Vikings event is on December 10, 2023 at Allegiant Stadium in Las Vegas, NV. Event Tickets Center has 515 tickets available for this event.
NFL Teams, Stadiums, and Divisions
Event Dates and Pricing Information
| Venue | Date | Price | Tickets Available |
| --- | --- | --- | --- |
| Allegiant Stadium | Dec 10, 2023 | From $282 | 515 |
| Paycor Stadium | Dec 16, 2023 | From $64 | 2,721 |
| Paycor Stadium Parking Lots | Dec 16, 2023 | From $39 | 9 |
| Gameday Hospitality - Cincinnati | Dec 17, 2023 | From $31 | 198 |
| US Bank Stadium | Dec 24, 2023 | From $117 | 4,961 |
| US Bank Stadium | Dec 31, 2023 | From $319 | 3,002 |
| Ford Field | Jan 7, 2024 | From $250 | 1,970 |