Lambeau Field Seating Charts
Lambeau Field - Football Seating Map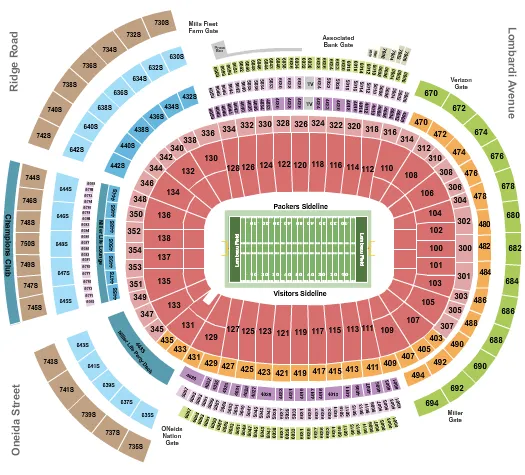 See Lambeau Field - Football events that use this seating chart configuration
Buy NFL Green Bay Packers Tickets
The Green Bay Packers compete in the NFC North Division of the National Football League. The Packers were founded in 1919, and began playing in the NFL in 1921. Ever since then they have been a member of the league, and over the years they have built quite a reputation for themselves. With a reputation as one of the most well-loved teams in the country, Green Bay Packers games have come to be known as some of the most exciting and energetic in the league.
The Packers play their home games at
Lambeau Field
, and have done so since 1957. Even though this is one of the oldest venues in the league, fans and players love it for many different reasons. When it comes down to it, the Packers have one of the best home-field advantages in all of sports. It is safe to say that as long as they are playing at Lambeau Field that this is not going to change.
There are more than 30 teams in the NFL, but not many have the history of the Packers. This detail, combined with a great home field, has made Green Bay Packers tickets very hard to come by over the years.
Many great players have competed for the Packers. They include Brett Favre, Reggie White, Bart Starr, and Ray Nitschke among many others. Quarterback Aaron Rodgers has talented pieces on offense with running back Aaron Jones in the backfield, and a young, physical defense, the Packers will be one of the favorites to win the NFC North in 2023.
The Green Bay Packers have been winning football games the right way for many years. It is safe to say that this is not going to change, and that Packers fans will always be in love with their team! View the entire Green Bay Packers schedule for 2020 to buy tickets.
Event Dates and Pricing Information
| Venue | Date | Price | Tickets Available |
| --- | --- | --- | --- |
| Paycor Stadium Parking Lots | Aug 11, 2023 | From $39 | 17 |
| Paycor Stadium | Aug 11, 2023 | From $30 | 4,459 |
| Lambeau Field | Aug 19, 2023 | From $19 | 2,585 |
| Lambeau Field | Aug 26, 2023 | From $27 | 1,322 |
| Soldier Field | Sep 10, 2023 | From $351 | 1,953 |
| Mercedes-Benz Stadium | Sep 17, 2023 | From $88 | 6,062 |
| Lambeau Field | Sep 24, 2023 | From $224 | 1,954 |
| Lambeau Field | Sep 28, 2023 | From $210 | 1,202 |
| Allegiant Stadium | Oct 9, 2023 | From $437 | 2,651 |
| Empower Field At Mile High | Oct 22, 2023 | From $226 | 1,094 |