T-Mobile Arena Seating Charts
T-Mobile Arena - Basketball 3 Seating Map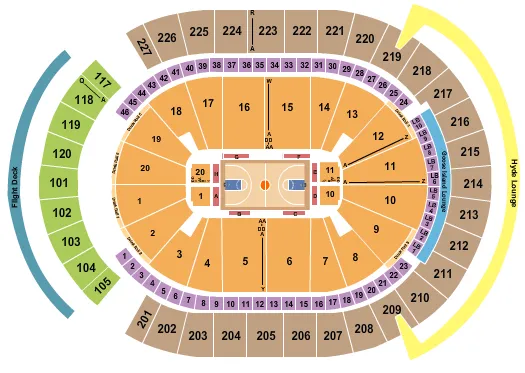 See T-Mobile Arena - Basketball 3 events that use this seating chart configuration
Los Angeles Lakers
The Los Angeles Lakers are one of the most iconic and storied franchises in the history of the NBA. Established in 1947, the Lakers have won an impressive 17 NBA championships, tying them with the Boston Celtics for the most championships in NBA history. The team's home court is the Crypto.com Arena in downtown Los Angeles, CA, which they share with their crosstown rivals, the Los Angeles Clippers.
Over the years, the Lakers have been home to some of the greatest players in NBA history, including Magic Johnson, Kobe Bryant, Shaquille O'Neal, and LeBron James, to name just a few. The team's success on the court has made them one of the most popular and recognizable franchises in all of sports, with fans all over the world.
The Lakers have a number of known rivals, including the Boston Celtics, the Golden State Warriors, and the Houston Rockets, among others. The team has participated in numerous NBA playoffs, and as previously mentioned, has won a total of 17 championships, including back-to-back titles in 2009 and 2010. The Lakers have also had their fair share of iconic moments, such as Kobe Bryant's 81-point game in 2006, which remains one of the greatest individual performances in NBA history.
If you're a basketball fan looking for an unforgettable experience, attending a Lakers game at the Crypto.com Arena is a must. With its electric atmosphere, legendary players, and rich history of success, the Lakers are one of the most exciting teams to watch in the NBA. So what are you waiting for? Buy your tickets today and witness the magic of the Los Angeles Lakers for yourself!
FAQs about Los Angeles Lakers 2023 Game Schedule And Tickets
How and where to buy Los Angeles Lakers tickets?
While it may be difficult to find Los Angeles Lakers tickets, Event Tickets Center has plenty of Los Angeles Lakers tickets available starting from $52. Select your tickets using our interactive seating chart, and follow the steps in checkout. You'll be going to a Los Angeles Lakers event in no time!
How much are Los Angeles Lakers tickets?
On Event Tickets Center, Los Angeles Lakers ticket prices range from $52 up to $18,929 over a number of different Los Angeles Lakers events.
When do Los Angeles Lakers tickets go on sale?
Typically, Los Angeles Lakers will announce the schedule 3-6 months before the first game, and tickets go on sale within a few weeks of the schedule announcement.
Are Los Angeles Lakers tickets sold out?
No. While tickets to see Los Angeles Lakers may be sold out on other ticketing websites, Event Tickets Center has plenty of tickets available for you to see Los Angeles Lakers live.
Are Los Angeles Lakers tickets on sale?
Yes, Los Angeles Lakers tickets are on sale, and you can buy them right here at Event Tickets Center.
When is the next Los Angeles Lakers event?
The next Los Angeles Lakers event is on October 7, 2023 at Chase Center in San Francisco, CA. Event Tickets Center has 136 tickets available for this event.
Event Dates and Pricing Information
| Venue | Date | Price | Tickets Available |
| --- | --- | --- | --- |
| Chase Center | Oct 7, 2023 | From $152 | 136 |
| T-Mobile Arena | Oct 9, 2023 | From $65 | 1,666 |
| Honda Center | Oct 11, 2023 | From $83 | 6,172 |
| Crypto.com Arena | Oct 13, 2023 | From $109 | 1,974 |
| Crypto.com Arena | Oct 15, 2023 | From $52 | 2,944 |
| Crypto.com Arena | Oct 16, 2023 | From $6,677 | 8 |
| Acrisure Arena | Oct 19, 2023 | From $140 | 506 |
| Ball Arena | Oct 24, 2023 | From $225 | 3,571 |
| Crypto.com Arena | Oct 26, 2023 | From $209 | 2,741 |
| Golden 1 Center | Oct 29, 2023 | From $129 | 1,889 |