Gameday Hospitality - Pittsburgh Seating Charts
Gameday Hospitality - Pittsburgh - Steelers Tailgate Seating Map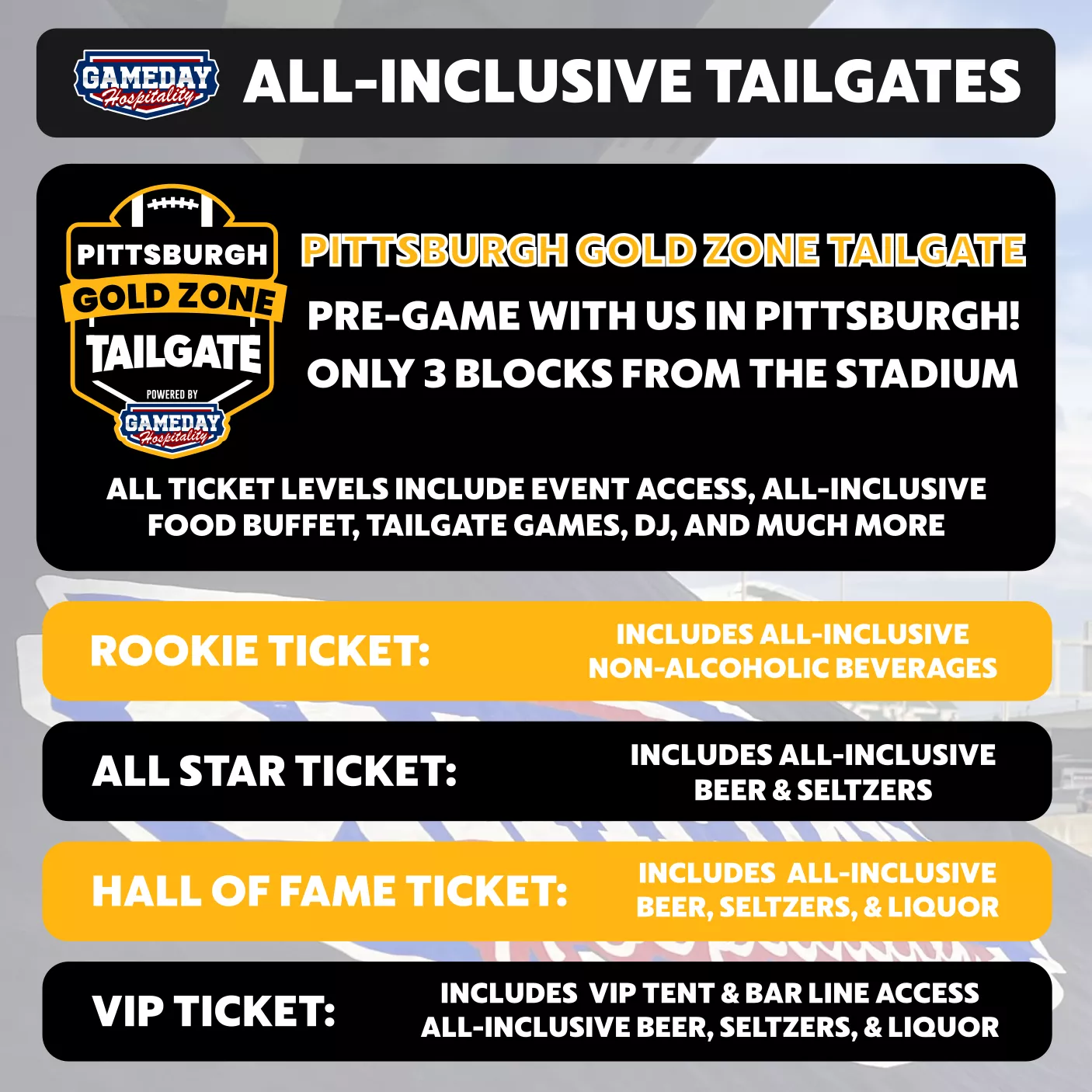 See Gameday Hospitality - Pittsburgh - Steelers Tailgate events that use this seating chart configuration
Buy NFL Pittsburgh Steelers Tickets
The Pittsburgh Steelers, founded in 1933, are a professional American football team based in Pittsburgh, Pennsylvania. As members of the National Football League (NFL), they compete in the AFC North division and play their home games at Acrisure Stadium. The Steelers have enjoyed significant success throughout their history, boasting a dedicated fan base and earning the distinction of being one of the most successful franchises in the NFL.
The Steelers' early years were marked by struggle and mediocrity, but their fortunes changed in the 1970s under head coach Chuck Noll. With a roster that included legendary players like quarterback Terry Bradshaw, running back Franco Harris, and the "Steel Curtain" defense led by Joe Greene, the team emerged as a dominant force in the league. The Steelers won four Super Bowls in six years, defeating the Minnesota Vikings in Super Bowl IX, the Dallas Cowboys in Super Bowls X and XIII, and the St. Louis Rams (Now the Los Angeles Rams) in Super Bowl XIV.
Following their 1970s success, the Steelers remained competitive throughout the 1980s and 1990s, adding another Super Bowl appearance in the 1995 season, where they lost to the Dallas Cowboys in Super Bowl XXX. The team experienced a resurgence in the 2000s under head coach Bill Cowher and later Mike Tomlin. With key players like quarterback Ben Roethlisberger, wide receiver Hines Ward, and safety Troy Polamalu, the Steelers captured two more Super Bowl titles, defeating the Seattle Seahawks in Super Bowl XL and the Arizona Cardinals in Super Bowl XLIII.
The Steelers have maintained a strong presence in the AFC North and the NFL as a whole, consistently fielding competitive teams and making regular playoff appearances. Their winning tradition and blue-collar ethos have endeared them to fans locally and nationally, earning them the nickname "Steeler Nation."
Today, the Pittsburgh Steelers are renowned for their rich history and six Super Bowl championships, making them one of the most storied and successful franchises in professional football. Their legacy of hard-nosed, competitive play and storied rivalries continues to make them a compelling and respected force in the NFL.
Buy your NFL Pittsburgh Steelers tickets right here at Event Tickets Center
FAQs about Pittsburgh Steelers 2023 Game Schedule And Tickets
How and where to buy Pittsburgh Steelers tickets?
While it may be difficult to find Pittsburgh Steelers tickets, Event Tickets Center has plenty of Pittsburgh Steelers tickets available starting from $33. Select your tickets using our interactive seating chart, and follow the steps in checkout. You'll be going to a Pittsburgh Steelers event in no time!
How much are Pittsburgh Steelers tickets?
On Event Tickets Center, Pittsburgh Steelers ticket prices range from $33 up to $28,650 over a number of different Pittsburgh Steelers events.
When do Pittsburgh Steelers tickets go on sale?
Typically, Pittsburgh Steelers will announce the schedule 3-6 months before the first game, and tickets go on sale within a few weeks of the schedule announcement.
Are Pittsburgh Steelers tickets sold out?
No. While tickets to see Pittsburgh Steelers may be sold out on other ticketing websites, Event Tickets Center has plenty of tickets available for you to see Pittsburgh Steelers live.
Are Pittsburgh Steelers tickets on sale?
Yes, Pittsburgh Steelers tickets are on sale, and you can buy them right here at Event Tickets Center.
When is the next Pittsburgh Steelers event?
The next Pittsburgh Steelers event is on October 1, 2023 at NRG Stadium in Houston, TX. Event Tickets Center has 2811 tickets available for this event.
Event Dates and Pricing Information
| Venue | Date | Price | Tickets Available |
| --- | --- | --- | --- |
| NRG Stadium Parking Lots | Oct 1, 2023 | From $72 | 6 |
| NRG Stadium | Oct 1, 2023 | From $177 | 2,811 |
| Gameday Hospitality - Pittsburgh | Oct 8, 2023 | From $33 | 278 |
| Acrisure Stadium | Oct 8, 2023 | From $322 | 1,149 |
| Acrisure Stadium Parking Lots | Oct 8, 2023 | From $43 | 11 |
| SoFi Stadium | Oct 22, 2023 | From $238 | 3,964 |
| SoFi Stadium Parking Lots | Oct 22, 2023 | From $72 | 7 |
| Gameday Hospitality - Pittsburgh | Oct 29, 2023 | From $33 | 282 |
| Acrisure Stadium Parking Lots | Oct 29, 2023 | From $43 | 14 |
| Acrisure Stadium | Oct 29, 2023 | From $75 | 2,071 |