Starlight Theatre Tickets and Seating Charts - Kansas City, MO
Starlight Theatre - Kansas City Seating Charts
Starlight Theatre - Kansas City - Endstage 2022 Seating Map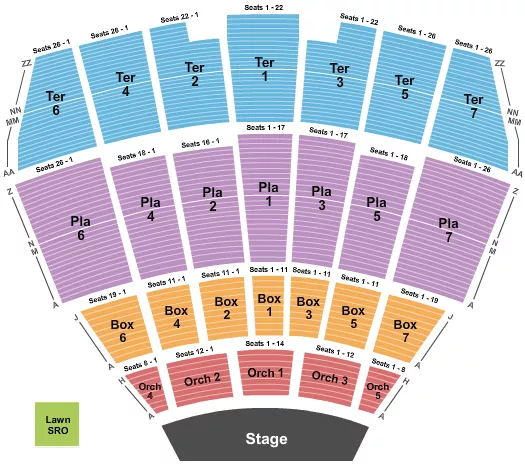 See Starlight Theatre - Kansas City - Endstage 2022 events that use this seating chart configuration
Starlight Theatre - Kansas City - Endstage 3 Seating Map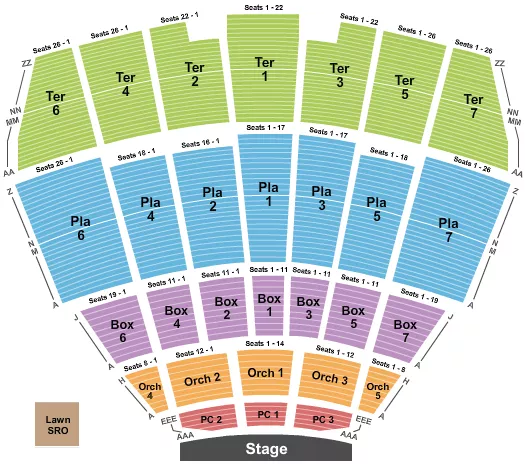 See Starlight Theatre - Kansas City - Endstage 3 events that use this seating chart configuration
Starlight Theatre - Kansas City - Endstage 4 Seating Map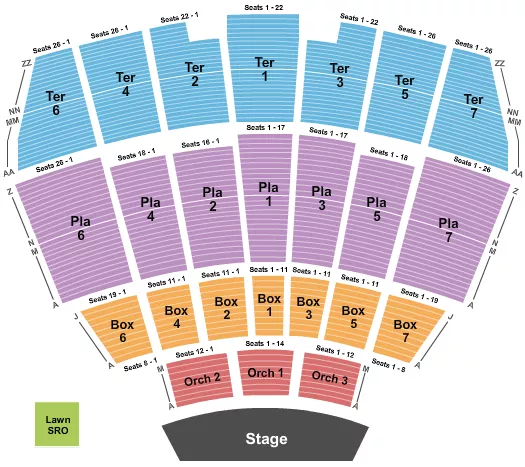 See Starlight Theatre - Kansas City - Endstage 4 events that use this seating chart configuration
Learn more about Starlight Theatre - Kansas City
One of only two self-producing outdoor theaters left in the country, the Starlight Theatre
Kansas City is a world-class venue and has been since 1951. Over the years, the theater has hosted countless
Broadway
shows, in-house and local productions, unconventional theatrical shows, and live concerts.
The Starlight is known for its state-of-the art sound and lighting system, with the stage house fully enclosed and climate-controlled, so patrons can enjoy live performances regardless of the weather. The theater has an 8,000-seating capacity and all the seats have a good view of the stage. Depending on the event, the theater often provides pre-entertainment on the Spotlight Stage, and free venue tours led by Starlight Ambassadors.
There are a number of hotels and campsites nearby, and the venue is accessible via private car and taxi. Bags and one sealed bottle of water are allowed inside the theater. Camera policies are different for every event so it is best to contact the venue on the day of the show. Video and recording equipment are prohibited.
Event Tickets Center has a wide selection of Starlight Theatre Kansas City tickets to choose from.
FAQs about Starlight Theatre - Kansas City
What time do gates open at Starlight Theatre?
Gates typically open anywhere between 90 minutes to 2 hours prior to showtime at Starlight Theatre. Be sure to check the listing on your ticket as showtimes will vary.
Looking for local Kansas City Amphitheater concerts?
Our event listing has a list of all Kansas City amphitheater concerts happening at Starlight Theatre. You can also check out events in neighboring cities by checking out our list of venues by state.
Are VIP Packages or Accessible Seating offered at Starlight Theatre?
Starlight Theatre VIP seating packages and accessible seating section locations may vary per event. Please click the seating chart below or contact our customer service department to discuss options for accessible seating or VIP package purchases.
Can I use cash at Starlight Theatre?
No, Starlight Theatre is a cashless venue. Food and beverage locations accept credit card and mobile payments.
How much is parking at Starlight Theatre?
Parking is free with concert ticket purchases. Premium parking is available for $30.
Where is the rideshare at Starlight Theatre?
The drop-off and pick-up location for Starlight Theatre is at Gate 4.
Is Starlight Theatre covered?
No, the Starlight Theatre is entirely open air.
What is The Applause Club at Starlight Theatre?
Starlight's on-site restaurant for Broadway ticket holders is called The Applause Club. It also serves as the VIP Club for concerts.
Facts about Starlight Theatre - Kansas City
Capacity:
7,958
Date Opened:
June 25, 1951
Event Dates and Pricing Information
| Performer | Date | Price | Tickets Available |
| --- | --- | --- | --- |
| The Cher Show | May 28, 2024 | From $59 | 20 |
| The Cher Show | May 29, 2024 | From $59 | 26 |
| The Cher Show | May 30, 2024 | From $59 | 22 |
| The Cher Show | May 31, 2024 | From $71 | 28 |
| The Cher Show | Jun 1, 2024 | From $59 | 44 |
| The Cher Show | Jun 2, 2024 | From $59 | 20 |
| Tom Segura | Jun 7, 2024 | From $93 | 192 |
| New Kids on the Block | Jun 25, 2024 | From $62 | 312 |
| Parker McCollum | Jun 29, 2024 | From $39 | 475 |
| Disney's The Little Mermaid | Jul 9, 2024 | From $59 | 20 |