Dodger Stadium Seating Charts
Dodger Stadium - Baseball Seating Map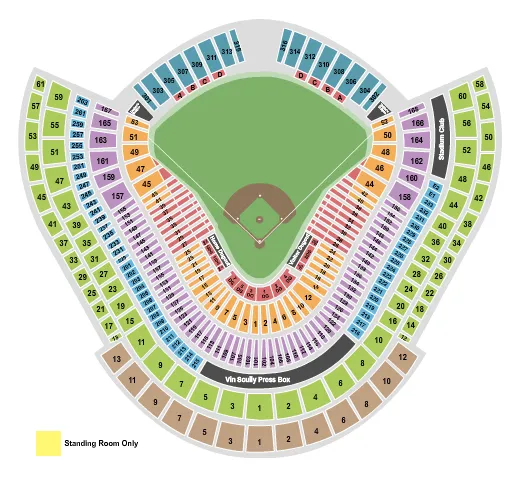 See Dodger Stadium - Baseball events that use this seating chart configuration
As a Major League Baseball team with a storied history, the Los Angeles Dodgers have captured the hearts of fans for decades. The team's playoff history is filled with exciting moments, from their roots in Brooklyn to their current home in the City of Angels. With iconic players, a legendary stadium, and numerous championships under their belt, the Dodgers have created a legacy that few other franchises can match.
Originally known as the Brooklyn Dodgers, the team moved to Los Angeles in 1958 and quickly became a powerhouse in the National League. Throughout their history, the Dodgers have made over 30 playoff appearances, winning 7 World Series titles (1955, 1959, 1963, 1965, 1981, 1988, and 2020). They've also claimed a remarkable 24 National League pennants, solidifying their reputation as one of the most successful franchises in MLB.
The Dodgers have been home to numerous Hall of Famers and baseball icons. Perhaps none more famous than Jackie Robinson, who broke the color barrier in 1947 as the first African American to play in the MLB. Other legendary players include Sandy Koufax, Don Drysdale, and Fernando Valenzuela, who all left their mark on the game with their exceptional pitching talents. More recent stars like Clayton Kershaw and Cody Bellinger have continued the team's tradition of excellence, thrilling fans with their skill and determination.
Located in the heart of Los Angeles, Dodger Stadium is the third oldest ballpark in the MLB and has been the team's home since 1962. With a seating capacity of over 56,000, it's the largest stadium by seat count in the league. The iconic venue has not only hosted countless memorable baseball moments, but has also been the site of concerts, soccer matches, and even a Papal Mass. Fans visiting the stadium can enjoy stunning views of the downtown Los Angeles skyline and the nearby San Gabriel Mountains.
Whether you're a lifelong fan or new to the world of baseball, there's nothing quite like the excitement of cheering on the Dodgers at Dodger Stadium. From the roar of the crowd to the crack of the bat, every moment is unforgettable. Don't miss out on the opportunity to be a part of this incredible experience. Visit Event Tickets Center today to secure your seats for upcoming Dodgers games and immerse yourself in the rich history and passion of Dodgers baseball.
FAQs about Los Angeles Dodgers 2023 Game Schedule And Tickets
How and where to buy Los Angeles Dodgers tickets?
While it may be difficult to find Los Angeles Dodgers tickets, Event Tickets Center has plenty of Los Angeles Dodgers tickets available starting from $8. Select your tickets using our interactive seating chart, and follow the steps in checkout. You'll be going to a Los Angeles Dodgers event in no time!
How much are Los Angeles Dodgers tickets?
On Event Tickets Center, Los Angeles Dodgers ticket prices range from $8 up to $2,063 over a number of different Los Angeles Dodgers events.
When do Los Angeles Dodgers tickets go on sale?
Typically, Los Angeles Dodgers will announce the schedule 3-6 months before the first game, and tickets go on sale within a few weeks of the schedule announcement.
Are Los Angeles Dodgers tickets sold out?
No. While tickets to see Los Angeles Dodgers may be sold out on other ticketing websites, Event Tickets Center has plenty of tickets available for you to see Los Angeles Dodgers live.
Are Los Angeles Dodgers tickets on sale?
Yes, Los Angeles Dodgers tickets are on sale, and you can buy them right here at Event Tickets Center.
When is the next Los Angeles Dodgers event?
The next Los Angeles Dodgers event is on September 26, 2023 at Coors Field in Denver, CO. Event Tickets Center has 4784 tickets available for this event.
Event Dates and Pricing Information
| Venue | Date | Price | Tickets Available |
| --- | --- | --- | --- |
| Coors Field | Sep 26, 2023 | From $8 | 4,784 |
| Coors Field | Sep 26, 2023 | From $10 | 5,232 |
| Coors Field | Sep 27, 2023 | From $9 | 5,549 |
| Coors Field | Sep 28, 2023 | From $13 | 4,608 |
| Oracle Park | Sep 29, 2023 | From $51 | 3,110 |
| Oracle Park | Sep 30, 2023 | From $62 | 2,993 |
| Oracle Park | Oct 1, 2023 | From $64 | 3,425 |
| Dodger Stadium | Oct 3, 2023 | From $418 | 2 |
| Dodger Stadium | Oct 4, 2023 | From $359 | 17 |
| Dodger Stadium | Oct 5, 2023 | From $314 | 17 |