Broadhurst Theatre Tickets and Seating Charts - New York, NY
Broadhurst Theatre Seating Charts
Broadhurst Theatre - Endstage Seating Map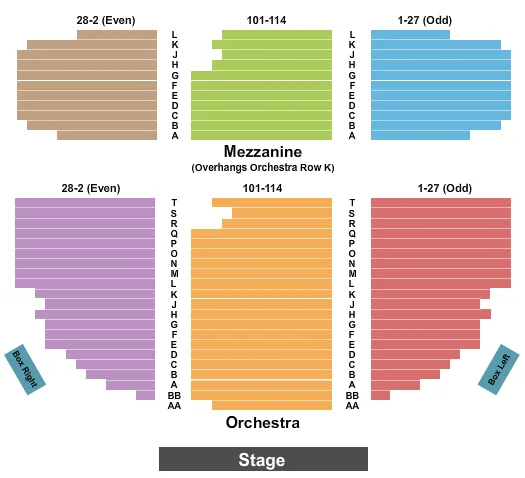 See Broadhurst Theatre - Endstage events that use this seating chart configuration
Learn more about Broadhurst Theatre
Like many of Broadway's most popular playhouses, the Broadhurst Theatre is steeped in rich history. Built in 1917 by manager and playwright George H. Broadhurst in conjunction with the Shubert brothers, the theater is the mirror image of the neighboring Plymouth Theatre. The two venues opened within two weeks of each other, and both were designed by architect Herbert J. Krapp. The exterior of both buildings is essentially identical, although Broadhurst's elegant interior is differentiated by its Doric columns and Greek-style friezes and cornices.

The Broadhurst Theatre opened its doors on September 17, 1917, with a production of George Bernard Shaw's Misalliance. George Broadhurst debuted his first play in his namesake theater in 1918 with a production of He Didn't Want to Do It, followed by his adaptation of Tarzan of the Apes in 1921.

Many remarkable productions have graced the theater's stage, including a trio of Neil Simon productions: The Sunshine Boys in 1972, Broadway Bound in 1986 and Rumors in 1988. More recently, Al Pacino starred in The Merchant of Venus on this stage, and Tom Hanks made his Broadway debut in Lucky Guy.

Located in the heart of Manhattan, the Broadhurst Theatre can accommodate about 1,200 theatergoers in its orchestra and mezzanine. These sections are supplemented by limited box seats and standing-room-only tickets. Wheelchair-accessible seating is available and located in the orchestra. Doors typically open 45 minutes before each show, but visitors are encouraged to arrive at least 15 minutes before showtime.

The Broadhurst Theatre prohibits the use of cameras, recording devices, cellphones, beepers and other electronic devices during performances. Additionally, no outside food or drinks are allowed, although drinks are available at the concession stand.

Facts about Broadhurst Theatre
Capacity:
1,218
Date/Year Built/Opened:
Sept. 17, 1917
Event Dates and Pricing Information
| Performer | Date | Price | Tickets Available |
| --- | --- | --- | --- |
| A Beautiful Noise - The Neil Diamond Musical | Dec 1, 2023 | From $289 | 60 |
| A Beautiful Noise - The Neil Diamond Musical | Dec 2, 2023 | From $289 | 66 |
| A Beautiful Noise - The Neil Diamond Musical | Dec 2, 2023 | From $148 | 106 |
| A Beautiful Noise - The Neil Diamond Musical | Dec 3, 2023 | From $161 | 147 |
| A Beautiful Noise - The Neil Diamond Musical | Dec 5, 2023 | From $151 | 245 |
| A Beautiful Noise - The Neil Diamond Musical | Dec 6, 2023 | From $147 | 146 |
| A Beautiful Noise - The Neil Diamond Musical | Dec 7, 2023 | From $112 | 206 |
| A Beautiful Noise - The Neil Diamond Musical | Dec 7, 2023 | From $112 | 239 |
| A Beautiful Noise - The Neil Diamond Musical | Dec 8, 2023 | From $151 | 246 |
| A Beautiful Noise - The Neil Diamond Musical | Dec 9, 2023 | From $276 | 134 |