Providence Park Seating Charts
Providence Park - Soccer Seating Map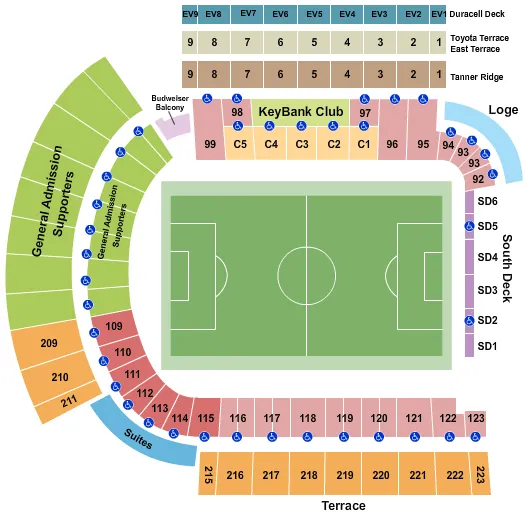 See Providence Park - Soccer events that use this seating chart configuration
Portland Timbers
The Portland Timbers are a professional soccer club based in Portland, OR. The franchise was founded in 2009 and entered MLS as an expansion team in 2011. The team's home stadium is Providence Park, which has a seating capacity of 25,218.
The Timbers have a rich history in the USL First Division and the North American Soccer League (NASL) prior to joining MLS. In their inaugural season in MLS, the Timbers won the Cascadia Cup, which is awarded to the team with the best head-to-head record against fellow Pacific Northwest rivals Seattle Sounders FC and Vancouver Whitecaps FC. The Timbers also won their first MLS Cup in 2015, defeating the Columbus Crew 2-1.
The Timbers have a fierce rivalry with the Seattle Sounders FC, known as the Cascadia Cup rivalry, as well as with the Vancouver Whitecaps, known as the Cascadia Cup derby. These matches are highly anticipated by fans and often result in heated on-field play.
If you're looking for an exciting and passionate soccer experience, attending a Timbers match at Providence Park is a must. The atmosphere at Providence Park is unmatched, with fans singing and chanting throughout the match. Don't miss your chance to be a part of the Timbers Army, the team's devoted fan base. Grab your tickets now and experience the energy of a Portland Timbers match in person!
FAQs about Portland Timbers 2023 Game Schedule And Tickets
How and where to buy Portland Timbers tickets?
While it may be difficult to find Portland Timbers tickets, Event Tickets Center has plenty of Portland Timbers tickets available starting from $24. Select your tickets using our interactive seating chart, and follow the steps in checkout. You'll be going to a Portland Timbers event in no time!
How much are Portland Timbers tickets?
On Event Tickets Center, Portland Timbers ticket prices range from $24 up to $691 over a number of different Portland Timbers events.
When do Portland Timbers tickets go on sale?
Typically, Portland Timbers will announce the schedule 3-6 months before the first game, and tickets go on sale within a few weeks of the schedule announcement.
Are Portland Timbers tickets sold out?
No. While tickets to see Portland Timbers may be sold out on other ticketing websites, Event Tickets Center has plenty of tickets available for you to see Portland Timbers live.
Are Portland Timbers tickets on sale?
Yes, Portland Timbers tickets are on sale, and you can buy them right here at Event Tickets Center.
When is the next Portland Timbers event?
The next Portland Timbers event is on September 30, 2023 at Dignity Health Sports Park - Stadium in Carson, CA. Event Tickets Center has 1050 tickets available for this event.
Event Dates and Pricing Information