Fenway Park Seating Charts
Fenway Park - Baseball Seating Map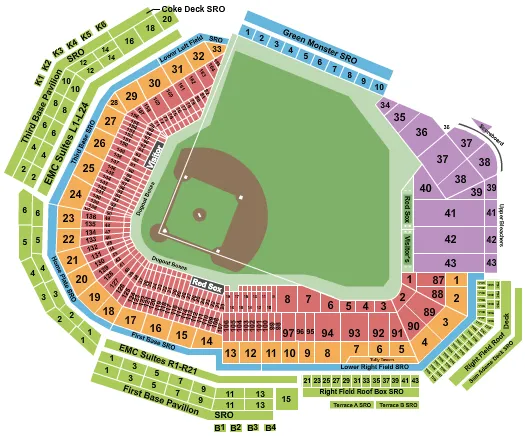 See Fenway Park - Baseball events that use this seating chart configuration
Fenway Park - Blink 182 Seating Map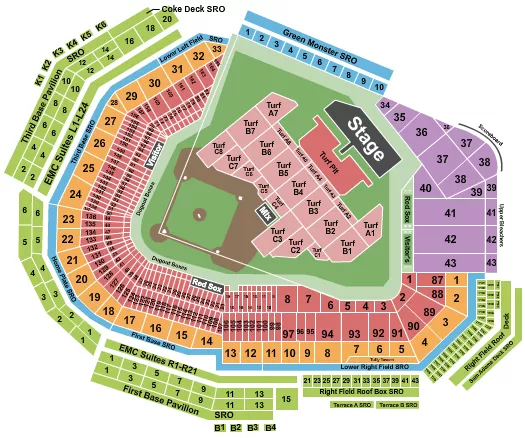 See Fenway Park - Blink 182 events that use this seating chart configuration
Fenway Park - Foo Fighters Seating Map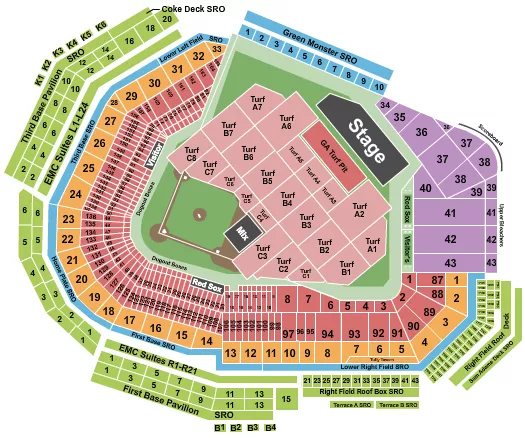 See Fenway Park - Foo Fighters events that use this seating chart configuration
Fenway Park - Football Seating Map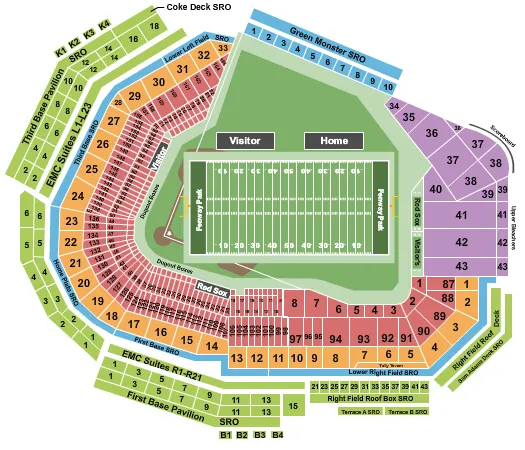 See Fenway Park - Football events that use this seating chart configuration
Fenway Park - Green Day 2024 Seating Map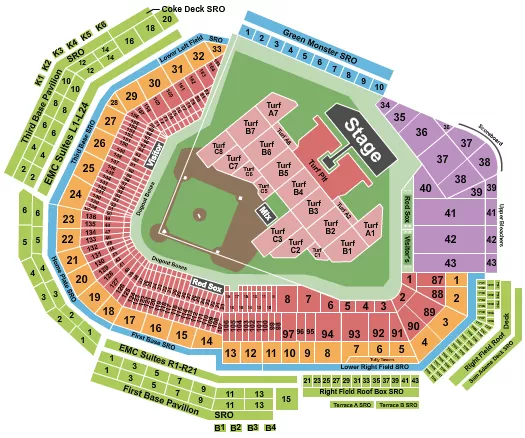 See Fenway Park - Green Day 2024 events that use this seating chart configuration
Fenway Park - Kane Brown 2024 Seating Map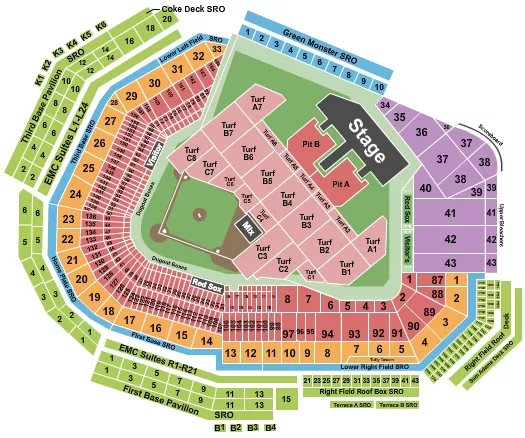 See Fenway Park - Kane Brown 2024 events that use this seating chart configuration
Fenway Park - Noah Kahan Seating Map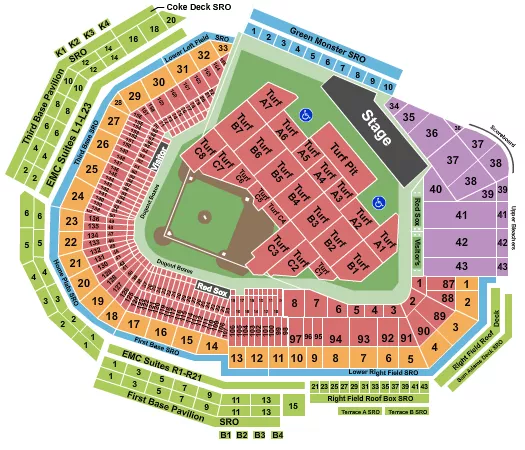 See Fenway Park - Noah Kahan events that use this seating chart configuration
Learn more about Fenway Park
The oldest baseball park in Major League Baseball, Fenway Park is home to the
Boston Red Sox
. John L. Taylor, who owned the Red Sox until 1911, chose the name to promote Fenway Realty. Fenway Park opened in 1912 with the Red Sox defeating the New York Highlanders. In 2012, the park celebrated its centennial, the same year it was added to the National Register of Historic Places. Aside from Red Sox games, Fenway Park plays host to
soccer
games, boxing matches, ski and snowboard competitions, ice skating and hockey events, football games and live music concerts.
Fenway Park is one of the smallest baseball parks in
MLB
with a nighttime capacity of 37,493. It's famous for unique features such as The Triangle, a region of center field where the walls form a triangle. There's also Pesky's Pole, a right field foul pole named after Johnny Pesky, the first American League player to score six runs in a nine-inning game. And then there's the famous Green Monster, a left field wall that's over 37 feet high—the highest one in Major League baseball.
Fenway Park has 33 grandstand sections, with sections 32 and 33 offering the best seats for families. Concessions of food and alcoholic and non-alcoholic beverages can be found all over the stadium. The park has two official parking lots, and a number of garages and parking lots within a half-mile radius. You can explore the historic grounds of Fenway Park by taking a tour of the facility, which are offered daily during regular office hours.
It's good to know the policies of Fenway Park beforehand so you can enjoy a delightful experience. Try to arrive 90 minutes before an event. Bring everything you need, as re-entry is not allowed. Cameras and video cameras are permitted, but cannot be used to reproduce the game. Although you can bring food inside Fenway Park, you cannot bring in beverages except for sealed water bottles of 16 oz. or less. Remember that bags or items larger than 16"x16"x8" are not permitted inside.
View Fenway Park seating charts for live games! If you're planning to visit Fenway Park in
Boston
, you'll want to make sure you have great seats. Get acquainted with Fenway Park by using our seating chart below. This seating map features a complete layout of Fenway Park seats and the locations of different ticket tiers. Simply click on a section to browse tickets and you'll be on your way to an unforgettable event experience!
FAQs about Fenway Park
Who plays at Fenway Park?
The Boston Red Sox are the home team at the Fenway Park.
What time do doors open at Fenway Park?
Doors typically open anywhere between 90 minutes to 2 hours prior to showtime at Fenway Park. Be sure to check the listing on your ticket as showtimes will vary.
Fenway Park Seat Numbers, Sections and Seating Chart
When looking at seating charts for sports events, seats are arranged so that the lower numbered seats within a section are located closer to the preceding section. For example; if a venue shows three sections (A, B, and C), seat #1 in section B will be located next to section A. As the seat numbers progress within section B, they move closer to section C. Fenway Park, a venue designed to host sports games, may be set up in a similar fashion. While concerts and other events held at Fenway Park may not follow this layout, most sports events happening at Fenway Park will follow this configuration. Concert seating is typically laid out so that the higher the seat number, the further you are from the stage/performance area. If you're seeing a concert at Fenway Park, it's likely that the seats closest to the stage will have low seat numbers and low section numbers.
Fenway Park Reviews, Interactive Seating Charts and Seat Views
Finding Fenway Park seating charts with seat views or 3D views from your seat has proven to be a difficult task – until now. Event Tickets Center provides fans with unbiased Fenway Park reviews on our venue guides, including information on Fenway Park seat numbers, row numbers, and tips on how to find great seats!
Are VIP Packages or Accessible Seating offered at Fenway Park?
Fenway Park VIP seating packages and accessible seating section locations may vary per event. Please click the seating chart below or contact our customer service department to discuss options for accessible seating or VIP package purchases.
Where is the Boston Red Sox Sideline at Fenway Park?
The Boston Red Sox home bench is located in front of Field Box 22, Field Box 23, Field Box 24, Field Box 25, and Field Box 26 and the away team bench is in front of Field Box 62, Field Box 63, Field Box 64, Field Box 65, and Field Box 66.
Facts about Fenway Park
Capacity:
37,731
Date Opened:
April 20, 1912
Event Dates and Pricing Information
| Performer | Date | Price | Tickets Available |
| --- | --- | --- | --- |
| Pinstripe Bowl | Dec 28, 2023 | From $44 | 442 |
| Boston Red Sox | Apr 9, 2024 | From $140 | 6,263 |
| Boston Red Sox | Apr 10, 2024 | From $43 | 6,464 |
| Boston Red Sox | Apr 11, 2024 | From $47 | 1,923 |
| Boston Red Sox | Apr 12, 2024 | From $51 | 5,793 |
| Boston Red Sox | Apr 13, 2024 | From $66 | 5,690 |
| Boston Red Sox | Apr 14, 2024 | From $59 | 5,729 |
| Boston Red Sox | Apr 15, 2024 | From $77 | 5,722 |
| Boston Red Sox | Apr 16, 2024 | From $41 | 1,930 |
| Boston Red Sox | Apr 17, 2024 | From $42 | 2,901 |