American Airlines Center Seating Charts
American Airlines Center - Hockey Seating Map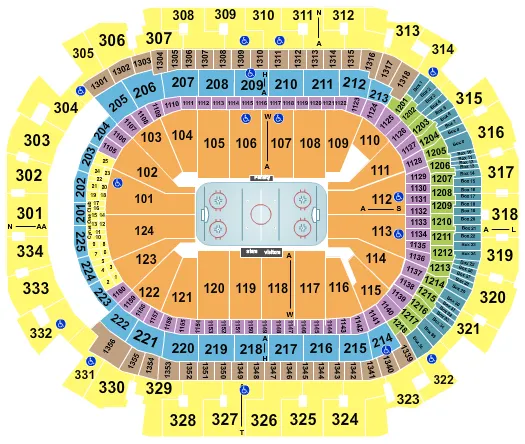 See American Airlines Center - Hockey events that use this seating chart configuration
Dallas Stars
The Dallas Stars are a professional ice hockey team based in Dallas, TX, and are a member of the NHL. The franchise was founded in 1967 as the Minnesota North Stars and joined the NHL in 1967 before relocating to Dallas in 1993. The Stars have played their home games at the American Airlines Center since its opening in 2001. The arena can seat over 18,000 fans and is located in the Victory Park neighborhood of downtown Dallas.
Throughout their history, the Stars have had several successful seasons, including winning the Stanley Cup championship in 1999 and making it to the Stanley Cup Finals in 2000. They have also won eight division titles and two conference championships. The team has had several notable players including Mike Modano, Brett Hull, and Ed Belfour.
The Stars have developed several rivalries throughout their history, including the Detroit Red Wings, St. Louis Blues, and the Colorado Avalanche. These rivalries have led to some intense games over the years and have helped to build the passionate fan base that the Stars have today.
If you're looking for an exciting sporting event to attend, a Stars game at the American Airlines Center is a great option. With a talented roster and passionate fan base, Stars games are always filled with energy and excitement. So why not grab some tickets and join in on the fun? Whether you're a die-hard fan or just looking for a fun night out, a Stars game is sure to be a memorable experience.
FAQs about Dallas Stars 2023 Game Schedule And Tickets
How and where to buy Dallas Stars tickets?
While it may be difficult to find Dallas Stars tickets, Event Tickets Center has plenty of Dallas Stars tickets available starting from $30. Select your tickets using our interactive seating chart, and follow the steps in checkout. You'll be going to a Dallas Stars event in no time!
How much are Dallas Stars tickets?
On Event Tickets Center, Dallas Stars ticket prices range from $30 up to $1,128 over a number of different Dallas Stars events.
When do Dallas Stars tickets go on sale?
Typically, Dallas Stars will announce the schedule 3-6 months before the first game, and tickets go on sale within a few weeks of the schedule announcement.
Are Dallas Stars tickets sold out?
No. While tickets to see Dallas Stars may be sold out on other ticketing websites, Event Tickets Center has plenty of tickets available for you to see Dallas Stars live.
Are Dallas Stars tickets on sale?
Yes, Dallas Stars tickets are on sale, and you can buy them right here at Event Tickets Center.
When is the next Dallas Stars event?
The next Dallas Stars event is on December 11, 2023 at American Airlines Center in Dallas, TX. Event Tickets Center has 941 tickets available for this event.
NHL Teams, Stadiums, and Divisions
Event Dates and Pricing Information
| Venue | Date | Price | Tickets Available |
| --- | --- | --- | --- |
| American Airlines Center | Dec 11, 2023 | From $31 | 941 |
| American Airlines Center | Dec 15, 2023 | From $36 | 1,408 |
| Enterprise Center | Dec 16, 2023 | From $62 | 1,512 |
| American Airlines Center | Dec 18, 2023 | From $35 | 1,529 |
| American Airlines Center | Dec 21, 2023 | From $43 | 1,445 |
| Bridgestone Arena | Dec 23, 2023 | From $46 | 1,901 |
| Enterprise Center | Dec 27, 2023 | From $79 | 1,652 |
| American Airlines Center | Dec 29, 2023 | From $88 | 1,556 |
| American Airlines Center | Dec 31, 2023 | From $80 | 1,975 |
| American Airlines Center | Jan 2, 2024 | From $30 | 2,027 |