Leader Bank Pavilion Seating Charts
Leader Bank Pavilion - Endstage Seating Map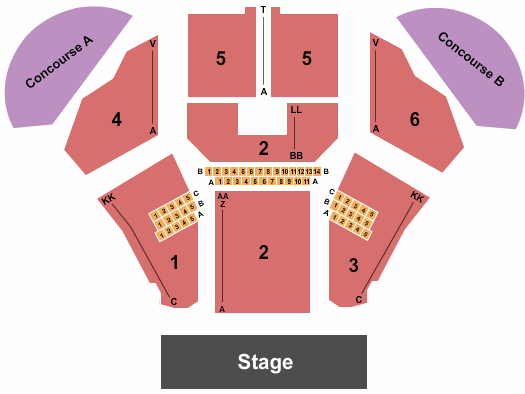 See Leader Bank Pavilion - Endstage events that use this seating chart configuration
Learn more about Leader Bank Pavilion
The Leader Bank Pavilion is an outdoor amphitheater located harbor side in
Boston, Massachusetts
. The venue is only open from May through September, and all events take place regardless of the weather. Patrons are encouraged to bring rain jackets or ponchos in case of rain. Umbrellas are not allowed, and neither are lawn chairs.
The
Massachusetts
venue is accessible by public transportation via the MBTA Silver Line, by taxi, or private car. Street parking near the venue is available, and there is also paid parking available within the venue.
All bags are subject to inspection. Snacks placed in a clear plastic bag are allowed as well as a sealed bottle of water. The venue has more than 35 concession stands onsite that let concertgoers purchase food, drinks, and alcohol inside the pavilion. Personal cameras are allowed in the venue. Selfie sticks, audio and video recording devices and cameras with detachable lenses are prohibited.
Before and after the concert, visitors can check out the nearby Boston Tea Party Ships, Harpoon Brewery, and the Institute of Contemporary Art. There are many hotels and restaurants located conveniently near the venue.
FAQs about Leader Bank Pavilion
Q: What time do gates open at Leader Bank Pavilion?
A: Gates typically open anywhere between 90 minutes to 2 hours prior to showtime at Leader Bank Pavilion. Be sure to check the listing on your ticket as showtimes will vary.
Q: Looking for local Boston Amphitheater concerts?
A: Our event listing has a list of all Boston amphitheater concerts happening at Leader Bank Pavilion. You can also check out events in neighboring cities by checking out our list of venues by state.
Q: Where is the Leader Bank Pavilion?
A: The Leader Bank Pavilion is located in the Boston, MA Seaport District. Leader Bank Pavilion has been a fixture in Boston for over 25 years. Locals know the pavilion as "The Pav".
Q: What is there to do around Leader Bank Pavilion?
A: Leader Bank Pavilion is in the Seaport District of Boston. The Boston Convention is only 1/2 mile away, there are amazing restaurants and 5 star hotels all very close to Leader Bank Pavilion.
Q: Where can I park around Leader Bank Pavilion?
A: Seaport Hotel Garage and the EDIC Garage are both recommended for Leader Bank Pavilion parking and are just a short walk to the venue.
Q: Can I Bring Food into Leader Bank Pavilion?
A: No outside food & beverages are allowed at Leader Bank Pavilion.
Q: Does Leader Bank Pavilion have Mobile Ticketing?
A: Leader Bank Pavilion only uses Mobile Ticketing on your phone. download your tickets before getting to the venue to save time.
Facts about Leader Bank Pavilion
Capacity:
5,000
Past Names/Nicknames:
Rockland Trust Bank Pavilion Blue Hills Bank Pavilion Harbor Lights Pavilion Harbor Lights Bank of Boston Pavilion BankBoston Pavilion FleetBoston Pavilion Fleet Pavilion Bank of America Pavilion
Date/Year Built/Opened:
1994