BayCare Ballpark Seating Charts
BayCare Ballpark - Baseball Seating Map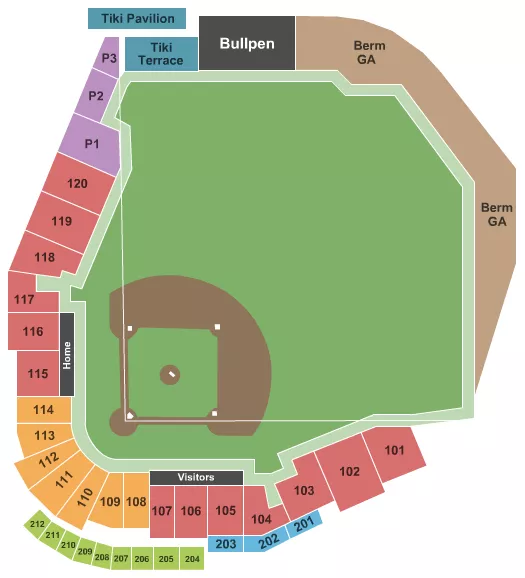 See BayCare Ballpark - Baseball events that use this seating chart configuration
Philadelphia Phillies: A Proud Franchise with a Passionate Fanbase
The Philadelphia Phillies are one of the oldest franchises in Major League Baseball, with a rich history dating back to their founding in 1883. Over the years, the Phillies have had their ups and downs, but their dedicated fanbase has remained steadfast in their support. The team has made the playoffs 14 times, capturing two World Series championships in 1980 and 2008.
The Phillies' playoff history is filled with memorable moments and unforgettable games. Their first taste of championship glory came in 1980, when they won their maiden World Series title against the Kansas City Royals. Fast forward to 2008, and the Phillies once again made history by capturing their second World Series championship, defeating the Tampa Bay Rays in a thrilling five-game series.
Throughout their storied history, the Phillies have been home to a plethora of legendary players who have left an indelible mark on the franchise. Hall of Famers such as Mike Schmidt, Steve Carlton, and Richie Ashburn all donned the Phillies uniform, etching their names into the annals of baseball history. In more recent years, players like Ryan Howard, Chase Utley, and Jimmy Rollins were integral parts of the team's 2008 championship run, further endearing themselves to the passionate Phillies fanbase.
The Philadelphia Phillies have called Citizens Bank Park their home since 2004. This beautiful, state-of-the-art ballpark has a seating capacity of 43,035 and offers fans an unforgettable experience. With stunning views of the Philadelphia skyline, an array of delicious food options, and the iconic Phillie Phanatic entertaining the crowd, Citizens Bank Park is a must-visit destination for any baseball fan.
One of the more unique aspects of the Phillies' history is the team's association with the iconic broadcaster, Harry Kalas. Kalas, who was the voice of the Phillies for nearly four decades, was beloved by fans for his signature home run call, "Outta here!" His distinctive voice and passion for the game helped forge a special connection with the Phillies faithful, making him an indelible part of the franchise's legacy.
With a storied past and an exciting future ahead, there has never been a better time to join the Phillies' passionate fanbase. Whether you've been a die-hard supporter for years or are new to the team, don't miss out on the thrilling action at Citizens Bank Park. Buy your tickets today and experience the magic of Phillies baseball firsthand!
FAQs about Philadelphia Phillies 2023 Game Schedule And Tickets
How and where to buy Philadelphia Phillies tickets?
While it may be difficult to find Philadelphia Phillies tickets, Event Tickets Center has plenty of Philadelphia Phillies tickets available starting from $28. Select your tickets using our interactive seating chart, and follow the steps in checkout. You'll be going to a Philadelphia Phillies event in no time!
How much are Philadelphia Phillies tickets?
On Event Tickets Center, Philadelphia Phillies ticket prices range from $28 up to $5,618 over a number of different Philadelphia Phillies events.
When do Philadelphia Phillies tickets go on sale?
Typically, Philadelphia Phillies will announce the schedule 3-6 months before the first game, and tickets go on sale within a few weeks of the schedule announcement.
Are Philadelphia Phillies tickets sold out?
No. While tickets to see Philadelphia Phillies may be sold out on other ticketing websites, Event Tickets Center has plenty of tickets available for you to see Philadelphia Phillies live.
Are Philadelphia Phillies tickets on sale?
Yes, Philadelphia Phillies tickets are on sale, and you can buy them right here at Event Tickets Center.
When is the next Philadelphia Phillies event?
The next Philadelphia Phillies event is on February 24, 2024 at TD Ballpark in Dunedin, FL. Event Tickets Center has 1,050 tickets available for this event.
MLB Teams, Stadiums, and Divisions
Philadelphia Phillies Matchups
Event Dates and Pricing Information
| Venue | Date | Price | Tickets Available |
| --- | --- | --- | --- |
| TD Ballpark | Feb 24, 2024 | From $36 | 1,050 |
| BayCare Ballpark | Feb 25, 2024 | From $36 | 1,145 |
| JetBlue Park At Fenway South | Feb 26, 2024 | From $44 | 467 |
| Hammond Stadium at Lee Health Sports Complex | Feb 27, 2024 | From $32 | 193 |
| BayCare Ballpark | Feb 28, 2024 | From $32 | 630 |
| TD Ballpark | Feb 29, 2024 | From $37 | 998 |
| Publix Field at Joker Marchant Stadium | Mar 1, 2024 | From $28 | 402 |
| BayCare Ballpark | Mar 1, 2024 | From $31 | 746 |
| BayCare Ballpark | Mar 2, 2024 | From $37 | 895 |
| CoolToday Park | Mar 3, 2024 | From $43 | 1,179 |