Gillette Stadium Seating Charts
Gillette Stadium - Football NO VFS Seating Map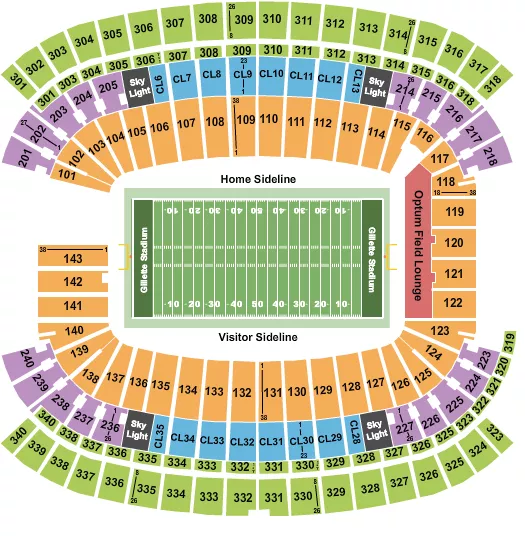 See Gillette Stadium - Football NO VFS events that use this seating chart configuration
Buy NFL New England Patriots Tickets
The New England Patriots, founded in 1960 as the Boston Patriots, are a professional American football team based in the Greater Boston area. As members of the National Football League (NFL), they compete in the AFC East division and play their home games at the Gillette Stadium in Foxborough, Massachusetts. The Patriots have experienced a remarkable transformation over the years, evolving from a struggling team into one of the most successful and respected franchises in NFL history.
In their early years, the Patriots experienced modest success, with sporadic playoff appearances throughout the 1970s and 1980s. However, it wasn't until the late 1990s that the team began to show signs of promise. With the arrival of head coach Bill Belichick and the selection of quarterback Tom Brady in the 2000 NFL Draft, the Patriots laid the foundation for an unprecedented era of success and dominance.
Under the guidance of Belichick and the leadership of Brady, the Patriots went on to capture six Super Bowl titles in nine appearances, including victories in Super Bowls XXXVI, XXXVIII, XXXIX, XLIX, LI, and LIII. They beat The Saint Lous Rams, The Carolina Panthers, The Philadelphia Eagles, The Seattle Seahawks, The Atlanta Falcons, and Los Angeles Rams respectively. This incredible run solidified the Patriots' status as a modern-day dynasty, with key players like tight end Rob Gronkowski, wide receiver Julian Edelman, and cornerback Stephon Gilmore contributing to the team's success.
In addition to their Super Bowl triumphs, the Patriots have consistently dominated the AFC East, claiming numerous division titles and earning a reputation for excellence both on and off the field. Their impressive track record has garnered a passionate and loyal fan base, who proudly refer to themselves as "Patriots Nation."
Buy your tickets to the next NFL New England Patriots game right here at Event Tickets Center.
FAQs about New England Patriots 2023 Game Schedule And Tickets
How and where to buy New England Patriots tickets?
While it may be difficult to find New England Patriots tickets, Event Tickets Center has plenty of New England Patriots tickets available starting from $33. Select your tickets using our interactive seating chart, and follow the steps in checkout. You'll be going to a New England Patriots event in no time!
How much are New England Patriots tickets?
On Event Tickets Center, New England Patriots ticket prices range from $33 up to $19,688 over a number of different New England Patriots events.
When do New England Patriots tickets go on sale?
Typically, New England Patriots will announce the schedule 3-6 months before the first game, and tickets go on sale within a few weeks of the schedule announcement.
Are New England Patriots tickets sold out?
No. While tickets to see New England Patriots may be sold out on other ticketing websites, Event Tickets Center has plenty of tickets available for you to see New England Patriots live.
Are New England Patriots tickets on sale?
Yes, New England Patriots tickets are on sale, and you can buy them right here at Event Tickets Center.
When is the next New England Patriots event?
The next New England Patriots event is on October 1, 2023 at AT&T Stadium in Arlington, TX. Event Tickets Center has 2770 tickets available for this event.
Event Dates and Pricing Information
| Venue | Date | Price | Tickets Available |
| --- | --- | --- | --- |
| AT&T Stadium | Oct 1, 2023 | From $87 | 2,770 |
| Gillette Stadium | Oct 8, 2023 | From $218 | 2,095 |
| Allegiant Stadium | Oct 15, 2023 | From $357 | 2,330 |
| Gillette Stadium | Oct 22, 2023 | From $245 | 2,244 |
| Hard Rock Stadium Parking Lots | Oct 29, 2023 | From $218 | 2 |
| Hard Rock Stadium | Oct 29, 2023 | From $203 | 3,319 |
| Gillette Stadium | Nov 5, 2023 | From $183 | 2,031 |
| MetLife Stadium | Nov 26, 2023 | From $109 | 3,894 |
| MetLife Stadium Parking Lots | Nov 26, 2023 | From $48 | 55 |
| Gillette Stadium | Dec 3, 2023 | From $186 | 2,376 |