FedexField Seating Charts
FedexField - Football TEST Seating Map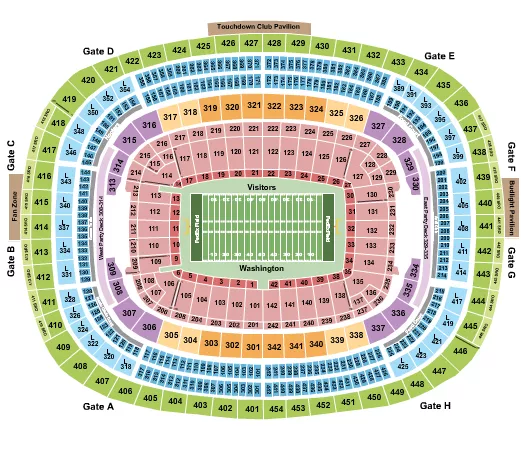 See FedexField - Football TEST events that use this seating chart configuration
Buy NFL Washington Commanders Tickets
The Washington Commanders, founded in 1932, is a professional American football team based in the
Washington, D.C.
, metropolitan area. As a member of the
National Football League (NFL)
, they compete in the NFC East division and play their home games at
FedExField
in
Landover, Maryland
. The team's history has seen a multitude of accomplishments, challenges, and changes, which have shaped the franchise's identity and fan base over the years.
In their early years, the team, then known as the Boston Braves, moved to Washington, D.C., in 1937 and eventually adopted a different name (recently retired in 2020). The team found success under the guidance of legendary head coach George Allen in the 1970s, and with key players like quarterback Sonny Jurgensen and wide receiver Charley Taylor, they made multiple playoff appearances and even reached the Super Bowl VII, though they fell to the
Miami Dolphins
.
The 1980s and early 1990s marked a golden era for the Washington Football Team under head coach Joe Gibbs. With a strong roster that included quarterback Joe Theismann, wide receiver Art Monk, and the famous offensive line known as "The Hogs," the team claimed three Super Bowl titles in Super Bowl XVII, Super Bowl XXII, and Super Bowl XXVI, defeating the Miami Dolphins,
Denver Broncos
, and
Buffalo Bills
, respectively.
However, following their last Super Bowl victory, the team faced a prolonged period of inconsistency, marked by frequent coaching changes and a lack of sustained success on the field. Despite the challenges, the franchise has continued to cultivate a passionate fan base and remains an integral part of the NFC East division.
In 2020, the team became known as The Washington Football Team, until that name was retired in 2022 and the team adopted a new name, The Washington Commanders.
Buy your tickets to the next Washington Commanders football game right here at Event Tickets Center.
FAQs about Washington Commanders 2023 Game Schedule And Tickets
How and where to buy Washington Commanders tickets?
While it may be difficult to find Washington Commanders tickets, Event Tickets Center has plenty of Washington Commanders tickets available starting from $41. Select your tickets using our interactive seating chart, and follow the steps in checkout. You'll be going to a Washington Commanders event in no time!
How much are Washington Commanders tickets?
On Event Tickets Center, Washington Commanders ticket prices range from $41 up to $24,303 over a number of different Washington Commanders events.
When do Washington Commanders tickets go on sale?
Typically, Washington Commanders will announce the schedule 3-6 months before the first game, and tickets go on sale within a few weeks of the schedule announcement.
Are Washington Commanders tickets sold out?
No. While tickets to see Washington Commanders may be sold out on other ticketing websites, Event Tickets Center has plenty of tickets available for you to see Washington Commanders live.
Are Washington Commanders tickets on sale?
Yes, Washington Commanders tickets are on sale, and you can buy them right here at Event Tickets Center.
When is the next Washington Commanders event?
The next Washington Commanders event is on October 1, 2023 at Lincoln Financial Field in Philadelphia, PA. Event Tickets Center has 648 tickets available for this event.
Event Dates and Pricing Information
| Venue | Date | Price | Tickets Available |
| --- | --- | --- | --- |
| Lincoln Financial Field | Oct 1, 2023 | From $320 | 648 |
| FedexField | Oct 5, 2023 | From $63 | 3,870 |
| Mercedes-Benz Stadium Parking Lots | Oct 15, 2023 | From $53 | 25 |
| Mercedes-Benz Stadium | Oct 15, 2023 | From $41 | 5,231 |
| MetLife Stadium | Oct 22, 2023 | From $119 | 3,057 |
| MetLife Stadium Parking Lots | Oct 22, 2023 | From $57 | 38 |
| FedexField | Oct 29, 2023 | From $203 | 4,636 |
| Gillette Stadium | Nov 5, 2023 | From $183 | 1,985 |
| Lumen Field | Nov 12, 2023 | From $103 | 2,601 |
| FedexField | Nov 19, 2023 | From $97 | 4,527 |